CSUSB celebrates its Class of 2023
Cal State San Bernardino celebrated its Commencement weekend with five ceremonies at the Toyota Arena honoring the university's Class of 2023.
Family and friends filled the 11,000-seat arena in Ontario for each of the ceremonies on May 19 and 20, during which some 3,200 students were recognized for completing their bachelor's, master's and doctorate of educational leadership degrees.
"All here join you in celebrating this landmark achievement," said university President Tomás D. Morales in his address to the graduates. "This is your moment. Graduates, as you commemorate this meaningful accomplishment, take time to remember what it took to realize it. The majority of the challenges we face in our lives are unforeseen and untimely. To be here today, you have proven you can adapt, overcome and succeed. But never forget that your success was made possible by the support of those closest to you: many who are here in the audience, as well as others unable to attend."
He also recognized those who are the first in their families to earn a college degree or graduate degree in their families, "breaking a barrier and setting themselves up as role models for siblings, relatives and future generations."
As graduates, they are now leaders, Morales said, and in that role, he encouraged them to be vital members of their communities by being innovative and being participants.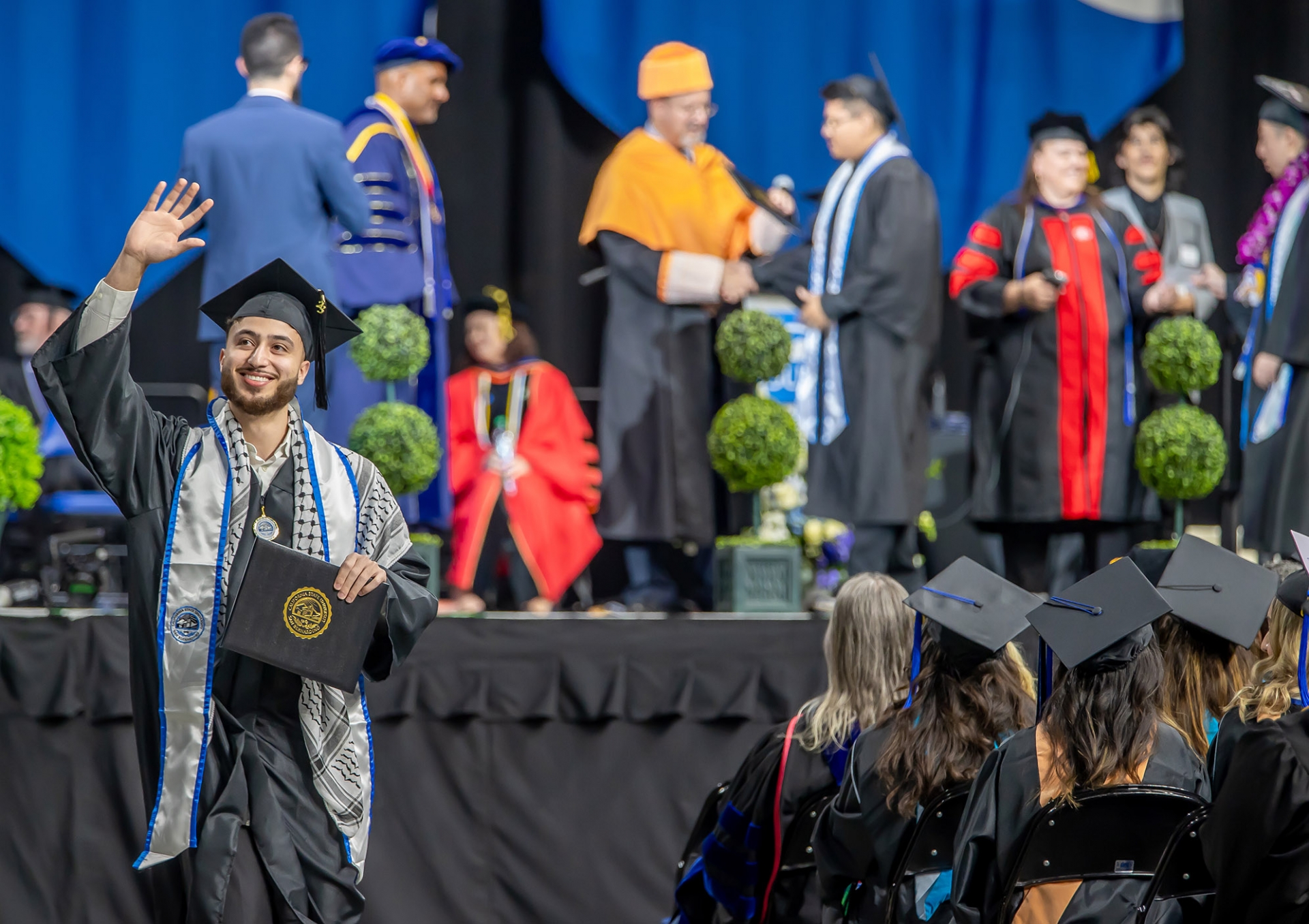 "The education you have received at Cal State San Bernardino, both in the classroom and your extracurricular activities, is more than simply a means towards earning a living," he said. "That is usually important. Your degree is also a set of tools for living your life in an ever-changing world, a world that will continue to present challenges that are unprecedented or appear to be unprecedented.
"Along with the knowledge you have acquired, the critical thinking, study and research skills will be of great help in the future," Morales said.
Because of that, they are part of the solution to the many problems and challenges the world faces.
"Your successful pursuit of your degree will not only impact your life, it will impact the lives of your families, your friends, the community and the region. You are part of the solution," Morales said. "You are making a difference, and to continue making that difference, you will need to innovate and participate.
"Merriam-Webster tells us that to innovate is to make changes, to do something in a new way. And to participate is to take part, or share, in something," he said. "This is a long way of saying, keep learning by building on the information that you have acquired at CSUSB, both in terms of the data itself, in terms of how you use that data, as you build your post-college life, which will include your families, your neighbors and the fellow residents of the town or city. Share those ideas, information and skills, because we are all in this together, like it or not. Even when people try to separate us into an 'us' and a 'them.' The truth is, there is no 'us' and 'them.' There is only a 'we' – fellow human beings on this small, beautiful blue and white marble in the blackness of space, yes, our Earth."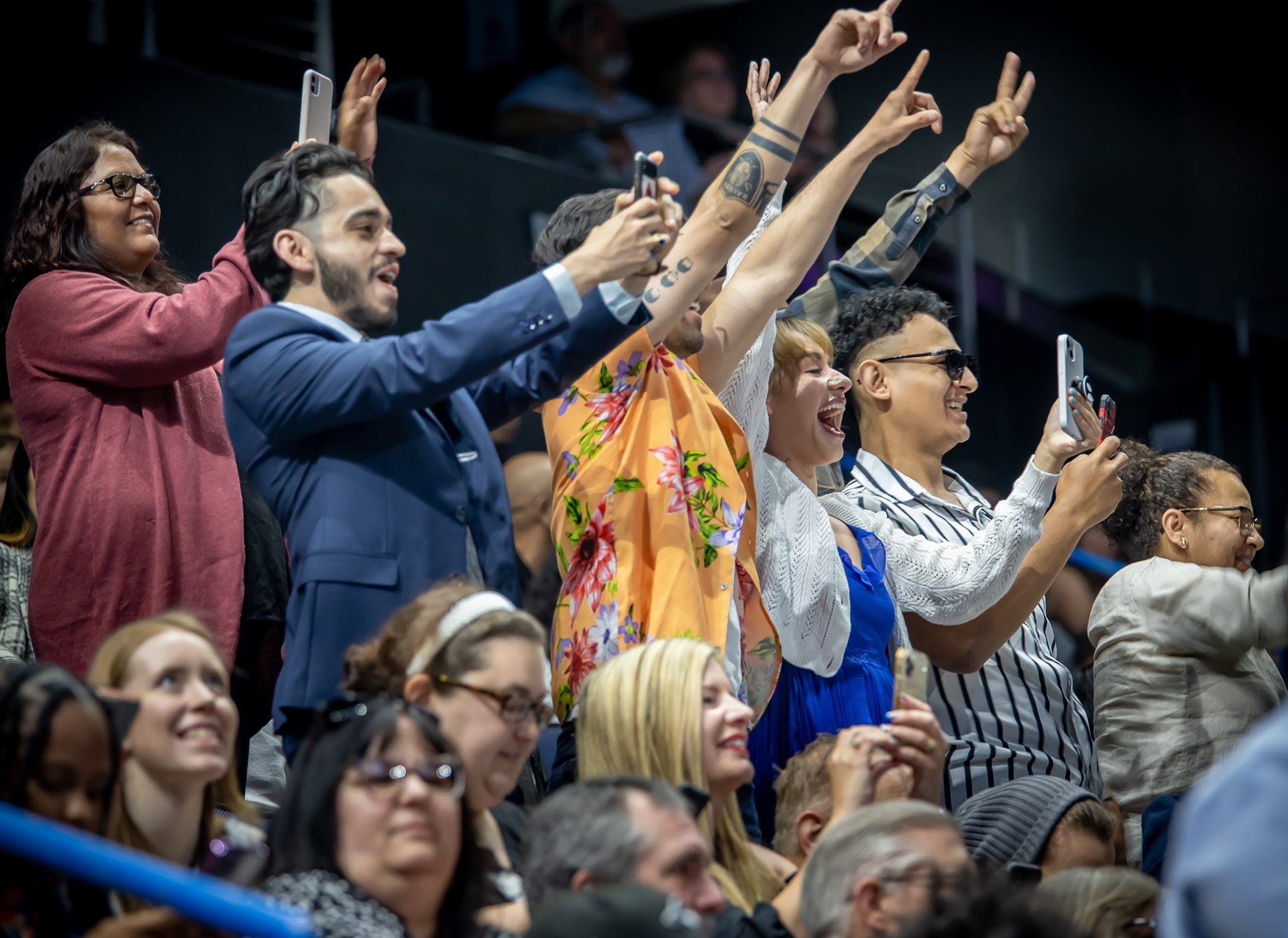 The College of Social and Behavioral Sciences kicked off the weekend when it held two ceremonies, the first in the afternoon of May 19, for the departments of child development, economics, ethnic studies, political science and psychology. The second ceremony, for the schools of criminology and criminal justice and social work, and the departments of anthropology, geography and environmental science, history, social sciences and sociology took place later in the evening of May 19. The college's top students, Kaelyn Doyle, Outstanding Graduate Student, and Viviana Alvarez Rodriguez, Outstanding Undergraduate Student, were honored at the evening ceremony.
Saturday was a full day of pomp and circumstance, with the College of Arts and Letters and the James R. Watson and Judy Rodriguez Watson College of Education ceremony on the morning of May 20. Mary M. Heckmann, who is also a CSUSB alumna, received an Honorary Doctor of Humane Letters during the ceremony.
The College of Arts and Letters honored its top graduates, Dia Poole, communication studies graduate student, and Filimon Fregoso, English undergraduate student, and the Watson College of Education recognized its top students, Rangel Zarate, doctorate in educational leadership, and Barbara Dennel Alegria, education specialist degree in school psychology.
The Jack H. Brown College of Business and Public Administration followed in the afternoon. Dorene C. Dominguez, chairwoman and CEO of Vanir Construction Management and the Vanir Group of Companies Inc. since 2004, received an Honorary Doctor of Humane Letters at this ceremony. The college also honored its top graduates, Lizette Velazquez, Master of Science in Entrepreneurship and Innovation (MSEI) and MBA cybersecurity, and John Lane, undergraduate degree in information systems and technology with a concentration in cybersecurity.
The College of Natural Sciences closed out commencement weekend with an evening ceremony on May 20. Alura Williams, master of science, nursing, with a concentration in advanced community/public health nursing, and Manuel Madrigal, bachelor of science in biology, are the college's top graduates who were recognized.
For more information, visit the CSUSB Commencement page.