Associate professor of public administration named CSUSB's Outstanding Faculty Advisor
For Sharon Velarde Pierce, it was scheduled as a Tuesday afternoon meeting with her dean, Tomás Gomez-Arias, in a conference room in the Jack H. Brown College of Business and Public Administration.
Instead, it turned out to be a surprise announcement with at least two dozen faculty, administrators, students and staff looking on as Cal State San Bernardino President Tomás D. Morales named Pierce, an associate professor of public administration and CSUSB alumna, the university's 2022-23 Outstanding Faculty Advisor.
Remarking on his ongoing relationship with his undergraduate faculty advisor and his transformational impact on his life, Morales said, "The work that we do as advisors, and certainly the work you do, is incredible. And I don't think we all realize the transformative nature of those relationships with students."
Morales' surprise announcement is a time-honored tradition at CSUSB where outstanding faculty award recipients receive the news of their award when the president and the group of university leaders, past winners, faculty and staff barge in unannounced into the honoree's class, lab or workspace – or in this case, meeting.
"Both Provost Rafik Mohamed and I are very proud of you and just appreciative, as all of our colleagues are, of your work as an academic advisor," Morales said. "The work of academic advisors, whether it's conducted by faculty or professional staff, is quite, quite meaningful."
Pierce, still appearing surprised, said, "I'm very humbled and honored – and shocked! I didn't know what my meeting with the dean was going to be about."
She later added, "I would say coming to Cal State San Bernardino as a first-generation college student myself, from a low socioeconomic background, coming here was really scary. I had the most incredible advisor, Dr. David Baker. He set the bar high. I'm just thankful to be here, and I thank David Baker for that. (CSUSB) is a great place to work, with wonderful colleagues … and we have the best students."
"This type of award that acknowledges the work faculty do with students, that's got to be the greatest recognition," Mohamed said.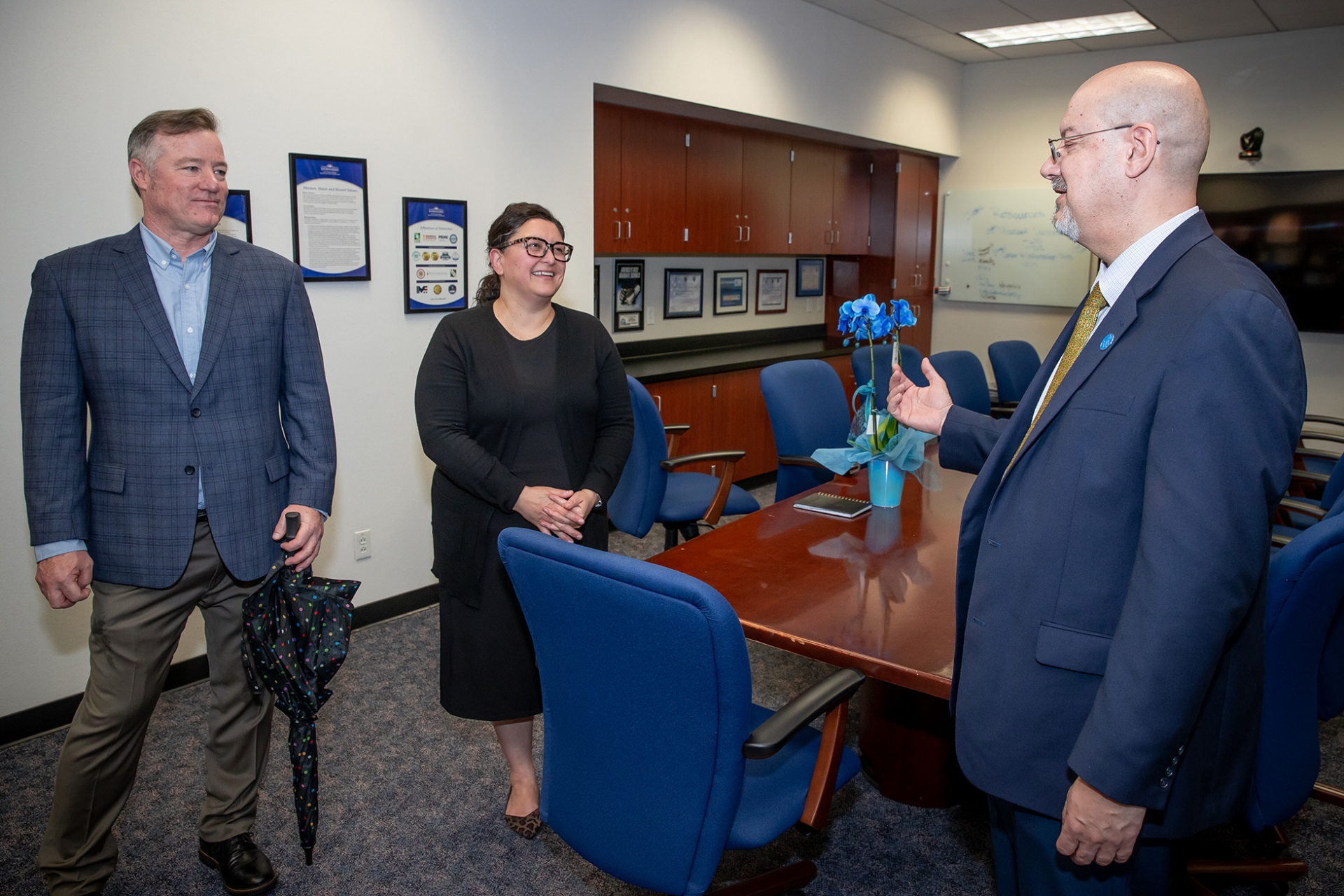 The award includes one year's membership in the National Academic Advisors Association, covered by the Office of Undergraduate Studies; being CSUSB's nominee for national recognition by NACADA; $500 in travel funds; a one-year designated parking spot; and the addition of the awardee's name to the CSUSB Outstanding Faculty Advisor Honor Plaque in University Hall, Room 397.
Pierce is a three-time CSUSB alumna (BA '13,  MA '14 public administration, Ed.D. '17 educational leadership), or, as Morales said, "a Coyote through and through." She was chosen for the award by the university selection committee, led by co-chairs Eduardo Mendoza, advising and academic services, and Sara DeMoss, student development.
In their letter of recommendation to Morales, the committee wrote, "The selection committee evaluates nominations on the evidence of effective advising qualities and practices that distinguish the nominee as an outstanding academic advisor. Accordingly, we are extremely happy to select Dr. Sharon Pierce for the Outstanding Faculty Advisor Award for the 2022-2023 academic year."
Marc K. Fudge, a professor in the public administration department, wrote in a letter of recommendation to the committee that "Dr. Pierce has been an extremely well-respected member of the public administration department faculty for several years. One of the many attributes that she possesses is being 'student-focused.' She goes out of her way to meet with students in her office and via Zoom. Dr. Pierce's reputation precedes herself and she is highly sought after by students who want to enroll in her classes.
"In terms of her Student Option of Teaching Effectiveness (SOTE) evaluations, Dr. Pierce consistently scores near-perfect scores. This statistic is very impressive and difficult to maintain," Fudge wrote. "Moreover, as challenging as it is to continue earing such high SOTE scores, what is more impressive are the extraordinary positive comments left by students in her evaluations.
"I feel fortunate to call Dr. Pierce my colleague and to see how well she connects with her students. It is truly remarkable to witness the impact she has had at CSUSB," Fudge continued. "Simply put, Dr. Pierce has had a very positive and powerful impact on our students' lives and professional trajectories."
The committee's letter also contained comments from a few of Pierce's students who talked about her contributions to their education.
Wrote one student, "Professor Pierce has an innate ability to communicate and illustrate realities of the professional environment to equip individuals with the skills and knowledge to establish successful careers."
Another wrote, "Dr. Pierce was always there to reassure me that I was following the right path and help to guide me when I faced tough decisions."
The committee members closed their letter with Pierce's "demonstration of compassion, authentic care, and dedication are common themes that emerge from student comments and letters of recommendation. The student remarks highlight the compassion, grace, and support Dr. Pierce consistently provides. She receives near-perfect SOTE scores semester after semester and is a positive impact on her students' professional trajectories."
---
"Dr. Pierce was always there to reassure me that I was following the right path and help to guide me when I faced tough decisions."
-- A statement by a student of Sharon Velarde Pierce in the nomination documents
---
In a separate nomination letter, alumnus Jordan Hazelip (BS '20, MS '22 information systems and technology) wrote that he was grateful for Pierce's influence on his education and life goals. Pierce served as his professor and academic advisor during his undergraduate studies in 2016 through 2020.
"She pushed me to apply for the CSUSB Scholarship for Service program to continue my master of science at CSUSB," Hazelip wrote. "Her influence further fueled my drive to push through the difficulties of a master's program and graduate with Magna Cum Laude honors. This in turn caught the attention of the Department of the Army, who immediately hired me post-graduation as an IT specialist. I now conduct risk assessments of critical information technology infrastructure to ensure the safety of United States technology and citizens alike.
"I am evidence of her ability to push students to succeed. Professor Sharon Pierce is a dedicated educator with a beaming personality who deserves to be recognized for their continual effort to advise students towards their success," Hazelip wrote.
Pierce became an adjunct faculty member in 2016 at the then College of Extended Learning. In 2017 she became an associate professor at the Jack H. Brown College of Business and Public Administration, where she now organizes, prepares and revises course materials for students; serves as public administration undergraduate coordinator; serves on dissertation committees; and networks with local leaders in the community to offer students a wider understanding of course materials and provide students a broad range of opportunities when deciding on a career.
Pierce has also served as a school administrator for Lighthouse Christian Academy.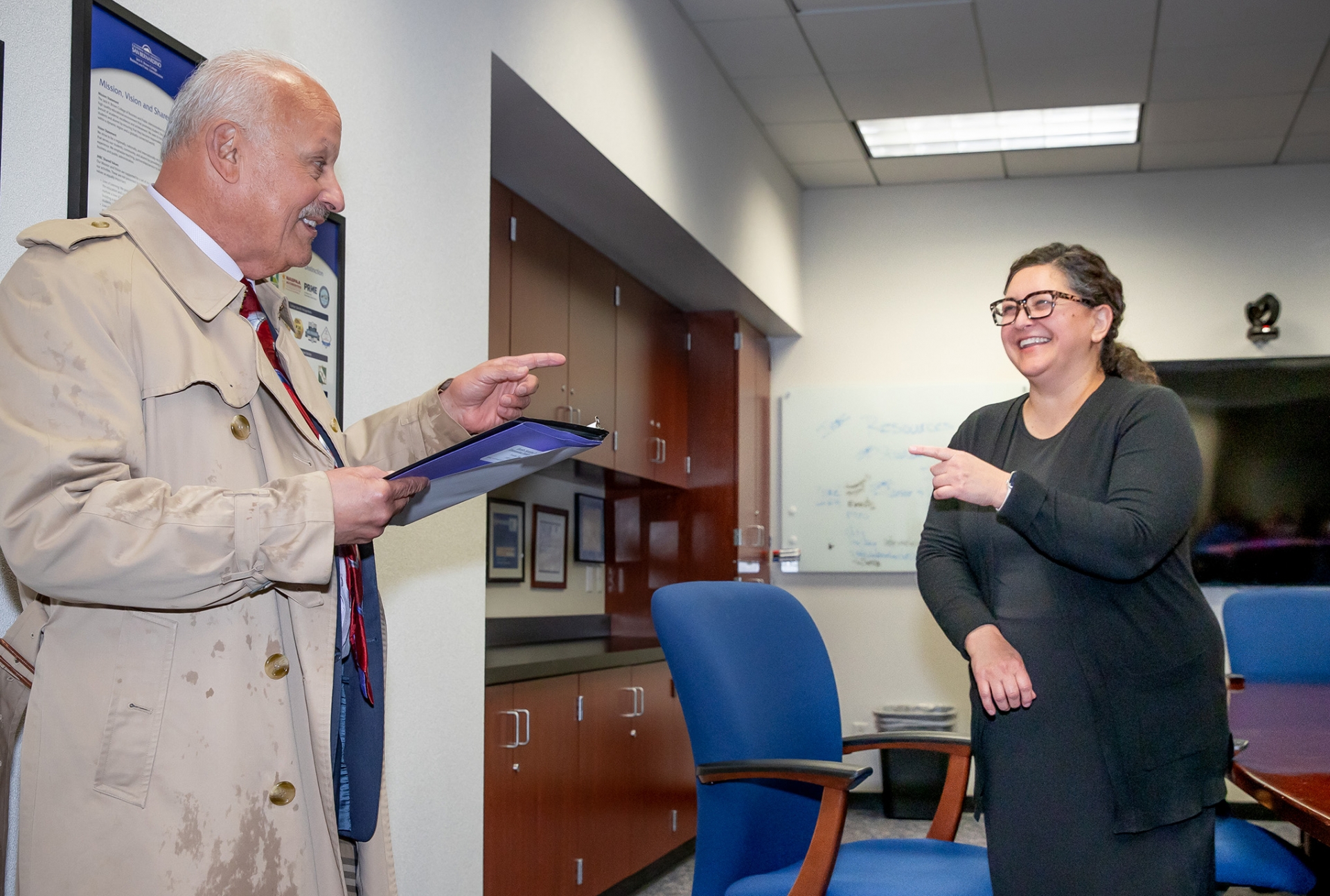 Her research interests include leadership, online education, mental health/well-being, diversity and multicultural studies, and Latina/o studies in education. She is a member of the American Society for Public Administration, the Hispanic Association of Colleges and Universities and the American Association of Hispanics in Higher Education.
She has numerous publications and presentations that include:
Martinez, E., & Velarde Pierce, S., (2022). "You've got to put the student first": Faculty advisors as educators and emotional laborers in community college baccalaureate contexts Community College Review.

Velarde Pierce, S., Haro, A., Ayon, C., & Enriquez, L., (2021). Evaluating the effect of legal vulnerabilities and social support on the mental health of undocumented college students. Journal of Latinos and Education, 20(3), 246-259.

Pierce, S. (2017). Taking our seat at the table: A narrative inquiry of the experiences of seven Latina administrative leaders in higher education (doctoral dissertation). California State University, San Bernardino.

Van Wart, M., Roman, A., & Pierce, S. (2016). The rise and effect of virtual modalities and functions on organizational leadership: Tracing conceptual boundaries along the emanagement and eleadership continuum. Transylvanian Review of Administrative Sciences, (Special Issue), 102-122.

Murillo, E., & Velarde Pierce, S., (in progress). Critical readings on undocumented students and education. Routledge.