Esteemed cellist visits CSUSB music students
The Cal State San Bernardino Department of Music string area had the honor of welcoming the esteemed cellist Hans Jørgen Jensen to campus in mid-September.
Jensen gave a guest lecture on the topic of practicing to the CSUSB Symphony Orchestra students followed by a guest cello masterclass. Both events were organized by Esther Back, CSUSB's lecturer of applied cello and director of the CSUSB Cello Ensemble. They were open to the community and were very well attended.
"It was a miracle that a prominent cellist and pedagogue like Hans Jensen was able to visit and give CSUSB students and our community such an insightful talk, and then subsequently work with our students," said Back.
During his lecture, Jensen covered a wide range of topics related to practicing from his publications "PracticeMind" and "CelloMind" that included:
How to improve practice and performance with proven methods backed by decades of teaching experience and research

How to build practice skills and habits that will elevate one's playing (and teaching) to new heights

How to harness the power of one's practice mind to improve the effectiveness of daily practice and bring joy to the process of advancing one's abilities as a musical artist
The program for the masterclass included music majors Jason Sanchez-Cardenas, Karina Gomez-Torres and Annabelle Su, and Cello Ensemble students Eliana Jeong and Ninah Chan. All cellists collaborated and performed with CSUSB collaborative pianist Alastair Edmonstone.
"His genuine, humble, positive attitude impacted our students greatly throughout this event. His positive energy brought absolute joy and was inspirational to every audience member and observer," Back said of Jensen. "I was very pleased to hear waves of laughter and positive feedback from everyone involved. It was an incredible learning experience that was highly beneficial to the CSUSB students and community. I am grateful that the CSUSB music department supported and made possible this extraordinary event."
"It was an absolute pleasure to have Professor Jensen as a guest on our campus, and to have him be able to work with our students," said Lucy Lewis, director of the CSUSB String & Orchestral Program. "He is a wonderful human being, full of energy, joy, and compassion, and it was clear that our students and the community who were observing learned an incredible amount from him."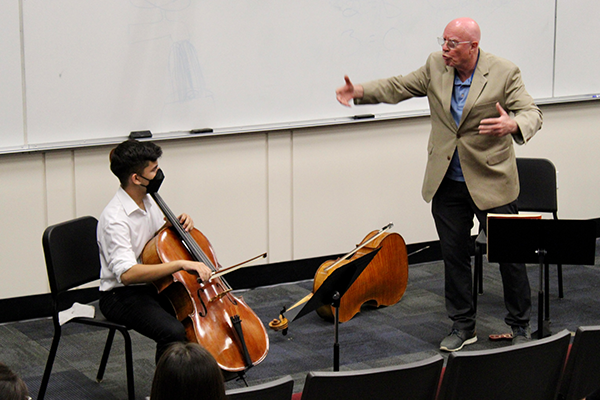 Jensen was also delighted with the turnout for both the guest lecture and the masterclass.
"My visit to give a class at CSUSB music school was a great joy," he said. "The students that played in the class were all terrific and very eager to learn. The two people in charge of the string department, violinist Dr. Lucy Lewis and the wonderful cellist Esther Back, are both doing an amazing job for all the string students. In my Q and A session with the students, we had a great exchange of concepts and ideas. It was a very inspiring visit for me."
Guest Artist Bio
Hans Jørgen Jensen is professor of cello at the Bienen School of Music at Northwestern University. From 1979 to 1987 he was professor of cello at the Moore's School of Music at the University of Houston. During the summer, he is a faculty member at The Meadowmount School of Music and The Young Artist Program at the National Arts Center in Ottawa Canada under the direction of Pinchas Zukerman. He has been a guest professor at the Thornton School of Music at the University of Southern California, The Oberlin College Conservatory, The Eastman School of Music, The Academy of Music in Sydney, The Royal Academy of Music in Copenhagen, the Tokyo College of Music and the Musashino Academy of Music in Japan, the Festival de Musica de Santa Catarina in Brazil, The Jerusalem Music Center, and the PyeongChang International festival and School in Korea.
Jensen has performed as a soloist in the United States, Canada, Europe and Japan including solo appearances with the Danish Radio Orchestra, the Basel Symphony Orchestra, the Copenhagen Symphony, and the Irish Radio Orchestra under the baton of conductors such as: Simon Rattle, Mistislav Rostropovich and Carlo Zecchi. He has given numerous workshops and master classes across the United States, Canada, Europe, Japan, Brazil, Korea, Australia and Israel.
For more information about Hans Jørgen Jensen, read his biography on the Bienen School of Music website.