Four CSUSB faculty members recognized for exemplary mentoring
The Office of Student Research at Cal State San Bernardino has named four faculty members as the recipients of its annual Faculty Research and Creative Activities Mentor Award: Mahmood Nikbakhtzadeh, assistant professor of health science and human ecology; Jacob Jones, associate professor of psychology; José A. Muñoz, associate professor of sociology; and Mariam Betlemidze, associate professor of communication studies.
The annual award recognizes the contributions of up to five faculty (one per college), whose mentoring is considered exemplary. Each award recipient receives $2,000. The application review committee evaluates faculty's contributions to student success and evidence of their mentorship to students in research and creative activities within the previous two academic years.
Facets of the Faculty Research and Creative Activity Mentor Award include contributions to students' recruitment, retention and graduation; development of students' research and creative activities, critical thinking, professional skills, career advice and placement; and contributions to a climate that supports a diverse student population.
The 2022 Faculty Research and Creative Activities Mentor Award are:
Jacob Jones
Jones is an associate professor in the Department of Psychology who has 40 published articles and chapters on the topic of neuropsychiatric symptoms in Parkinson's disease and other neurodegenerative disorders. He currently has National Institutes of Health (NIH) funding for two projects: one examining the association between microbiome disruptions and cognitive impairment among individuals with Parkinson's disease, and another investigating risk factors of Alzheimer's disease among Native elders.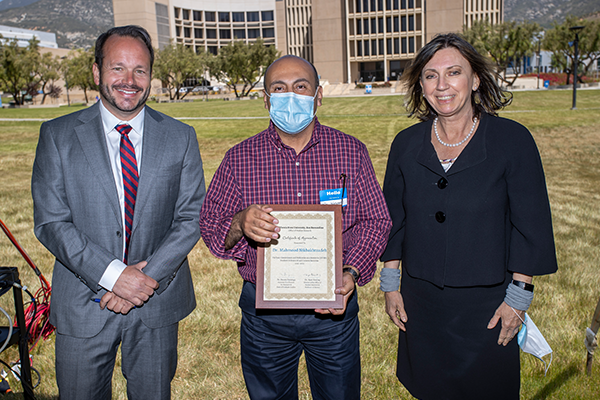 L to R: Ryan Keating, Mahmood Nikbakhtzadeh, Dorota Huizinga
Mahmood Nikbakhtzadeh
Nikbakhtzadeh, assistant professor of health science and human ecology, is both a medical entomologist and a chemical ecologist. After graduating with his second Ph.D. in chemical ecology, he pursued a postdoctoral research position at Ohio State University. He has been a scientist at UC Davis and also a vector biologist for the state of Vermont. Recently, he has been an adjunct assistant professor in the School of Public Health at San Diego State University.
He is interested in many areas of environmental health, such as vectors and vector-borne diseases, vector control, IVM (integrated vector control), toxic substances, conservation, disturbed habitats and its impact on the public health, and the risk assessment. He has taught courses such as medical entomology, epidemiology of vector-borne diseases and toxicology of pesticides. He currently teaches the courses Principles of Environmental Health, Control of Vector-borne Diseases and Principles of Toxicology at CSUSB.
Nikbakhtzadeh has had collaborations with San Diego County, the California Department of Public Health, the San Diego Natural History Museum and local colleges in Southern California. He is member of numerous professional societies, including the Entomological Society of America, the American Mosquito Control Association and the German Society of General & Applied Entomology. He is also member of editorial boards of journals, including the Journal of Arthropod-borne Diseases and the SM Journal of Biology. His educational and field experience in the Middle East, Europe and the United States as well as his work-related trips around the world provides a worldwide perspective to his students.
He is also a nature photographer and has a passion for the nature and wildlife conservation.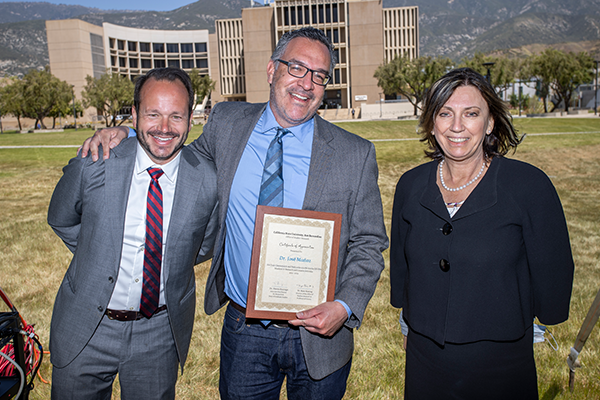 L to R: Ryan Keating, José Muñoz and Dorota Huizinga
José Muñoz
Muñoz is an associate professor in the Department of Sociology, who has held the position of Visiting Scholar at UCLA's Institute of American Cultures (2020-2021) and Research Scholar at the Chicano Studies Research Center (summer 2021).
He is part of two national research projects. Muñoz's collaboration with several scholars as part of the American Sociological Association on First-generation and Working-class (FGWC) Persons in Sociology has led to the collection of a nationally representative survey sample of FGWC scholars. This work will culminate in an American Sociological Association executive summary, journal manuscript submissions to top journals, and policy briefs.

Muñoz is the co-PI on a National Science Foundation (NSF) Hispanic-Serving Institution (HIS) Improving STEM in Education Grant with his colleague Idalis Villanueva, an associate professor in the Department of Engineering Education at the University of Florida. The award funded the collection of pilot study data at a conference held on the CSUSB campus in late April. The conference, titled "HSI Conference: Exploring the hidden realities of contingent Latinx faculty in STEM," invited on-tenure track contingent Latino faculty. The project will lead to evaluation and policy brief manuscript submissions and provide the leverage to apply for additional NSF funding.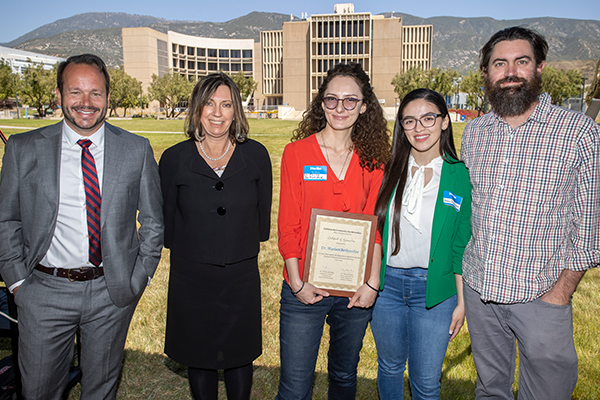 L to R: Ryan Keating, Dorota Huizinga, Mariam Betlemidze, communication studies graduate student Alexia B. Martinez and graduate student Ariel Newell
Mariam Betlemidze
Betlemidze is an associate professor in the Department of Communication Studies, who advises the CSUSB independent student newspaper, Coyote Chronicle, and serves on the faculty senate. Her areas of interest include new materialism, post-structural media theory, social change, and multimedia journalism.
Before her graduate academic career, Betlemidze worked as a journalist in her home country of Georgia, as well as neighboring countries of Armenia, Azerbaijan, Russia and Turkey. She is a co-founder of the nonprofit media organization, GO Group Media, and JAM News reporting stories primarily in the South Caucasus.