CSUSB's art museum brings back virtual Kids Discover Egypt workshop
The Robert and Frances Fullerton Museum of Art (RAFFMA) at Cal State San Bernardino presents the annual Kids Discover Egypt workshop June 27-30. Based on the overwhelming positive feedback from last year, the museum will continue with a virtual format.
Once a two-day workshop is now four days of children's activities and ancient Egyptian lessons. These lessons and activities will give children a virtual Egyptian art experience with specialized at-home crafts and exclusive Egyptian lessons by RAFFMA staff and Egyptologists.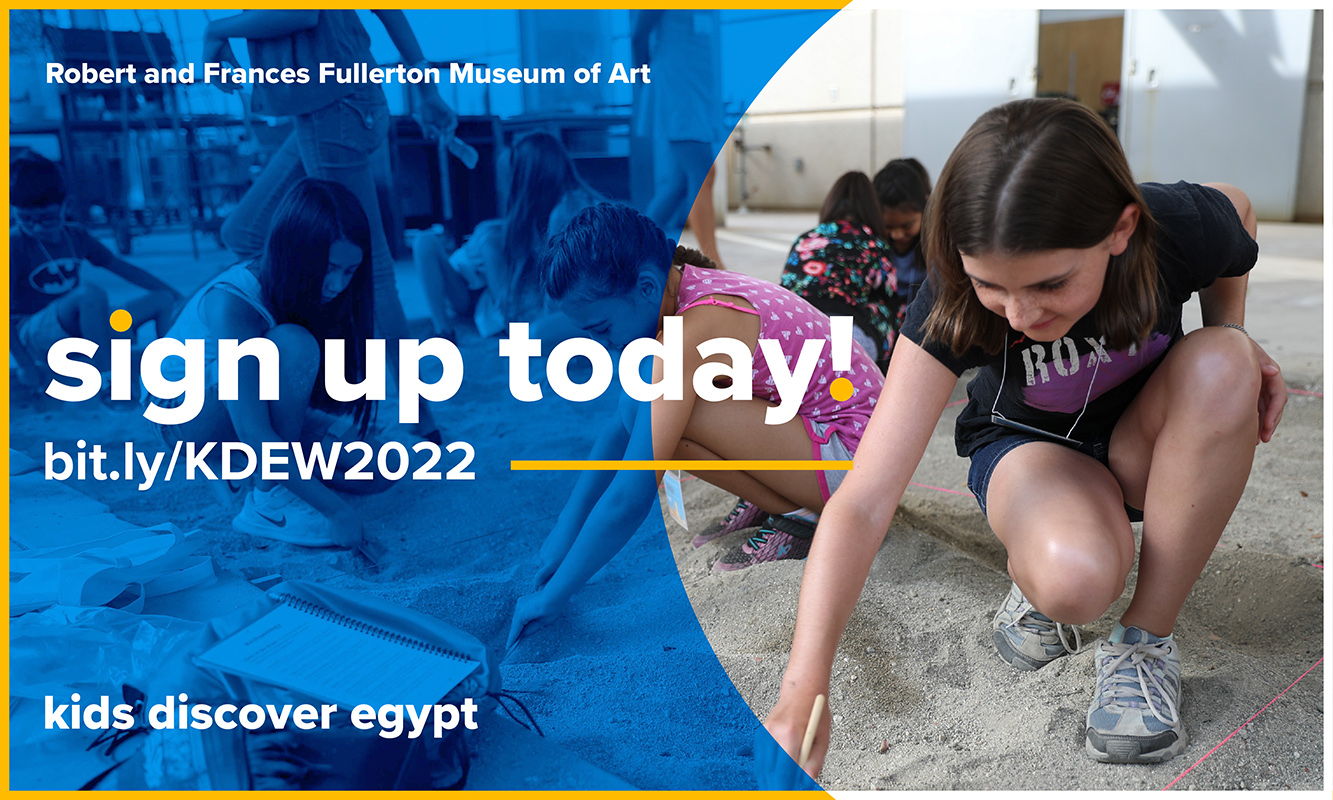 The workshop is appropriate for children ages 6-13 and will allow participants to explore the rich history of ancient Egypt with kid-friendly activities.
Each workshop day will be hosted live with activities to follow along, as well as fun interactive lessons to enjoy. Each registration will include an art pack with all supplies needed to participate.
This event supports RAFFMA's mission to provide meaningful cultural experiences through educational programs to engage and inspire local, national and international audiences.
Price: $40/per student
Registration includes:
4 days of art activities

4 days of ancient Egyptian lessons

Kids Discover Egypt Certificate of Completion

Kids Discover Egypt Workbook

Kids Discover Egypt T-shirt

Art Pack includes all art supplies needed to participate in the workshop
Packs will be available for pickup June 20-23 and June 25 during museum operating hours. 
Deadline to register is June 11.
To register and for more information, visit the RAFFMA Kids Discover Egypt workshop website.  
For questions, contact raffma@csusb.edu.
About RAFFMA
The Robert and Frances Fullerton Museum of Art, nationally accredited by the American Alliance of Museums, houses a collection that includes Egyptian antiquities, ceramics and contemporary art, and hosts 10-12 temporary exhibitions a year. Located at California State University, San Bernardino, RAFFMA presents one of the largest public displays of ancient Egyptian art in Southern California.
The museum offers a variety of opportunities providing valuable hands-on work experience and preparation for future museum-related careers for CSUSB students. We are a great location for hosting corporate events, networking events, meetings, social gatherings and K-12 school field trips. When you visit RAFFMA, you find it's more than a museum – it's an unforgettable experience.
General admission to the museum is free. Suggested donation is $3. Parking at Cal State San Bernardino is $6 per vehicle ($3 on weekends).
RAFFMA Hours (beginning May 16, 2022 through June 25, 2022)
Monday – Tuesday: 10 a.m. - 5 p.m.
Wednesday – Thursday: 10 a.m. - 6 p.m.
Saturday: 11 a.m. - 3 p.m.
Closed Friday and Sunday
Visit the RAFFMA website for more information.