Hispanic Heritage Month look back: CSUSB alumna accepted into four prestigious doctoral programs with full funding
Editor's note: As part of CSUSB's celebration of Hispanic Heritage Month, the university is showcasing a number of earlier stories highlighting Hispanic and Latino students, alumni, faculty and staff.
This article was originally published on May 27, 2020.

Ariana Cano, a Cal State San Bernardino alumna and communication studies adjunct professor, has experienced an amazing academic journey. She received both her undergraduate and graduate degrees from CSUSB, was selected as both the outstanding undergraduate student and graduate student, and was chosen as the outstanding graduate teaching associate for the Department of Communication Studies in 2018.
However, her biggest educational dream of earning a Ph.D. in the field of communication is still being molded. Cano was accepted into not one, not two, not three, but four prestigious doctoral programs, all fully funded.
Cano received offers from the Department of Communication at the University of Massachusetts-Amherst, the Institute of Communications Research (ICR) Ph.D. program in the College of Media at the University of Illinois, the Department of Communication and Journalism at the University of New Mexico, and the Department of Communication Studies at the University of Minnesota.
"These institutions each have their own merit," Cano said. "Some are highly competitive, prestigious, rigorous, or widely recognized, which is why I feel extremely privileged to be in the position I am in right now."
While Cano notes the decision was difficult, she ultimately chose the ICR Ph.D. program in the College of Media at the University of Illinois.
"All four institutions are well-recognized in their respect and are heavy research institutions. Therefore, my decision was not easy," she said. "However, I had to come to terms with what better suits my research and what institution would allow me to explore all avenues of such research. Yes, it was difficult to decline all other offers, but I know that the ICR interdisciplinary program best compliments my research needs in race, gender, and media studies."
The institute is regarded as a leader in the interdisciplinary study of communication and media, said Cano, and she is excited to work with faculty members at the University of Illinois, such as Angharad Valdivia who specializes in her area of interest.
"At the ICR Ph.D. program I seek to analyze how Chicana and Indigenous communities (particularly womxn) have used critical/political and creative communication on Instagram through their self-presentations to challenge the matrix of domination (white supremacy, heteropatriarchy, capitalism, and settler colonialism) to create opportunities of personal, communal, and civic values," she said.
Cano's research interest derived from the communication studies master's program at CSUSB with her thesis, "Performing Stereotypical Tropes on Social Networking Sites: How Popular Latina Performers Reinscribe Heteropatriarchy on Instagram."
"Her thesis was an innovative mix of performance theory, political economy, and critical theory, where she was able to show how the old tropes of racism, sexism, and capitalism reappear in new media forms and practices in the guise of liberation," said her advisor and mentor Rod Metts, associate professor of communication studies, who emphasizes that Cano is a disciplined thinker and one of their most accomplished graduate students. "This sophisticated study will prove to be a significant contribution to new ways of thinking about Latinx re-presentations in new and non-traditional media."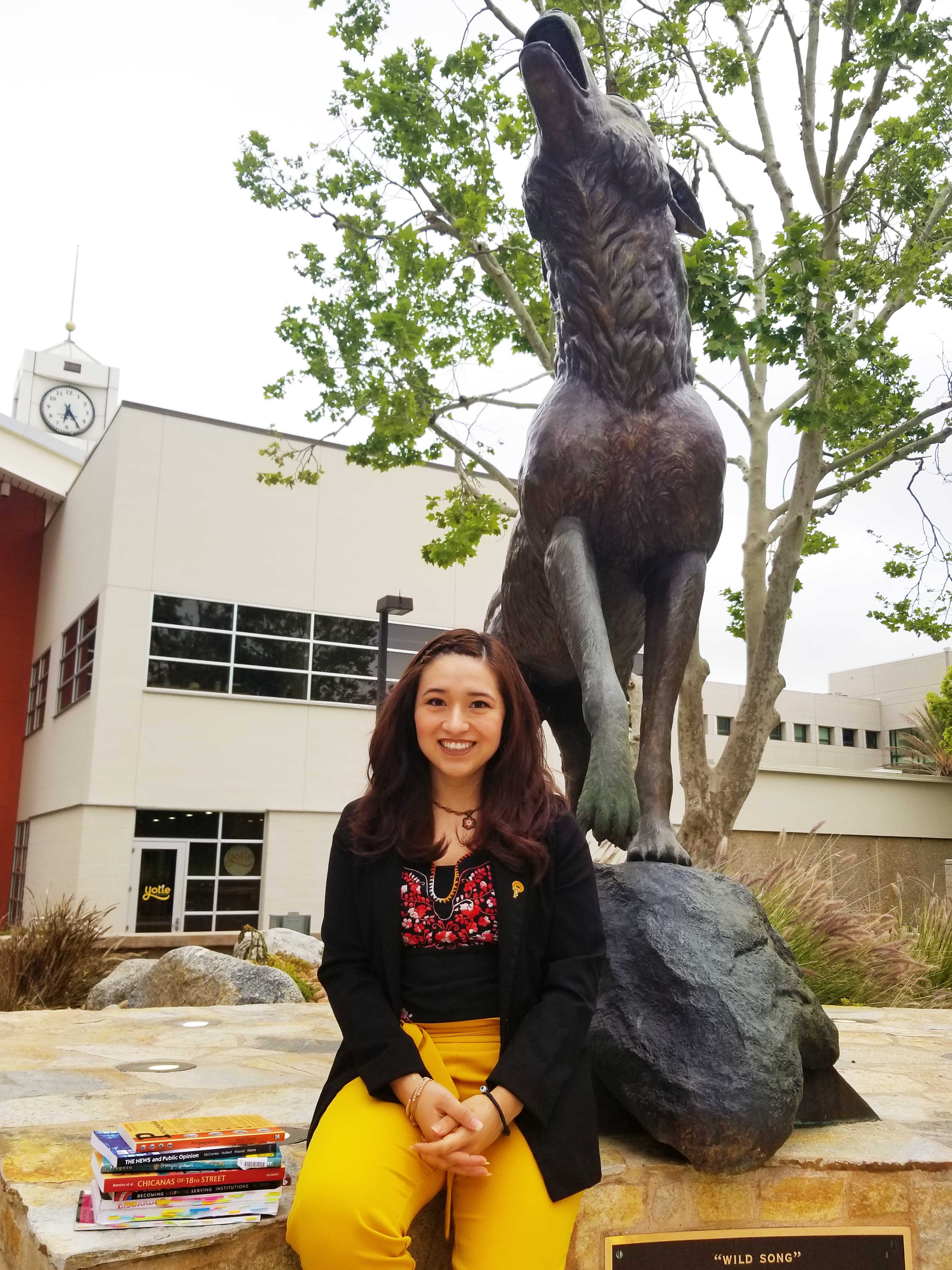 "The institution and even faculty often neglect or overlook the extraordinary achievements of students such as her," said Liliana Conlisk-Gallegos, CSUSB assistant professor of communication studies. "Fortunately, her brilliance and dedication were deeply and continuously supported by a group of women of color faculty at CSUSB who had her back and intervened at the right times by closely guiding her through academic processes. She is the prime example of how close mentorship and care are vital to student success."
Cano was one of the highest achieving students in terms of research, receiving the Emerging Scholar Award at UC Berkeley where she presented at the third International Conference on Communication and Media Studies in 2018.
She also exceeded expectations by participating in more than a dozen conference/professional presentations, 11 of them presented within her two-year duration in CSUSB's graduate program. Cano presented papers at the 2018 Latin American Studies Conference (Study of Americas) at CSUSB, the National Association of Chicana and Chicano Studies (NACCS) 2018 Conference in Minneapolis, the 2018 CSUSB Student Research Conference, and the Phi Beta Delta Honor Society 31st Annual International Conference in Long Beach.
"Ariana was our super star; she not only excelled academically, but socially as she mentored other graduate students. She is an example of what a junior scholar is; she is smart, witty, and hardworking," said Ahlam Muhtaseb, the coordinator of the CSUSB communication studies graduate program. "I don't remember any other graduate student in our institution getting accepted into four prestigious doctoral programs with full rides – that's just amazing!"
Cano also presented at three panel presentations including one at the 14th Annual Gender, Sexuality, and Power Student Research Conference at Cal State LA and the CSUSB Women's Leadership Conference. In addition, after being competitively selected during the CSUSB Student Research Competition, she represented the university at the 32nd Annual CSU Student Research Competition in Sacramento in May 2018.
Furthermore, Cano has won several travel and scholarly grants, including the Chicana Caucus Student Scholarship by the NACCS, the Hispanic Association for Colleges and Universities (HACU) Student Track Scholarship, and the Pansy Jacob Jackson National Student Research award. In all of these presentations, she covered diverse topics from using social media to representations of Latinas and Chicanas.
"During my graduate experience at CSUSB I learned to articulate complicated research findings to a wider audience, to incorporate intersectional framework to my research, and develop a professional demeanor," Cano said. "Although I teach up to 10 classes as an adjunct faculty at four different institutions, I manage to maintain the same passion in research and academia as I did as a student."
Last year, Cano received full funding to present at the National Conference on Race & Ethnicity in American Higher Education (NCORE) through San Bernardino Valley College Professional Development Committee, and this year, she presented a poster at the National American Association of Hispanics in Higher Education (AAHHE) Conference. Cano was also supposed to present at Adelante Mujer Latina Conference, La Chola Conference, and the 2020 Communication Studies Symposium, but the COVID-19 pandemic impacted these presentations.
She has also worked with organizations in the Inland Empire such as NerdyGirlsRock, The Womxn's Leadership Institute at Cal Poly Pomona, and the Faculty/Staff Alumni Chapter at CSUSB.
"I feel that my hard work and that of those who have supported me is paid off," Cano said. "The process of applying to Ph.D. programs is one long journey that I believe will prepare me to navigate the doctoral experience forthcoming. This process is not achieved without great effort; I had my share of trial and errors. But as it has been proven, the outcome is worthwhile! Based on the skills I have acquired, I am prepared and excited to start my Ph.D. journey in the ICR program at the University of Illinois!"