Joe Gutierrez
Office of Strategic Communication
(909) 537-5007
joeg@csusb.edu
Former Coyote Radio student wins international and regional audio production awards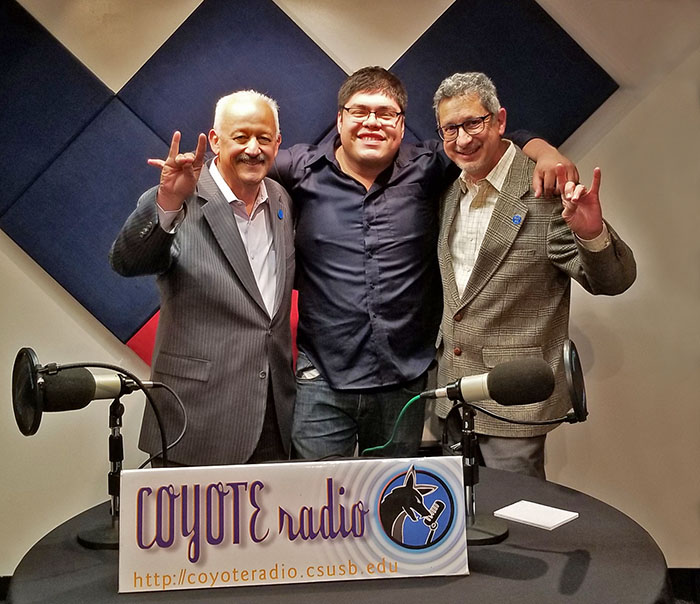 From left, CSUSB President Tomás Morales, Julio Reyes and Alfredo Cruz.
Julio Reyes, a Cal State San Bernardino communication studies alumnus, received an international and a regional award in March for his work in audio production that he completed during his last quarter in fall 2019. He is currently a production coordinator and the student station manager at Coyote Radio, the CSUSB student radio station.
 
Reyes accepted his first award at the Intercollegiate Broadcasting System (IBS) Conference in New York City on March 7. IBS is an 80-year-old international association of college and high school radio stations. This year, IBS received over 3,000 award entries and attracted nearly 1,000 attendees from across the country and around the globe.
 
"It was an amazing experience! I never thought I'd get to travel there based on anything I produced at Coyote Radio!" Reyes said of his first visit to New York. "When I started at CSUSB, the university's motto was 'Come Here, Go Anywhere.' Now it really has defined my future!"
 
Locally, Reyes will receive an ADDY Award on March 13 in Riverside from the American Advertising Federation, Inland Chapter.
 
"We're really proud of Julio and lucky to have him as a member of our team over the last two years," said Alfredo Cruz, Coyote Radio co-manager. "The fact that his work was in the top 5 percent of all entries is a testament to both his creative ability and the commitment CSUSB has to student development. These two awards are important recognitions and a great way to cap off his educational experience at CSUSB!"
 
Before graduating, Reyes secured positions with two commercial radio stations in the Inland Empire.
 
Reyes, a San Bernardino native, started in the Comm 243B Radio Practicum class. He became production manager, then student station manager at Coyote Radio, providing him with a good start to his professional career.
 
About Coyote Radio and Advertising
Coyote Radio is a 24/7 student-operated online station. Coyote Radio and Advertising is the multimedia training lab at CSUSB, specializing in radio and audio production, marketing, promotions, social media, advertising and graphic design. Located in the university's John M. Pfau Library, PL-032, volunteer and internship opportunities are available to all CSUSB students interested in either radio or advertising.

Visit the Coyote Radio website for more information.