Program Learning Outcomes (PLO)
There are many definitions of Program Learning Outcomes and while there is not a clear consensus around any one particular definition there are some general understandings that can be applied broadly to the approach to developing and assessing program outcomes and student learning outcomes at the program level.  One approach to developing PLO is the student learning outcomes at the program level. In this approach, outcomes are defined as knowledge, skills, and/or dispositions that the learners in a program should be able to demonstrate upon program completion. Another approach is the development of broader program outcome statements that incorporate many areas of inter-related knowledge and skills developed through a wide range of courses and learning experiences.
The Quarter to Semester transition taken from 2017-2019 offered the faculty at CSUSB the opportunity to engage in inquiry of their academic programs and courses through the curriculum redesign process. An important component of this inquiry was in the area of PLO. Additionally, a representative sample of programs from each academic college provided alignment of their PLO with the Institutional Learning Outcomes and the WSCUC Core Competencies. These alignment matrixes and the richness and diversity of outcomes identified and by the academic programs at CSUSB can be viewed in the linked documents below.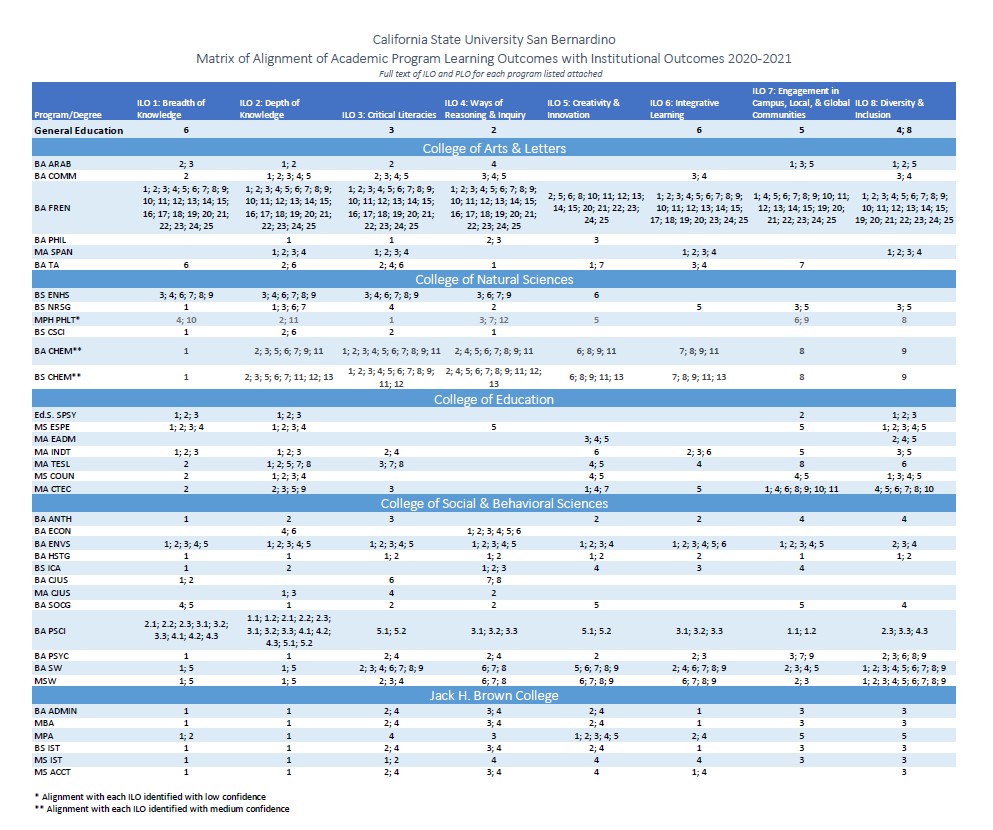 Quarter Program Learning OutcomesSemester Program Learning Outcomes 2020
Inventory of Educational Effectiveness Indicators (IEEI) 
The IEEI is a document required for WSCUC accreditation. It provides a high level overview of the assessment plans around outcomes at the institutional level (ILO), general education level (GLO) and for each and every academic degree program (PLO) at CSUSB.