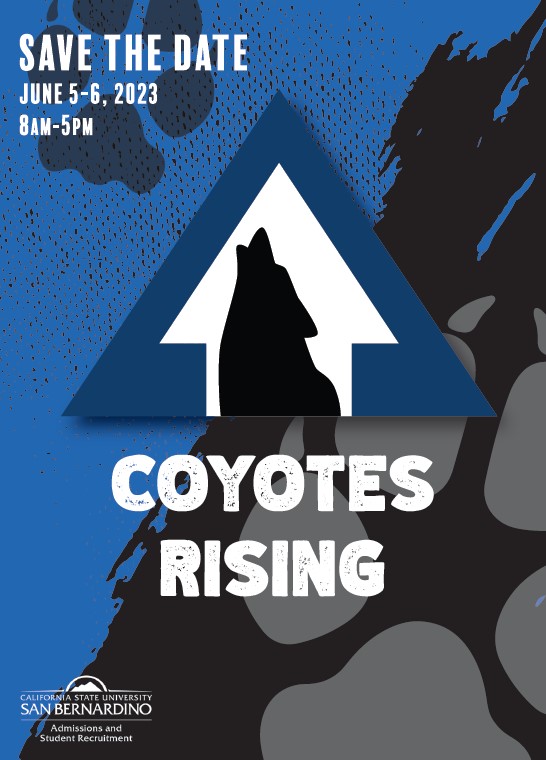 The Office of Outreach and Recruitment at CSUSB is proud to share with you the Coyotes Rising summer 2023 program!
Coyotes Rising is an immersive 2-day summer program for African American students in the 11th grade of high school (rising seniors), who are A-G bound. This program will take place on June 5-6th 2023, on the campus of California State University San Bernardino. This program is an award-winning program that is completely complimentary. 
Coyotes Rising is a thoughtful, interactive, and transformational summer program brought to you by California State University, San Bernardino. We feel confident that through your participation, you will learn more about the following; Options for college, CSUSB as a campus and university, leadership, community, and college admissions insights to achieve a successful senior year. The program will provide participating students, with early exposure to a university setting, in addition to its many resources and life-changing opportunities. The program would provide enrollment assistance to prospective students, through workshops, presentations, and individual counseling from designated Admissions Counselors and staff members.
Please note: The program is not an overnight stay program. Participating students will need to be dropped off and picked up each day. 
We look forward to your participation and welcoming you into the Coyote Pack! Register today, to join the 2023 summer cohort! 
 2-day Program Tentative Schedule

|   |   |
| --- | --- |
Day 1: Monday, June 5, 2023
8:00 am: Welcome
8:30 am: Icebreaker activities 
9:00 am: Leadership challenge 
10:30 am: Keynote speaker: The Power of College degree 
12:00 pm: Lunch 
1:00 pm: The 4 Systems of Higher Education & CSUSB Highlights  
2:00 pm Navigating College Life; Student Panel 
3:00 pm: Free time 
4:00 pm: Campus & Academic College Tour 
5:00 pm: Closing of day 1
---
Day 1: Tuesday, June 6, 2023
9:00 am: Morning Activities 
10:30 am: Break 
10:45 am:

Career Exploration Workshops 
Choosing a Major 
Exploring Job Opportunities 

12:00 pm: Lunch 
1:00 pm: Financial Aid Opportunities at CSUSB 
2:00 pm: Financial Literacy Discussion & Activity 
3:30 pm: Q&A
4:00 pm: Closing Ceremony & Reflection (Parents are encouraged to attend this portion)
5:00 pm: Departure
Questions? Contact the program coordinators 
Melissa Guerra
mdavila@csusb.edu 
Direct: (909) 537-3870
Mark Rogers
mark.rogers@csusb.edu 
Direct: (909) 537-3783