Define Your Future: Transfer, Transform, and Transcend at CSUSB!
Embark on a transformative journey with the Transfer Success Pathway (TSP) program, where you can Define Your Future, Transfer seamlessly, Transform your potential, and Transcend boundaries at Cal State San Bernardino! Unleash your true potential and shape your brightest future as you discover boundless opportunities and reach new heights of success within our Coyote Family!
About
The Transfer Success Pathway program is designed to be seamless and efficient. If you are enrolling in a California community college for the first time, you can use it as a springboard and sign an agreement with Cal State San Bernardino, securing your place at our university and major when you transfer. With streamlined processes and support at your fingertips, you'll save valuable time and money on your educational journey.
As part of Cal State San Bernardino's commitment to your success, we want to see you thrive and graduate with your CSUSB degree at an affordable cost and with lifelong value. This program is a testament to our belief in the potential of transfer students, and we are excited to welcome you into our community. You can start your transfer pathway now, please visit the Transfer Success Pathway website.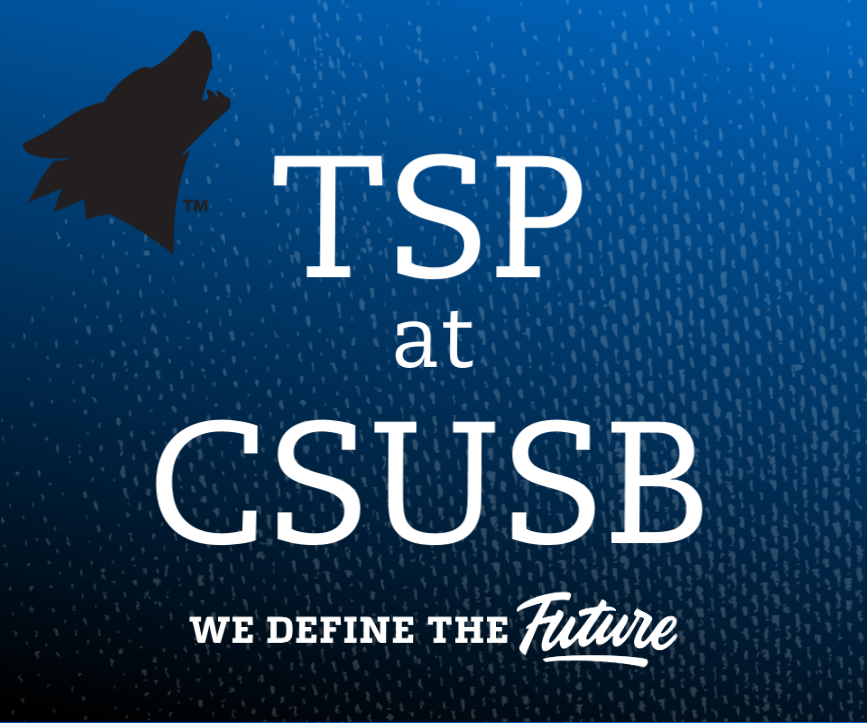 Eligibility:
The Transfer Success Pathway program offers an exceptional opportunity for eligible students who are planning to enroll in one of California's 116 community colleges in the fall. To be eligible for this transformative program, students must meet the following criteria:
CSU Non-Eligibility: Students who were not initially eligible for direct admission to a CSU campus at the time of high school graduation.
Voluntary Non-Enrollment: Students who were eligible for CSU admission but chose not to attend due to personal or financial reasons.
Redirected Application: Students who were eligible for CSU admission, applied to their preferred campus but were redirected to another campus, and subsequently did not enroll.
Application Process:
Applying to the Transfer Success Pathway program is a straightforward and promising process that opens up opportunities for a brighter future. Here are the steps to apply:
Check Eligibility: Ensure you meet the eligibility criteria mentioned before proceeding with the application.
Choose a CSU Campus: Select CSUSB as the specific CSU campus you wish to attend as part of your application. 
Associate Degree for Transfer (ADT) or Established Course of Transfer: As part of the application agreement, students must complete either an Associate Degree for Transfer or an established course of transfer at their community college within three years. This step ensures a smooth and efficient transition to CSUSB.
Additional Information
Transfer Success Pathway (TSP) is guided by the Governor's Council for Post-Secondary Education Recovery with Equity report and the Postsecondary Education Trailer Bill (AB 132).  The TSP program will help improve the student transfer experience while addressing potential equity issues as a result of the COVID-19 pandemic, issues with academic preparation, and other challenges facing high school students. TSP represents an exceptional commitment by the CSU to bolster the connections with students during their community college enrollment. By offering guaranteed transfer and invaluable resources, this program paves the way for students to excel academically, overcome obstacles, and achieve their aspirations of attaining a four-year degree from California State University. Here are additional benefits you will receive:
Supportive Resources: As part of the Transfer Success Pathway program, students receive additional benefits, including pre-transfer counseling, direct access to CSU libraries, and essential financial aid information.
CSU Transfer Planner Portal: In the summer of 2023, the CSU Transfer Planner portal will launch to provide comprehensive support for the program. Students can utilize this portal to determine their program eligibility, explore available campuses and programs, and enter into a binding agreement.