'Eternal Learning' points to mission of James R. Watson and Judy Rodriguez Watson College of Education
Over a few weeks during the spring semester, ceramic sculptural tile – books, letters, silhouettes of people – have been attached to low concrete walls in front of the James R. Watson and Judy Rodriguez Watson College of Education at Cal State San Bernardino, slowly taking the shape that communicates in so many ways the college's mission.
Called "Eternal Learning," the tile mural will be completed and formally introduced during a ceremony at 11:30 a.m. Wednesday, May 3, at the college.
"It's student-designed, it's student-created and it's student-installed," Alison Ragguette, director of the art project and CSUSB professor of art and design, said. Designed by Raul Diaz and Melissa Medina it consists of 850 square feet of ceramic tile. "Eternal Learning" depicts humans at work, study and play among larger-than-life books, and included scenes of learning activities such as shared reading, conducting science experiments, playing basketball, and gazing at stars. Floating between the scenes are letters of the alphabet.
On a wall opposite the main portion of the mural is a scene depicting commencement. Called the "Selfie Wall," it is envisioned as a place where graduates and their families and friends will pose for photos on a milestone day.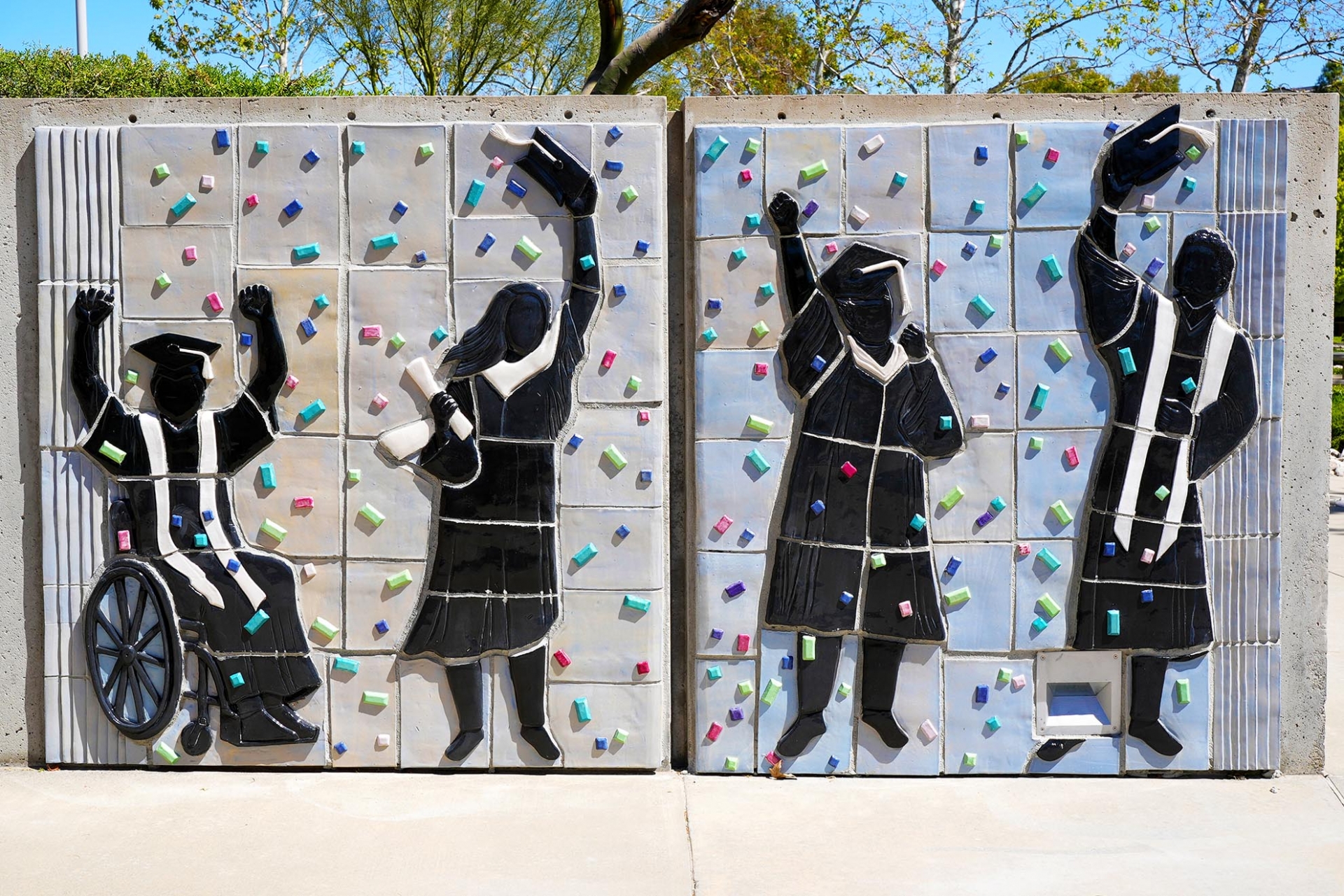 In between the two scenes is the "Language Wall," where "Eternal Learning" will be translated in 65 languages, including sign language and Braille. And while 65 languages represent many, Ragguette said it can include more translations this way: A QR code will be created and incorporated into the wall, and visitors can make their own contributions, which will be compiled on Google list.
"The concept is that this could be added to, the artwork can continue to grow like sourdough bread – it's a living artwork, it's a living wall, even though it's on concrete," Ragguette said.
"The concept is that it's giving back to the community and that students will see themselves in the mural, but also, this is a reminder of the connection to each other and the natural world," she said.
"Eternal Learning" is the fifth piece sponsored by the Judy Rodriguez Public Art Project. Ragguette worked on the first four, which are columns of ceramic art located along a median on Northpark Boulevard, west of the campus' University Parkway entrance.
"We started designing this piece five years ago," she said. "And, of course, like everything else, the pandemic set us back."
Twenty students worked on the mural, some of whom already have graduated. "It's been about giving students the learning opportunity, and also the work experience," Ragguette said. "And also, the confidence to go on to pursue careers in this area. I believe that students get to really prove to their families that there are viable projects out there, and that they can have a life as an artist."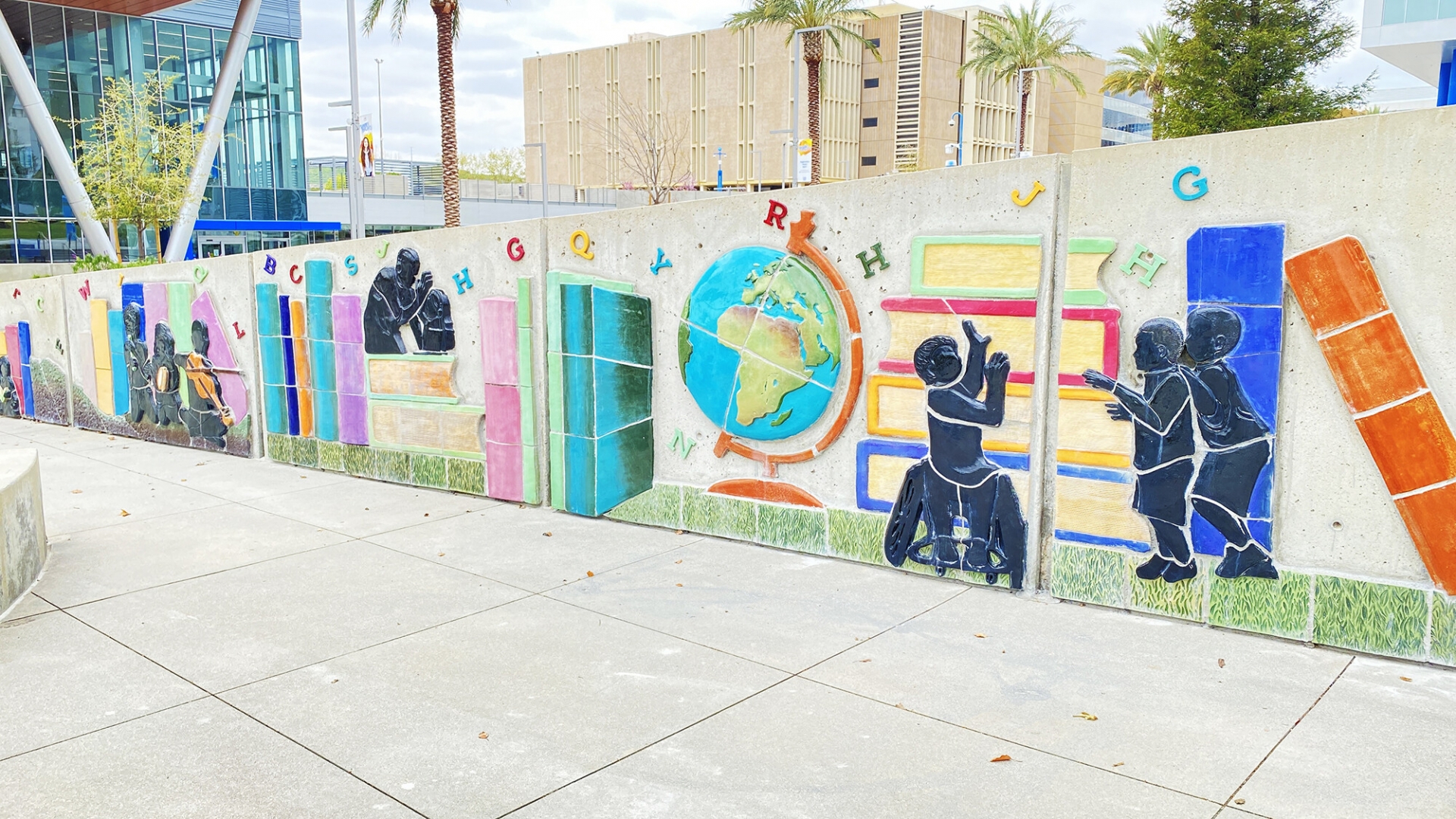 That ceramic was the chosen medium also plays into the concept of "Eternal Learning."
"Students made it for incoming students. Then I have students who are currently in the credential program, and I asked them, 'What does this mean for you to make something like this for your college. And they're like, 'Everything! And I can't wait to come back with my kids some day and show them that I made this,'" Ragguette said.
"It will impact for generations. Ceramics, because it's an archival material, is such a powerful medium for public art because of its longevity and its resilience – and relatability," she said. "I think a lot of people have a relationship to the material, and have a sense of it. But to think decades into the future – these artists can come back and bring their children – it's always going to be there and there will always be a connection. That connection is very vital. It doesn't really fade because the material is so resilient."
Involved with Ragguette, Diaz and Medina in the creation and installation of "Eternal Learning" were Judy Rodriguez Watson Public Art fellows Yvette Arguilles, Stacey Carrasco, Richard Concheri, Joanne Cuevas, Anna Delgado, Matt Dickerson, Frankie Gutierrez, John Harman, Sarah Hayashi, Keliegh McMullen, Luisa Notarangelo, Rosemary Rivas, Andrea Simpson, Holland Snipes, Evelyn Trinidad, Jocelyn Williams and Mayra Zambrano.
Assisting the artists in translating "Eternal Learning" for the "Learning Wall" were Teodora Bozhilova, Stacey Carrasco, Rueyling Chuang, Gerald Clarke, Juan Delgado, Chinaka DomNwachukwu, Dany Doueiri, Mika Efros, Riki Hayashi, Raymond Huaute, Bomi Hwang, Monika E. Justin, Ranjrani Kalra, Robert J. Levi, Thinh Li, Vai Matautia, Josephine Mendoza, Enrique Murillo Jr., Chris Naticchia, Sastry Pantula, Pinthusorn Pattayakorn, Patricia Preciado, Siska Purnawan, Golge Seferoglu, Pashaura Singh, Gulden Taner, George Antony Thomas, T ita'e Utuon and Kerstin Voigt.