CSUSB student named to inaugural AAHHE Undergraduate Fellowship Program
The American Association of Hispanics in Higher Education (AAHHE) has named Cal State San Bernardino psychology major Sandy Castillo to its inaugural Undergraduate Fellowship Program.
Castillo, who will graduate this spring with a bachelor's degree, joins 14 other Hispanic undergraduates from throughout the country as fellows in the AAHHE program created to increase Latina/o/x undergraduate students' knowledge and understanding of post-baccalaureate options and career readiness through workshops and professionalization.
She said she applied to become a fellow because "I just wanted to be part of something that shared the same values as me. I've never been part of a cohort that stands for something positive like them. They stand for the Hispanic community and higher education in the Hispanic community. So, I am very for that. I'm also very excited to be part of that and can't wait to learn more from them."
Castillo, who is a first-generation college student, said she wanted to be an AAHHE fellow because she believes it will be a positive for the community, especially the Hispanic community. "This is something where I can learn and I can share with others when I come back," she said.
After high school, she attended vocational school and became a pharmacy technician, which she did for 16 years.
"I was doing that for a lot of years and then decided, this is not really what I want to do. I'm not growing as a person," Castillo said. "I felt like, okay, I need to go back to school and learn something further and something where I can serve my community and be able to help others."
But like many students new to college or coming back, she faced uncertainties.
"With me being a returning student, I think that I lacked a lot of guidance in my life where I wasn't sure how to come about helping myself and my education," Castillo said. "I think that maybe a lot of communities, the Hispanic community, lacks that. I know my parents had no idea how to guide me in that sense. They're immigrants, so I kind of have to do things on my own."
But she also learned that there are faculty and staff along with groups on campus that she could reach out to for help, such as Edwin Hernandez, an associate professor in special education rehabilitation and counseling, and Barbara Herrera, the coordinator of the CSUSB Student Mentoring Program.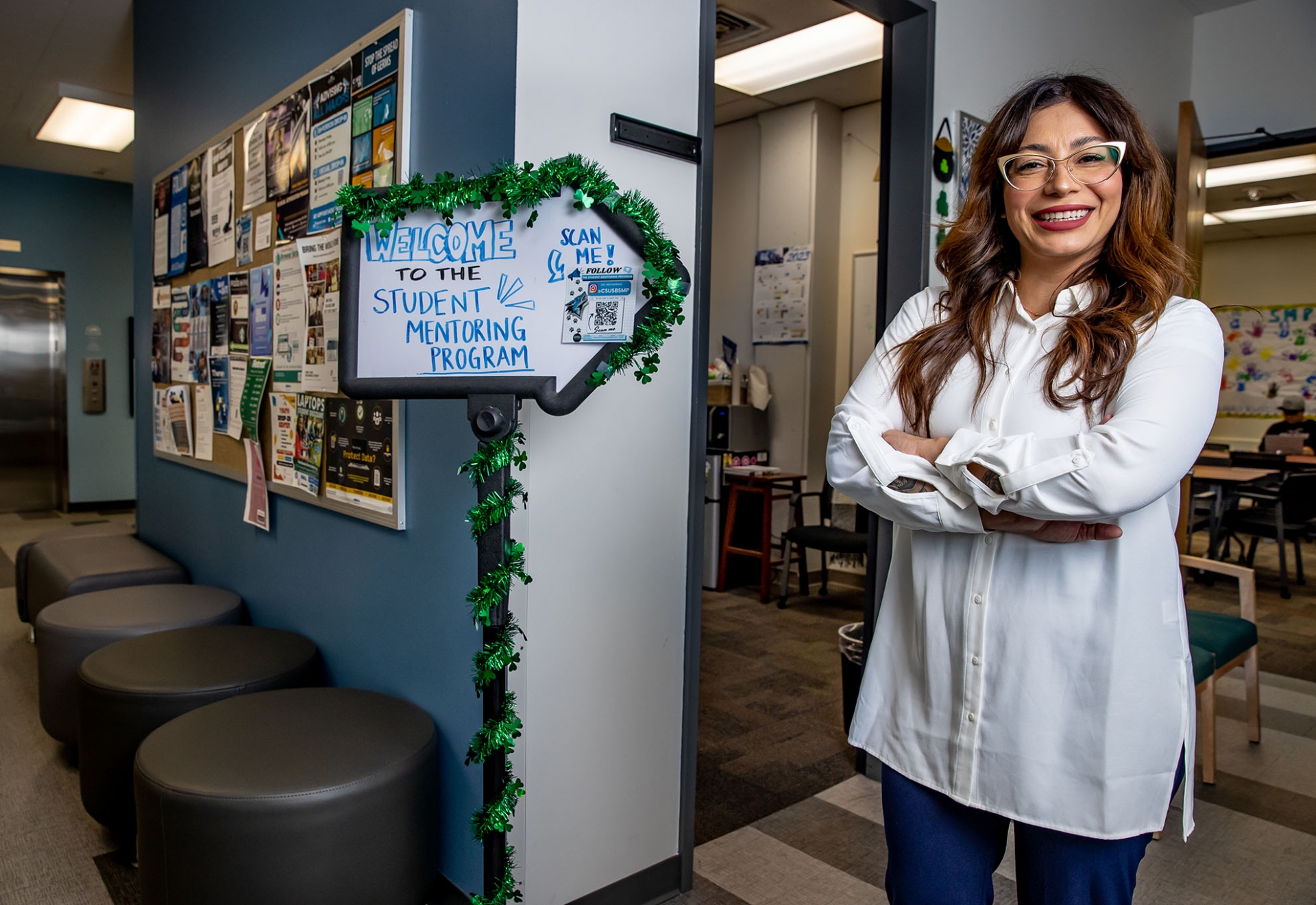 "Anytime that I've reached out for any type of resources, they've always been there," Castillo said. "And that's not just with me. I see that they're like that with other students as well. So, I think that those are people that I would like to emulate and kind of carry over what I've learned from them in the future with helping others."
Castillo plans on applying to graduate school at CSUSB in the fall as part of her academic journey. Her philosophy is that education is essentially important for human growth and personal development. Education in general is important to her and especially education in mental health, which is one of the reasons she chose psychology as her major.
Her goal is to become a school counselor or clinical therapist.
"Once I'm done with the master's program here, I would like to work for a school. I would like to work with the adult population," Castillo said. "If I were to be able to work at a community college, that would be awesome."
Castillo also serves as a mentor in the CSUSB Student Mentoring Program, working with first-year students in connecting them with university and program resources, faculty and staff.
"I chose a mentoring program because it's kind of related to what I want to do eventually as either a school counselor or a chemical therapist," Castillo said. "I meet with students, and they all have questions for me."
She said she had some of the same experiences as students, many who are first-generation college students who transferred to CSUSB as she did.
"Even though I'm as old as I am, I still felt lost and kind of scared. It was a whole big institution. I had no idea where I was going and where things are at," Castillo said. "So, I think that being part of this program, I wanted to help those that might have felt the same way I did and provide all the resources and things that I could for these students so that they didn't feel as lost as I did."
At the same time being in the program, she said she is learning how to communicate effectively with these students because it's something that she is going to need in the future.
Learn more about the AAHHE Fellows at the ETS/AAHHE Undergraduate Fellowship Program website.
The American Association of Hispanics in Higher Education (AAHHE) is an agent of change for improving education, thus enabling Hispanic students to fully participate in a diverse society. AAHHE works collaboratively with all sectors of education, business, industry, as well as community and professional organizations to enhance the educational aspirations and to meet the needs of a significantly increasing Hispanic population. Visit the AAHHE website for more information.