Award-winning journalist is next guest on Conversations on Race and Policing

Cerise Castle, an award-winning journalist who wrote an investigative history of deputy gangs within the Los Angeles County Sheriff's Department, will be the next featured guest for Cal State San Bernardino's Conversations on Race and Policing, at 1 p.m. Tuesday, Feb. 28, on Zoom.
The livestream of the program, which is free and open to the public, can be accessed from a PC, Mac, Linux, iOS or Android at https://csusb.zoom.us/j/97960458784.
Castle recently won an American Mosaic Journalism Prize, awarded by the Heising-Simons Foundation, for "A Tradition of Violence: The History of Deputy Gangs in the Los Angeles County Sheriff's Department," a 15-part series and podcast on the news site Knock LA. The Heising-Simons Foundation gives the annual prize, $100,000, for excellence in long-form journalism about underrepresented groups in the United States. The foundation said it is the largest dollar prize given annually for journalism in the U.S.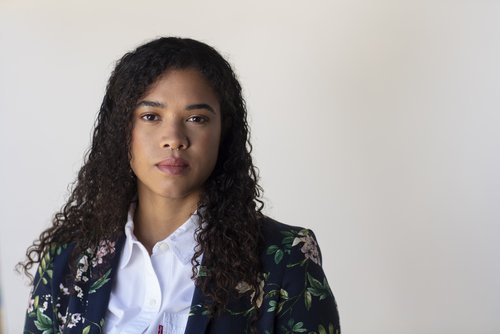 Castle's series also was given the American Journalism Online Award for best use of public records, and she is also the recipient of the International Women's Media Foundation Courage in Journalism Award.
Her work has appeared on NPR, the Los Angeles Times, Los Angeles Magazine, the Daily Beast, Vice News, Romper, Market Place and KCRW.
Conversations on Race and Policing, also known as CoRP, began in the aftermath of the May 25, 2020, death of George Floyd while in the custody of four Minneapolis, Minn., police officers. A video of the incident posted on social media led to widespread protests, the firing of four police officers, the arrest and conviction of one officer on a second-degree murder and related charges, the other three on charges of aiding and abetting second-degree murder – and a spotlight worldwide on race and policing.
The series has featured scholars, journalists, law enforcement officers, lawyers, activists, artists, educators, administrators and others from throughout the nation who shared their experience and expertise on issues related to race and policing.
More than 50 forums have taken place, and video recordings of the sessions are posted online on the Conversations on Race and Policing Lecture Series Archive. 
The series is organized by CSUSB students, staff and faculty, including recent history master of arts graduate, Cecelia Smith; history master of arts student Matt Patino; Mary Texeira, professor emerita, sociology; Jeremy Murray, professor of history; Robie Madrigal, public affairs/communication specialist for the CSUSB John M. Pfau Library; and community member Stan Futch, president of the Westside Action Group.
The spring semester lineup of Conversations on Race and Policing, each at 1 p.m. on Tuesdays, includes:
For more information, contact Robie Madrigal at rmadriga@csusb.edu or Jeremy Murray at jmurray@csusb.edu.