CSUSB launches historic $200 million campaign
Cal State San Bernardino President Tomás D. Morales formally kicked off the university's new academic year on Aug. 18 at its Convocation, listing the campus' accomplishments as well as its goals and challenges.
One of the university's most significant goals, Morales said, was the public launching of its $200 million "blended" campaign that includes philanthropic fundraising and funding for grants and research.
With the kickoff of "Our Defining Moment: The Campaign for CSUSB," the university becomes the first public institution of higher learning in the United States and in the 23-campus California State University system to launch a comprehensive campaign focusing on making appeals and pitches to donors, and grants and research funding, Morales said.
"By blended, I mean we will be seeking support from a variety of investors: alumni, friends and corporate and foundation partners, along with revenue from sources not typically included in comprehensive campaigns, such as government agencies and tribal nations, which will leverage the impact of overall support," said Morales, who added that the campaign is well under way.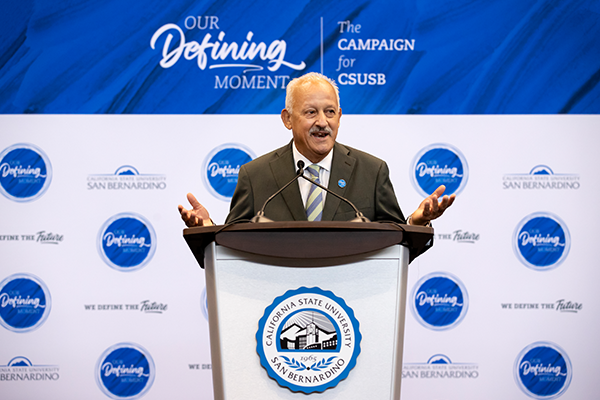 "Thanks to the leadership gifts we have received from our friends, alumni, corporate, foundations and government grants, we have raised $130 million toward our $200 million goal," Morales said.
The blended campaign, which will go through 2025, is the largest in the history of the university, which opened its doors in fall of 1965. The university expects the campaign will surpass the $200 million goal.
The Our Defining Moment campaign will consist of four pillars in fundraising – scholarships, faculty, programs and research, and capital construction, Morales said.
The pillars are:
Scholarships – To invest in our students to further eliminate barriers to success, expand educational opportunities and enrich their academic success;

Faculty – To invest in our outstanding faculty and to attract and retain new faculty to further enhance research, creativity and scholarship;

Programs and Research – To advance academic excellence, energize and expand robust programs and create new ways to address today's global challenges; and

Capital Construction – To modernize facilities that enhance teaching and learning and create new environments conducive to student and faculty scholarly endeavors.
"Based upon the incredible success of our previous comprehensive campaign, I am energized by what we will be able to achieve with Our Defining Moment," Morales said.
For more information, visit Our Defining Moment – The Campaign for CSUSB.