CSUSB GenCyber Camp brings 89 IE middle and high school girls to campus
For a week in mid-June, 89 middle and high school girls from San Bernardino and Riverside counties learned about cybersecurity, its fundamentals, computer networking and social engineering as part of the 2022 GenCyber Summer Camp held at Cal State San Bernardino.
The free five-day camp, hosted by the CSUSB Cybersecurity Center, was created to bring cybersecurity awareness, training and career mentoring designed to stimulate interest and competency in cyber content and career development through an interactive cyber camp experience to a diverse youth population, said Charles Rouse, program manager for the cybersecurity center.
Working with the Girl Scouts of the San Gorgonio Council, the center recruited campers from both counties, including the cities of Lake Elsinore, Corona, Highland, Menifee, Mira Loma, Hemet, Moreno Valley, Perris, Redlands, Rialto, Temecula, Beaumont, Yucaipa, and the high desert cities Hesperia, Adelanto, Apple Valley, and Victorville, Rouse said.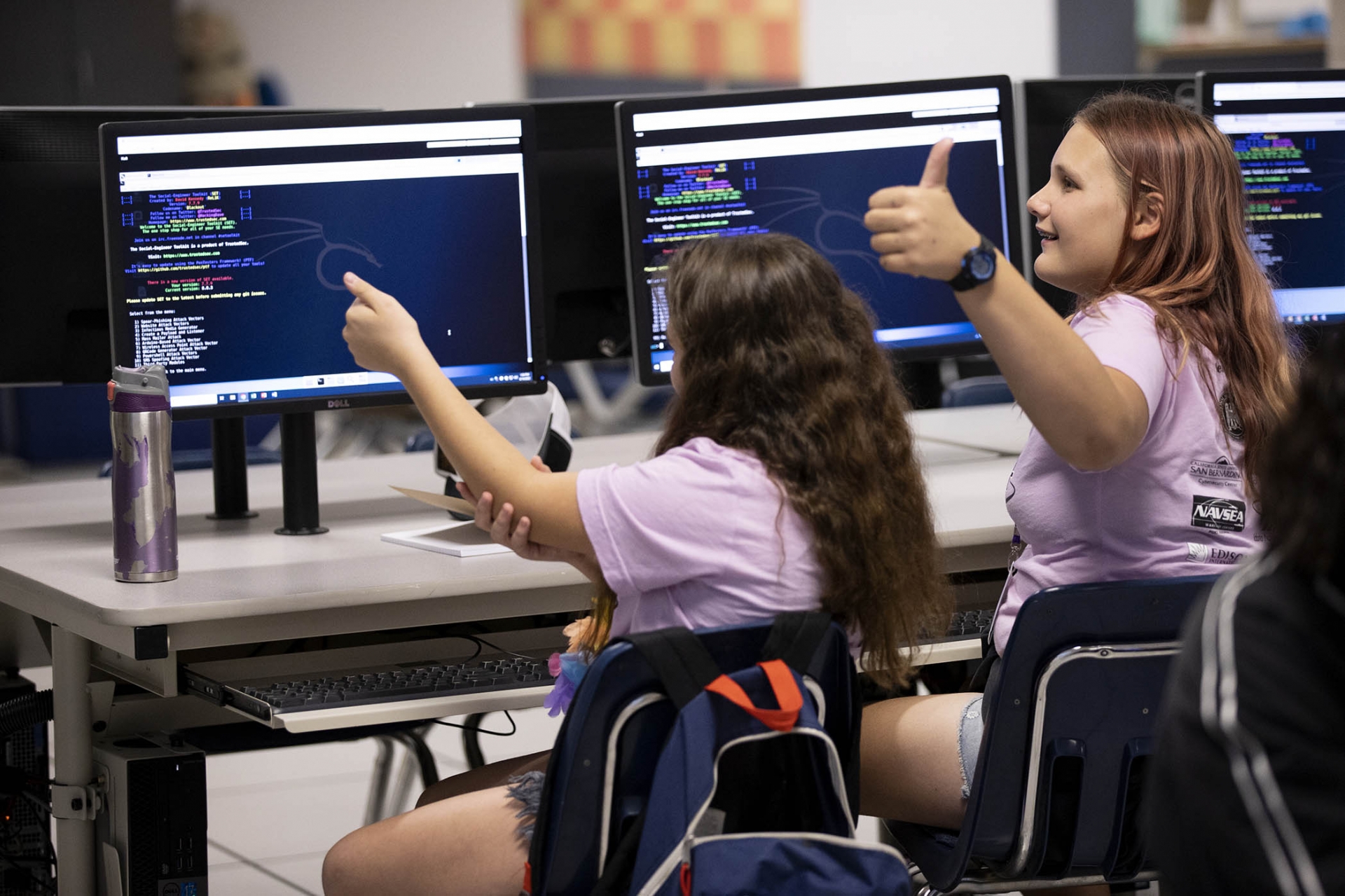 The participants also took classes on Cybersecurity Fundamentals Offensive & Defensive Security and Drone Programming & Piloting. All the classes were designed and presented by CSUSB Jack H. Brown College of Business and Public Administration cyber program students and alumni, accentuating the six NSA GenCyber Cybersecurity Concepts of confidentiality, integrity, availability, keep it simple, defense in depth, and think like an adversary, Rouse said.
CSUSB cyber club members from the Cyber Intelligence and Security Organization (CISO), Women in Cybersecurity local chapter (WiCyS), and Business Intelligence and Analytics Club (BIAC) volunteered throughout the camp assisting with courses, activities, mentorship sessions, and general operations to make the camp possible.
The campers also enjoyed activities of the Leadership Challenge Center Ropes Course, rock climbing and a Cyber Escape Room.
Outside of CSUSB faculty, staff, and students, the camp also hosted industry partners Naval Surface Warfare Center (NAVSEA), Idaho National Labs (INL), Tomorrow's Talent and the CSUSB Information Technology Services (ITS) department, who presented "Career Mentorship Sessions" where they shared about their organizations and the cybersecurity career opportunities available.
Cybersecurity specialists master and perform various security measures implemented to protect an organization's computer systems and networks. They monitor, analyze and fix potential system breaches that may be exploited by cyber criminals. Cybersecurity specialists also research trends in tech-based security to stay one step ahead of potential attackers and their tactics. Offensive security practices a proactive approach using ethical hacking, whereas defensive methods are reactively focusing on prevention, detection and responding to attacks.