CSUSB president donates artwork representing 'the beauty in change' to on-campus center
The Undocumented Student Success Center (USSC) at Cal State San Bernardino just got a little more vibrant with the donation of a student-made art piece by President Tomás D. Morales on Monday, May 17.
The artwork, a beaded calavera (skull) created by CSUSB art student Valeria Vargas, was purchased by Morales during the Día de los Muertos (Day of the Dead) celebration and auction last November, hosted by the university's Association of Latino Faculty, Staff and Students (ALFSS).
"It was a fun night bidding for your work," Morales told Vargas during the donation.
In the weeks leading up to Día de los Muertos, CSUSB's Robert and Frances Fullerton Museum of Art invited the campus and community to decorate a calavera, or skull, which is an iconic symbol for the Mexican holiday that is celebrated throughout Mexico, in particular the central and south regions, and by people of Mexican heritage elsewhere.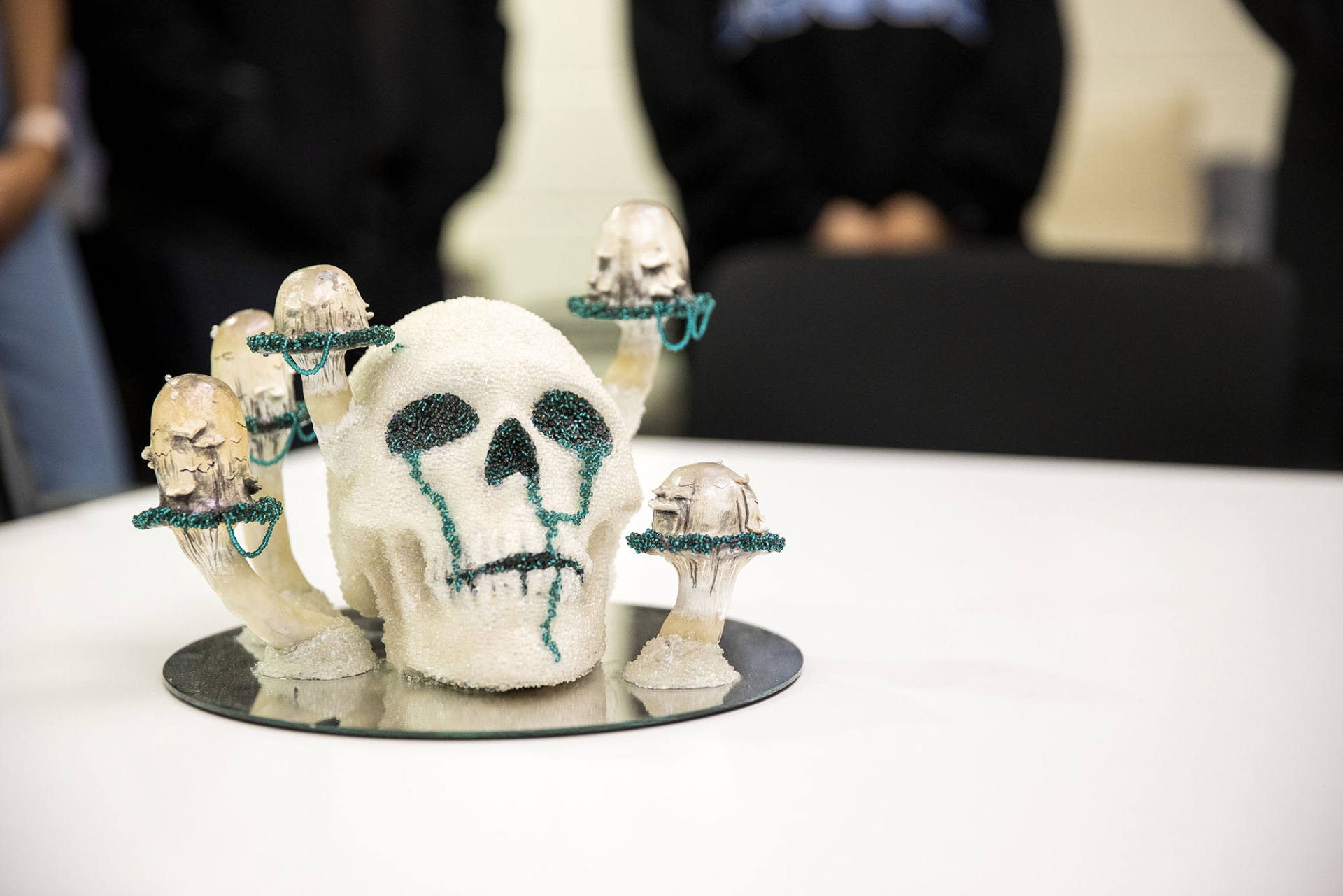 Money raised during the calavera auction went to ALFSS student scholarships.
"This art piece was donated for the Day of the Dead, and specifically, I appreciated that all the money going toward these pieces would be donated to a Latin-based scholarship," Vargas told the crowd during the donation.
Morales said he has a tradition of purchasing student artwork and donating them to various locations on campus.
"I just want to tell you how proud I am of this center and the work that you do, the student-peer advisors, the professional staff," Morales told the USSC. "Dia de los Muertos is another wonderful tradition at Cal State San Bernardino, and I trust that you will find a place for this wonderful piece of artwork."
"The main theme of this skull is the beauty in change," said Vargas. "And I couldn't find a better example of this than the undocumented students who come into this office. Especially in these last few years, it's really been troubling times, and they persevered. It is very amazing that I get this opportunity, so thank you President Morales and thank you to the Undocumented Student Success Center for allowing this to happen."
Vargas' calavera, called "Ode to the Inkcap," is an "ode to growing old, appreciating our elders and ancestors and the beauty of our bodies and minds as we enter a new stage of life."
"One mushroom in particular that I am fond of is the inkcap mushroom, but most people don't recognize that it is an inkcap until it's in the state of decay," Vargas explained to the crowd. "And a lot of this has to do with the beauty in growing old and the wisdom that you gain and how we need to appreciate our ancestors and our elders."
Vargas' calavera is made of glass beads, plaster and polymer clay, which she beaded by hand. The mushrooms have an iridescent look to them that change throughout the day depending on the light, which she says, "really helps with the theme of change."
"It is such an honor for my sculpture to be donated to the USSC," she said. "I never expected something like this to happen, but knowing that the hardworking students who enter the center may find enjoyment in my art fills me with happiness."
For a 360 view of "Ode to the Inkcap," visit the RAFFMA YouTube page.