CSUSB assistant professor's book explores LGBTQ+ music studies
Representation matters. And it is the reason why Nicholas Bratcher created his book "Rainbow Jukebox: A Concise Companion for LGBTQ+ Music Studies."
"It's extremely commonplace to look at academic sources that are selective with historical accounts and representation," said Bratcher, CSUSB assistant professor of music and director of bands.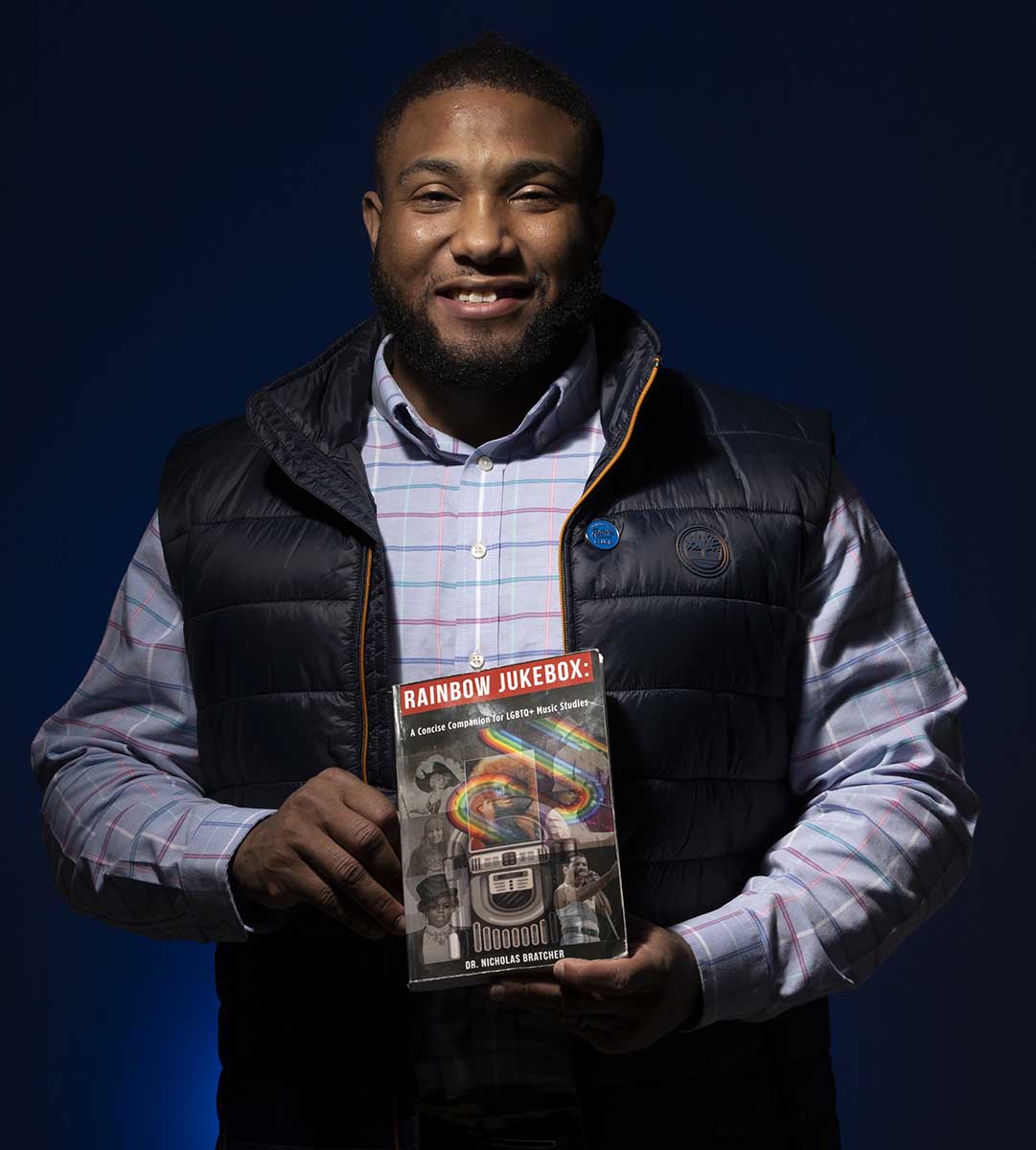 Nicholas Bratcher created his book "Rainbow Jukebox: A Concise Companion for LGBTQ+ Music Studies."
Bratcher, who is in his fifth year of teaching at CSUSB, made Rainbow Jukebox specifically for his LGBTQ+ Perspectives in American Music course, which explores LGBTQ+ influences in music history. But it wasn't until his first time teaching the course in fall 2020 that the book idea came to life.
"Things went well, but then I realized that I was using a lot of articles, handouts and personal experiences that could probably be compiled into a book," he said. "Thus, Rainbow Jukebox was born!"
Released in summer 2021, according to the book's description, Rainbow Jukebox "is not meant as a comprehensive guide to LGBTQ+ music history, but rather an ever-expanding snapshot."
It is also not only restricted to those in the realm of academia, and you don't need to be a musician to utilize the book, Bratcher noted.
So what exactly is Rainbow Jukebox? It is a "living, breathing, document; one that will continue to be updated to reflect knowledge gathered and the events of the present," according to its description.
"It is unmistakable the effect that LGBTQ musicians and our culture have on today's society, and it is a perspective that needs to be experienced," Bratcher explained. "Rainbow Jukebox is just my small way of passing along that experience to all who wish to be emboldened by its pages … My hope is that readers are empowered to hear the collective album of a community of people who are still fighting for freedom and acceptance."
Bratcher describes the LGBTQ+ community as a broad spectrum of people from different races, creeds, ethnicities and gender identities.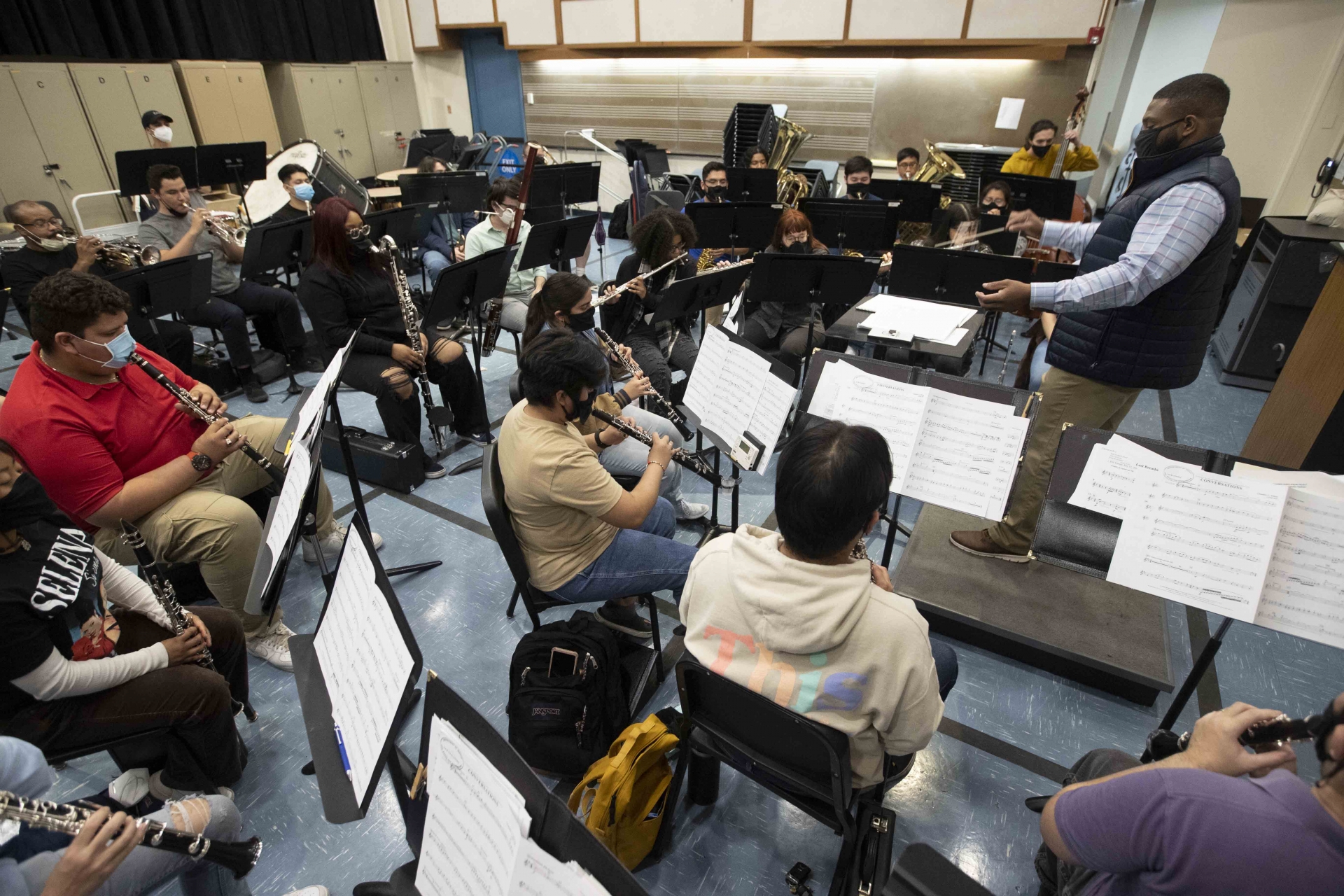 "Research shows that millennials and Gen Z folks make up most people who stream music and attend live concerts," he said. "Being able to see themselves represented in their favorite genres is something that I highly advocate."
Bratcher will discuss "Rainbow Jukebox: A Concise Companion for LGBTQ+ Music Studies" on Tuesday, Feb. 15, at noon on Zoom in celebration of Black History Month. The first 10 students who register will receive a complimentary copy of the book, available for pick-up in the Pan African Center. Register for the Black History Month Spotlight Series/Nicholas Bratcher registration webpage.
A native of Conway, South Carolina, Bratcher conducts the CSUSB Symphonic Wind Ensemble, Chamber Winds, and teaches courses in conducting, music education, and diversity in music studies. He is an active guest conductor, clinician, adjudicator and performer throughout the United States and a burgeoning scholar and researcher in the field of wind band music internationally. Bratcher earned his bachelor's in music and his master's in music education from Coastal Carolina University (Conway, South Carolina). He later earned a doctorate in music education with studies in conducting from the University of Georgia.