The clear choice: Art professor and glass expert named CSUSB's 2020-21 Outstanding Professor
A shining example of an engaged faculty member who has also built an international reputation for her glass art, Katherine Gray has been named Cal State San Bernardino's 2020-21 Outstanding Professor.
In being chosen for the honor, Gray, a professor and associate chair of the Department of Art and Design, also becomes the John M. Pfau Endowed Professor, named for the university's first president. Gray is also a distinguished glass artist, whose work has been on display in a number of museum exhibitions and is the resident evaluator on the Netflix hit show "Blown Away," now in its second season.
Gray was surprised with news of the award April 12 when CSUSB President Tomás D. Morales and about 40 colleagues were at a Zoom meeting she had been invited to under the guise of a college department meeting.
 "We're here to present the 2020-21 Outstanding Professor Award to you, Katherine Gray, for your enduring excellence in teaching, in research, in scholarly activities and your service to our students, to our university and to the community, but most importantly your commitment to our students is second to none," Morales said to the professor, who was beaming from the surprise.
"One of the first things I'm going to do when we repopulate is find you and get your autograph," Morales said of Gray's work on the Netflix series. "My wife and I really enjoy watching you and our alumna (contestant Nao Yamamoto). It's really fantastic."
In a long-standing university tradition, award recipients learn they've been named CSUSB Outstanding Professor during a surprise visit to their classroom or lab made by the president, past award winners, university leaders, faculty and staff. Just as most campus activity takes place remotely during the pandemic, award announcements, too, have been delivered virtually.  
Morales said as the Outstanding Professor, Gray will receive a $1,000 check and a $3,000 Faculty Development Grant. She will be honored at the College of Arts & Letters virtual commencement ceremony and at a faculty recognition event.
Provost Shari McMahan joked that she too would seek Gray's autograph.
"Congratulations on this well-deserved award. Your work as an artist, teacher and mentor has brought much value and attention and excitement at CSUSB. It's also touched the lives of countless individuals worldwide whether through solo or group exhibitions, displays in museums or on television," McMahan said. "Thank you again for your overall excellence, the prestige you have brought to our campus and the unique opportunities you bring to all of our students."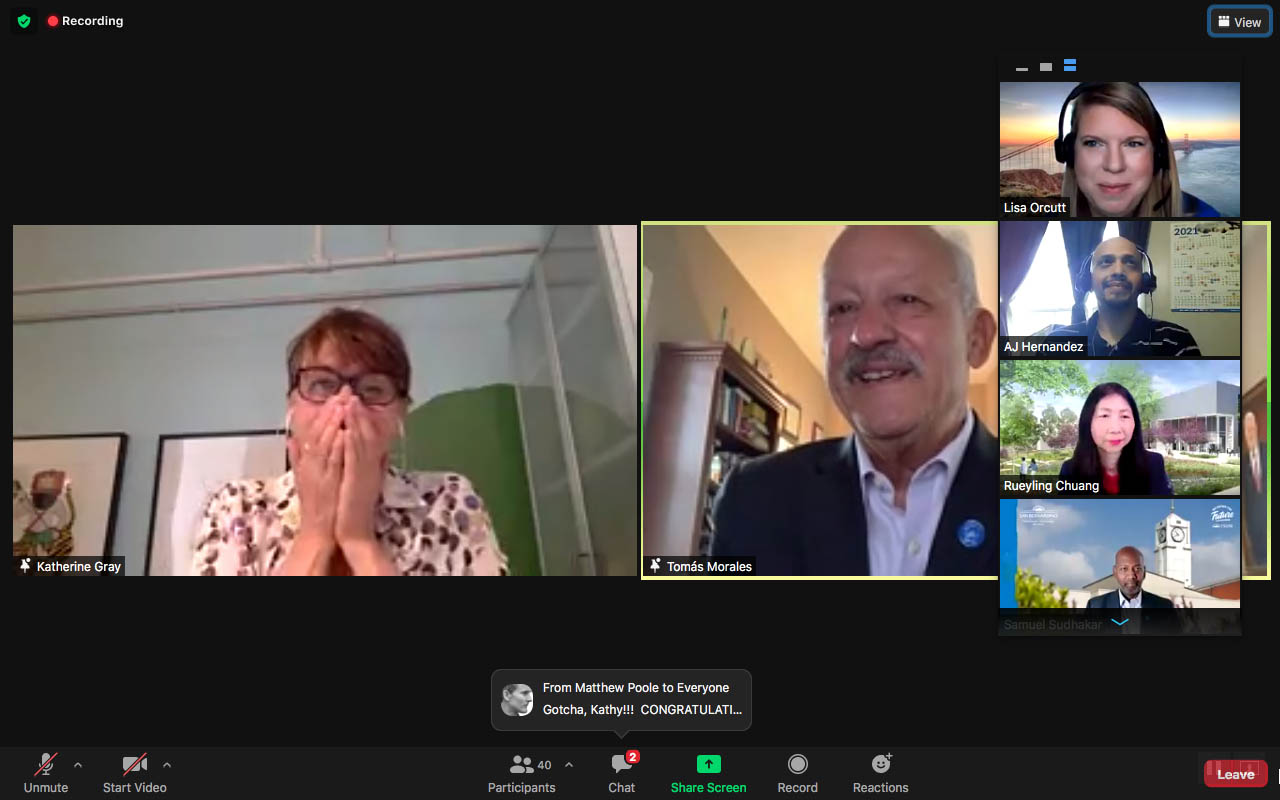 Rueyling Chuang, dean of the College of Arts & Letters, said she really appreciated Gray's work and her contributions to the college and the department. Chuang praised Gray for her "wonderful, remarkable, extraordinary work and contribution as a scholar, as an artist, as an educator, as a great promotor of glass artwork in the professional field and I just want to salute to you for your wonderful contribution and your excellent work. Very well-deserved."
Matthew Poole, chair of the CSUSB Department of Art & Design, called Gray "an exemplary colleague."
"It's just an absolute pleasure working with you Kathy," he said. "You're so dependable, so much fun, so kind." He also said Gray has an amazing career and really is considered one of the best – if not the best – glass artist in the United States and certainly across the world.
He added that she was also a dedicated educator and faculty member who had worked on a number of difficult projects that included the university's Quarter to Semester project. "We just couldn't hope for a better colleague," Poole said.
When it was Gray's turn, she said she was "completely overwhelmed."
"It's been really amazing working with the students at Cal State. It's so energizing. I loved teaching. It's definitely been a little more challenging during the pandemic and we've maybe been doing less of the really exciting glassblowing part of it, but we're still doing that, but really just because of COVID and social distancing, we've doing lots of other stuff … students are trying lots of different things and we're exploring new terrain together so that's been really exciting," Gray said.  "I feel super lucky to be part of this community and have this job that I absolutely love. I would do it even if I wasn't getting paid. I love getting paid, but it's really, really an absolute joy. Thank you all for giving me the opportunity and acknowledging my enthusiasm for it."
Gray teaches glassblowing and glass art at all levels. As one interviewer observed of her, "Katherine doesn't make pretty objects, she gives us a lens to view the world through the magical lens of glass." As a dedicated educator, she deftly guides and mentors students as they learn to view the world though a similar lens, and as needed she crafts and recasts curricula to support them on their journey.
She has played significant roles in developing the Master of Fine Arts in studio arts degree, the bachelor of fine arts in art degree, as well as the quarter to semester conversion (Q2S) of the BA in Art degree. Her teaching-related service includes chairing department and college curriculum committees during the Q2S transition. Additionally, Gray has supervised numerous independent study students and master's project students, and she has served on MFA candidate committees, often as chair.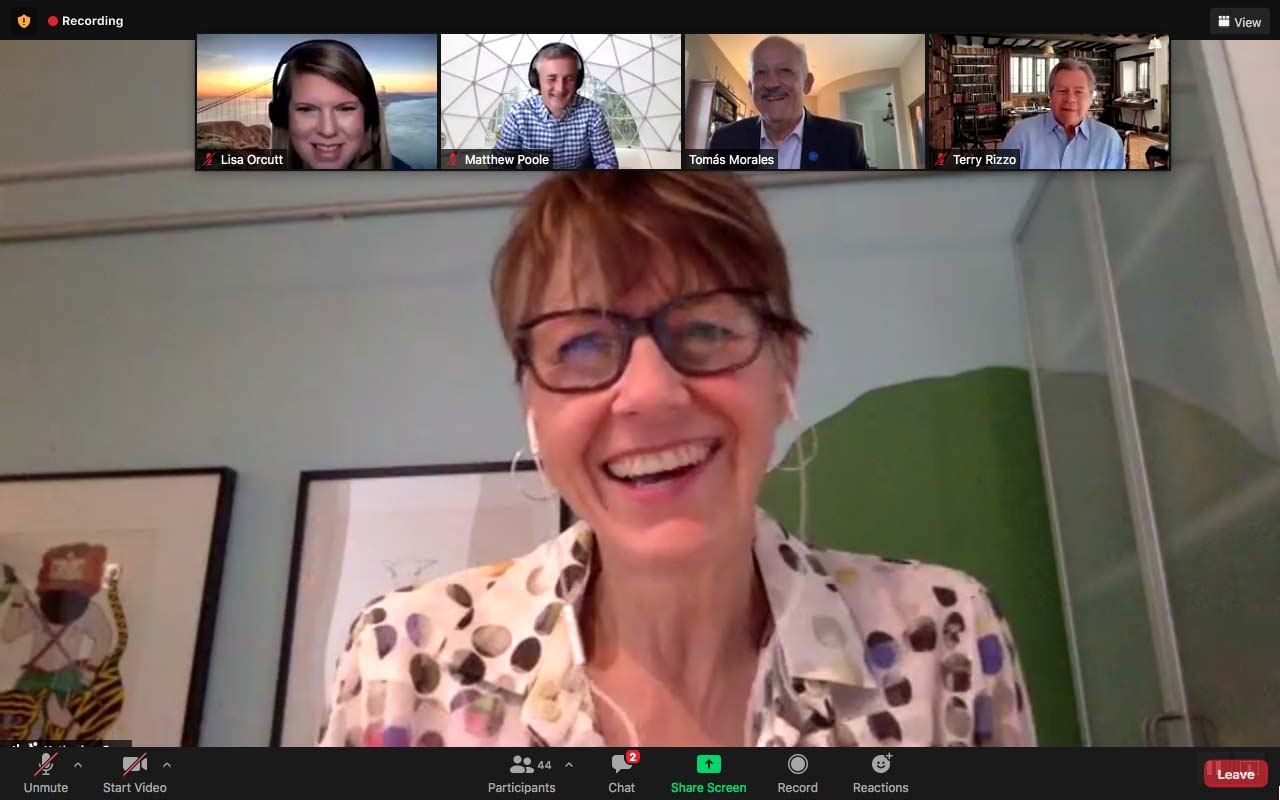 In student scoring, her courses receive consistently high marks and her instruction quality is routinely described as "amazing," with many students reporting that they learn "so much in such a little time."
In a nomination letter to Morales, 2020-21 University Awards Committee co-chairs Kimberly Cousins and Dany Doueiri noted: "What really sets Professor Gray apart from the many other talented faculty at CSUSB is her national and international reputation as a glass artist, not only among specialists in the field, but also the general public."
Museums featured Gray's work in nine solo exhibitions between 2000 and 2020, while showcasing her art in group exhibits across the country at a rate of one to eight annually since 1996. She has received 30 scholarships, residencies and awards, from election to the College of Fellows for the American Craft Council (2020) to residencies at the Tacoma Museum of Glass (2017, 2019). Teaching and visiting artist invitations have taken her to at least nine nations, including Korea, Denmark, Estonia and Australia, and 14 states.
In addition to producing seven published articles herself, her artwork has also been reviewed in publications such as the New York Times, LA Times and Glass Magazine. Her glass art resides in nine top glass museum collections, and six private collections. She has also played several roles in supporting RAFFMA. Lay audiences increasingly have come to know her — and her medium of choice — through the Netflix series "Blown Away," a contestant-elimination show for which she has served as resident judge and advisor for the past two seasons.

In the words of the awards committee co-chairs, "Professor Gray's body of work and reputation bring attention and prestige to our university in a way that is exemplary."
Along with Cousins, a professor of chemistry and biochemistry and chair of the CSUSB Department of Chemistry and Biochemistry, and Doueiri, a world languages and literatures professor, members of the 2020-21 University Awards Committee are: Thomas Girshin, associate professor of English; Jay Fiene, professor of Education Leadership & Technology and former dean of the College of Education; Crystal Huang, associate professor of management; Christopher Gentry, associate professor of kinesiology; and Richard Samuelson, associate professor of history.
As Outstanding Professor, Gray will receive a $1,000 check, a $3,000 Faculty Development Grant and will be recognized at the College of Arts and Letters' commencement ceremony and at the annual Faculty Recognition Luncheon.