Hispanic Heritage Month look back: Former CSUSB ASI president appointed to CVUSD board
Editor's note: As part of CSUSB's celebration of Hispanic Heritage Month, the university is showcasing a number of earlier stories highlighting Hispanic and Latino students, alumni, faculty and staff.
This article was originally published on Aug. 11, 2020.

Adonis Galarza-Toledo, '20, who graduated from Cal State San Bernardino in June and served as president of the university's Associated Students Inc., has been appointed to the Coachella Valley Unified School District Board.
Galarza-Toledo, who was sworn in July, represents the district's Area 3, which includes the rural community of Oasis, where he grew up, and the Salton Sea in Imperial County. He takes over for his older brother, Neftali Galarza, who stepped down from the board and is running for the Coachella City Council.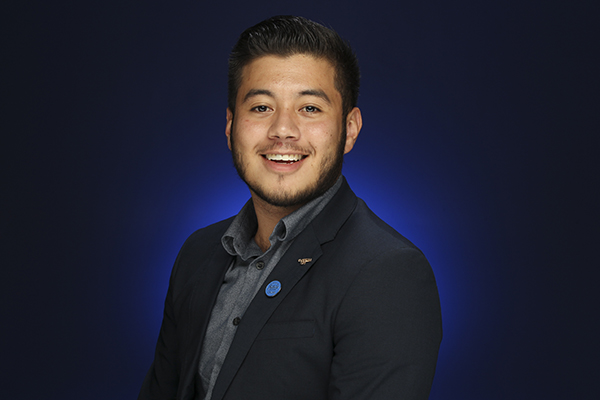 Galarza-Toledo, who was profiled in The Desert Sun, is a first-generation college graduate and was awarded a bachelor's degree in public administration and a minor in Spanish. He believes his entire educational career –  both academically and his involvement in university activities and student associations and ultimately as ASI president – helped prepare him to serve on the Coachella Valley Unified School District.
"I sure believe that serving as president of ASI gave me key skills that take others a while to learn. For example, listening to constituents and identifying needs, working with administration to implement solutions, and advocate effectively," Galarza-Toledo said. "More than anything, being involved as a student leader equipped me with the appropriate tools and perspective necessary to advocate effectively and get things done as a school board member." 
As of 2018, the CVUSD has a 97.6 percent Hispanic/Latino student population; 53.6 percent are English learners.
Galarza-Toledo said many of the major issues the district faces are beyond the scope of public education. For example, the lack of infrastructure technology such as Wi-Fi towers and proper wiring. Other major issues are access to potable water and limited community resources.
"As a school district, we have to be extra creative to ensure that we deliver the same quality of education as other school districts," Galarza-Toledo said. 
The Coachella Valley Unified School District serves a 1,250-square-mile area, including the city of Coachella, a portion of Indio, south of Avenues 48 or 49, and Salton City in Imperial County. The district consists of 14 elementary schools, three middle schools, three high schools, one continuation high school and one adult school.