Brian Gaul | CSUSB Assistant Athletic Director of Marketing and Athletics Communications | (909) 537-3001 | brian.gaul@csusb.edu
Hispanic Heritage Month look back: Carly Luna is an Arthur Ashe Jr. Sports Scholar semifinalist

Coyotes women's soccer goalkeeper Carly Luna, a CCAA All-Academic, has added another honor to her student-athlete cap – she is one of 10 women who are semifinalists for the prestigious Arthur Ashe Jr. Sports Scholar of the year, the first ever Cal State San Bernardino student to be so named.
Even making the honor more impressive is that Luna was selected from a pool of about 1,000 student athletes in all three of the NCAA's divisions nationwide.
"I am so honored to be recognized as a semifinalist for the Arthur Ashe Sports Scholar of the Year Award," said Luna, a sophomore majoring in communication studies from San Pedro. "Receiving this recognition means so much to me, as I work diligently on and off the field to represent my school in a positive way. The academic and athletic support I receive from coaches and advisors has given me the ability to succeed in every aspect of my college journey. I couldn't be prouder to be a Yote!"
During the 2019 season, Luna started in 16 matches as a goalkeeper and only allowed 1.68 goals per game. She made 86 saves and posted three shutouts. In the classroom, the focus of her studies is on media studies, with a minor in film studies. She holds a 3.83 grade-point average and has been on the Dean's List five times.
Luna also is active in her local community, managing American Red Cross Blood Drives for three years. With her teammates she volunteered to work with children at Loma Linda University Children's Hospital. Luna volunteered at Ecofest to encourage people to better their environment, also at a Vacation Bible School at Calvary Chapel South Bay for seven summers. In addition, she has served as a youth coach for K-Bear Soccer Camp and the American Youth Soccer Organization.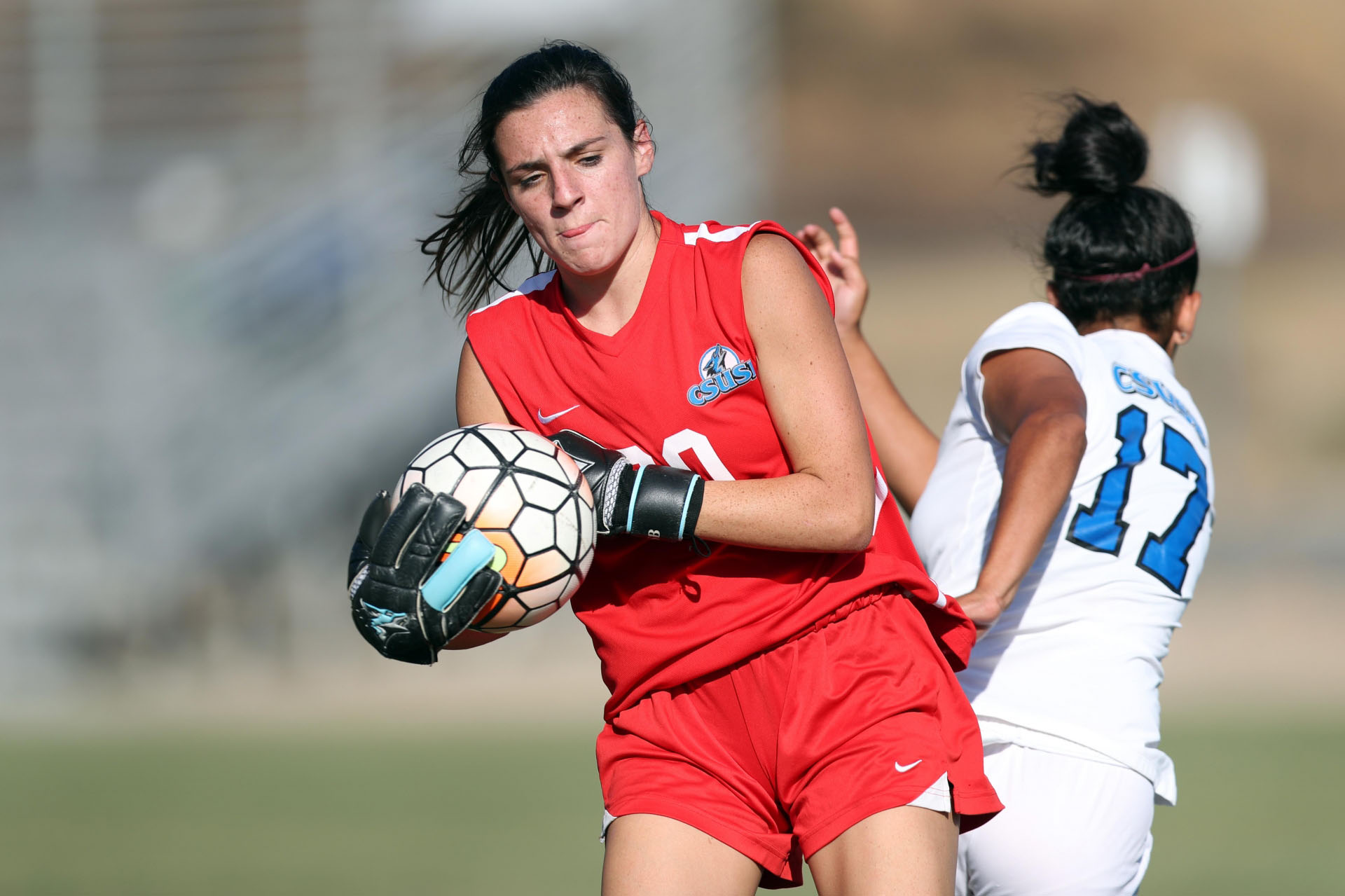 Luna and 19 other student athletes (10 women and 10 men) will be featured in the magazine Diverse: Issues in Higher Education when it publishes its annual Arthur Ashe Jr. Sports Scholars special report edition in May. In addition to their athletic ability, the 2020 Arthur Ashe Jr. Sports Scholars are students of color who have maintained a cumulative grade-point average of at least 3.5, are at least a sophomore academically, and have been active on their campuses or in their communities.
Of the close to 1,000 scholar athletes nominated, one male and one female athlete will be selected as Sports Scholar of the Year.
The award, which is sponsored by Diverse: Issues in Higher Education, is named for Arthur Ashe Jr., a trailblazer in the sport of tennis when there were few African-Americans who took up the sport and advanced to a high level. Ashe was the first black player selected to the United States Davis Cup team and the only black man ever to win the singles title at Wimbledon, the U.S. Open, and the Australian Open. He excelled in the classroom as well, graduating first in his high school class, earning a full-ride scholarship to UCLA and graduating with a degree in business. And he was an activist. Among other efforts, he co-founded in 1983, with singer Harry Belafonte, Artists and Athletes Against Apartheid, which worked toward raising awareness of apartheid policies and lobbying for sanctions and embargoes against the South African government before it abolished its draconian racial laws in the early 1990s.
Ashe died in 1993 of AIDS-related pneumonia at the age of 49.
Past Ashe scholars include Baylor University's Robert Griffin III (2011), the University of Tennessee's Kara Lawson (2003), San Diego State University's Marshall Faulk (1993), and Stanford University's Simone Manuel (2017) – a four-time Olympic medalist, just to name a few who have gone on to achieve great success.
The 2020 Arthur Ashe, Jr. Sports Scholar of the Year finalists and winners will be announced soon.
Published since 1984, Diverse: Issues in Higher Education is the nation's only newsmagazine dedicated exclusively to diversity issues in higher education.
Also visit the CSUSB Athletics website at csusbathletics.com for the latest on Coyotes sports news.