Hispanic Heritage Month look back: Spanish associate professor named 2019-20 Outstanding Faculty Advisor
Editor's note: As part of CSUSB's celebration of Hispanic Heritage Month, the university is showcasing a number of earlier stories highlighting Hispanic and Latino students, alumni, faculty and staff.
This article was originally published on June 12, 2020.

Bibiana Díaz, Cal State San Bernardino associate professor of Spanish in the Department of World Languages and Literatures, was surprised on June 11 via Zoom with the 2019-20 Outstanding Faculty Advisor award.
Díaz originally thought she was attending a meeting to discuss ideas and suggestions for faculty research activities, but was instead startled by cheers and congratulations from university administrators, faculty and staff led by President Tomás Morales, who announced she had won the award and that it was well-deserved for "her passion, commitment and dedication to student success providing career and life guidance."
"I believe, and I think we all do, that academic advising, whether it's delivered by faculty or by professional advising staff, is critical," Morales said. "It's really central to any student success initiative, and so that the work that Bibiana has done has been incredible."
"Provost (Shari) McMahan and I agree with the nominations that there is no one more deserving … She just affirms and is an excellent example of a faculty member whose presence at CSUSB has made a difference for her students and exemplifies the mission, goals and values of the university," Morales said. "Congratulations, Bibiana."
McMahan echoed the president's comments. "Your visible passion and tireless efforts have benefitted countless students at CSUSB."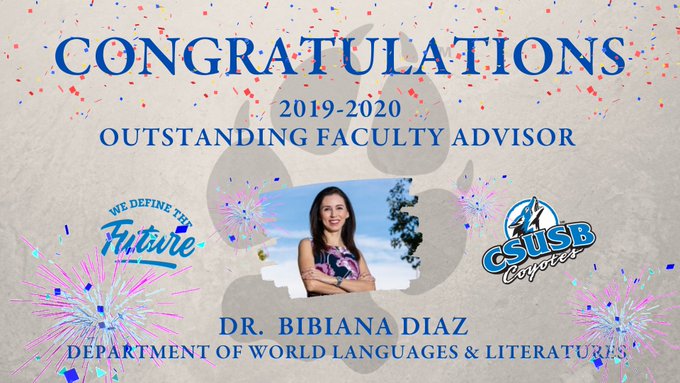 McMahan praised Díaz's efforts as the coordinator of the university's Affordable Learning Solutions program (AL$) to decrease the high cost of learning material. The Affordable Learning Solutions program at CSUSB is the most successful of its kind in the CSU system.
"This academic year alone we know that 13,000 students saved a total of $1.7 million in course materials needed to succeed in their classes because of leadership, not only on our campus but the entire (CSU) system on Affordable Learning Solutions," said McMahan, who added that she loved going to Díaz's events.
"She is always so generous and her students just love her," McMahan said. "Dr. Díaz is a superb demonstration of CSUSB's mission, goals and values."
Rueyling Chuang, dean of the College of Arts and Letters, also congratulated Díaz not only for her work with students, but for helping fellow faculty members as the university shifted to virtual instruction because of the COVID-19 pandemic.  
"You really truly exemplify what an outstanding faculty should be. It's such a great honor for me to work with you," said Chuang. "Your passion is contagious and you're so inspirational. You always go above and beyond the call of duty. Not just for our students, but also for faculty as we're trying to move on to a virtual environment. You're generously helping your faculty, helping them cope with an online teaching environment. You are really truly a role model."
Díaz thanked all for the honor and praised the university.
"We are a team. The university is a team. That's the way I feel," Díaz said. "Whatever work I have to do is easy because I never ever feel alone at the university. I have the most amazing colleagues."
But she said what was most important to her were the students.
"You can really make a difference in their lives," she said, adding that earlier in the day she was working with a student who had been unable to secure funds to attend the summer session. Díaz said she was starting to find ways to help the student.
"Even in the middle of the crisis they reach out to us and they know that they are not alone. They know they have us, professors to help them, in whatever they need. That is a blessing, being part of the CSUSB with these wonderful people, with these wonderful leaders and all the staff because I know we do all these wonderful things."
Morales congratulated her again and asked for the name of the student to make sure she received funds for summer school.
A beaming Díaz smiled and thanked the president.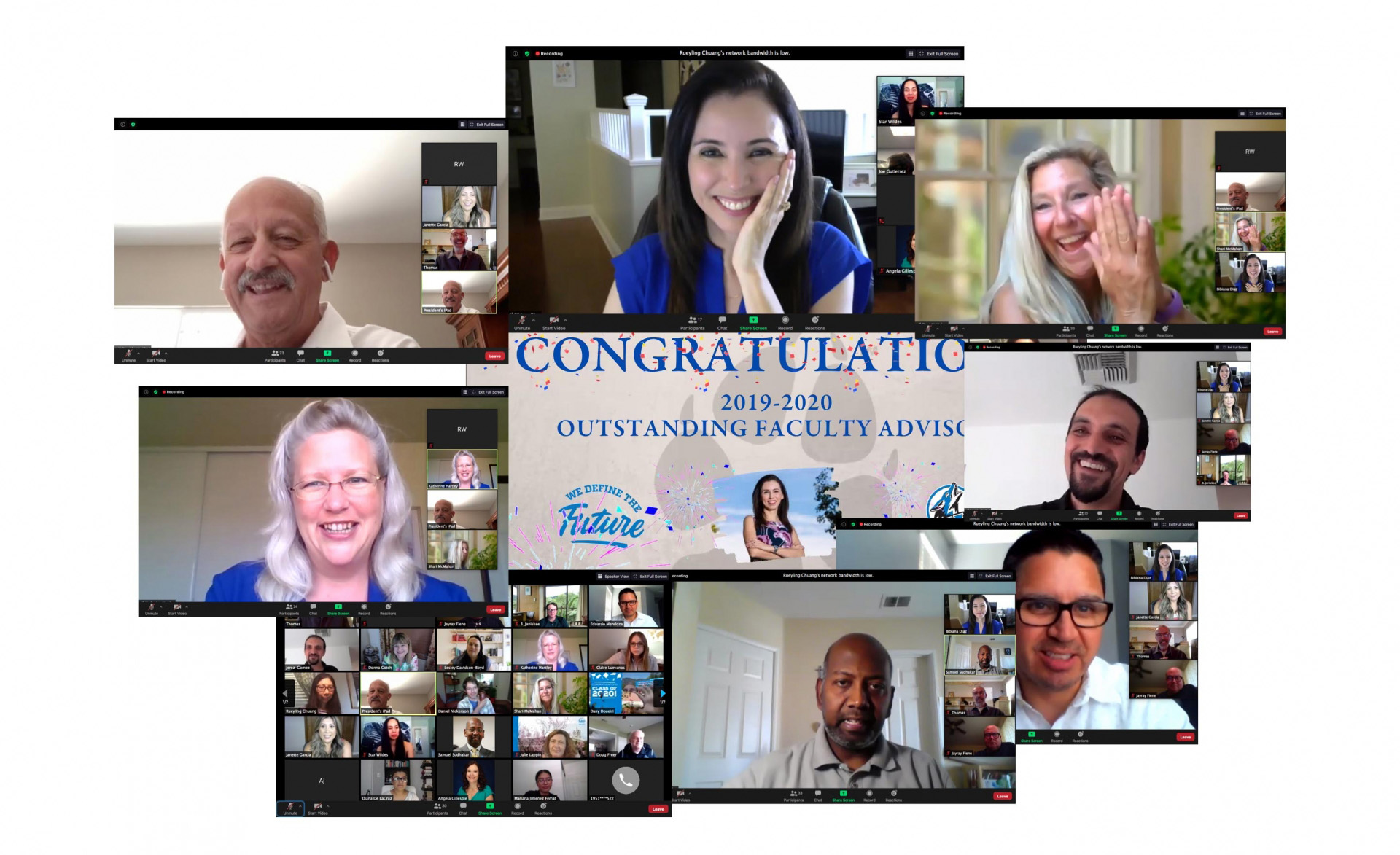 In a nomination letter to the University Awards Committee, Dany Doueiri, associate professor of world languages and literatures who won the same award in 2015, wrote that Díaz "belongs to a distinct group of instructors who go above and beyond the expectations and accomplishments of even some of our most dedicated faculty."
"I state this from firsthand knowledge as I have observed her interaction with her students, evaluated her files, and conversed with her students numerous times over the past eight years," Doueiri said.
In a series of nomination letters, many of her students highlighted her enthusiasm and dedication to student success.  
"In the time that I have known her, she has shown great care not only for myself but for my classmates as well," wrote one student. "Her dedication to our progress at Cal State San Bernardino as well as the creation of possibilities for our futures leaves no doubt that she is deserving of this recognition and rightfully has a place in its history alongside many others of CSUSB's wonderful faculty."
One student called her "passionate and dedicated in advising students," while another praised her for doing a "stellar job at seeking diverse and inclusive opportunities that engage students with enriching experiences for personal and academic growth."
Díaz, who joined CSUSB in 2012 as a full-time lecturer and became a tenure-track assistant professor in 2014, is the faculty advisor to the CSUSB student theatrical group Acto Latino Teatro Universitario, where she has won the Advisor of the Year Award and a diversity award for creating campus-wide academic and cultural events.
Díaz enjoys writing plays with her students based on their immigration experiences. Those plays are presented at CSUSB and in local high schools to recruit new students. She has also brought Acto Latino plays to North Carolina and to different international festivals in Cuba and Colombia.
She has also helped a dozen students get accepted to the graduate program at Middlebury College (one of the nation's premier institutions for language education) and secured for them more than $400,000 in scholarships. In fact, she has created multiple scholarship opportunities for all her students, including those who are undocumented and non-citizens.
Díaz is also a member of the editorial board for the theater journal Gestos, the president of CSUSB's Phi Beta Delta Gamma Lambda Chapter, vice president of AATSP Southern California Chapter and advisor of Los Amigos Spanish Club.
This past May, Díaz won the College of Arts and Letters Outstanding Faculty Award for Service.
As the recipient of the Outstanding Faculty Advisor award, Díaz will receive $500 in professional development funds, one year's designated parking spot once the university fully returns to on-campus operation, and will be CSUSB's nominee for national recognition by the National Academic Advisors Association.
Originally from Colombia, Díaz completed her doctorate in Spanish at the University of California, Irvine, with a specialization in Latin American literature and theater, and an emphasis in gender and sexuality studies. Díaz holds a master's degree in Spanish from Cal State Long Beach and a bachelor's degree in journalism from the Universidad de la Sabana in Colombia.