CSUSB's 50/50 Movement keynote speaker urges people to speak out against inequity
The importance of voting and the power of women were the main topics discussed at Cal State San Bernardino's third annual 50/50 Movement event held Sept. 17, featuring Assemblymember Eloise Gómez Reyes (D-San Bernardino) as the keynote speaker.
In celebration of the 100th year since the passage of the 19th Amendment, the theme of the event, hosted by CSUSB's Office of Diversity and Inclusion, was "Commemorating 100 Years of Women's Right to Vote."
"It is essential to understand that 50/50 Day is not about political correctness. This is about advocating a transformation of how decisions are made, how perceptions are changed, and how supporting such a common sense effort will benefit all sectors of our society, economics, politics, culture, and even the family structure," said CSUSB President Tomás D. Morales in a special message. "This year's 50/50 Day has an added focus – recognizing the recent 100th anniversary of the passage of the 19th Amendment, which guarantees and protects women's constitutional right to vote."
"Movements like this give me hope. Movements like these give me focus – focus to leverage these movements to take action," Reyes said during her speech. "And today people all over the world are engaging in the conversation about a gender-balanced world. This initiative is needed. As you partake in these discussions, it is critical that we understand the role of justice and equity within the gender dynamic."
Reyes was elected to the California State Assembly in November 2016 to represent California's 47th Assembly District, which includes the cities of Colton, Fontana, Grand Terrace, Rialto, San Bernardino, and the unincorporated communities of Bloomington and Muscoy.
As a woman assemblymember, Reyes said she often reflects on how far we have come, while at the same time, she looks forward to the future.
"Although we have made significant progress in gender equity, we still have not created a gender-balanced society," she said, noting the pay gap between men and women, particularly for women of color, and the fact that companies often lack women on their boards.
"And this is just touching the surface of the gender inequity that we are faced with solving," she said.
Reyes acknowledges that she has faced discrimination. She is a "proud daughter of immigrants" from Mexico, who as a young girl, picked grapes and onions in the fields in the Inland Empire with her family. After graduating from Colton High School, Reyes received her associate degree from San Bernardino Valley College, her undergraduate degree from the University of Southern California, and then her law degree from Loyola Law School. Reyes became the first Latina to open a law firm in the Inland Empire.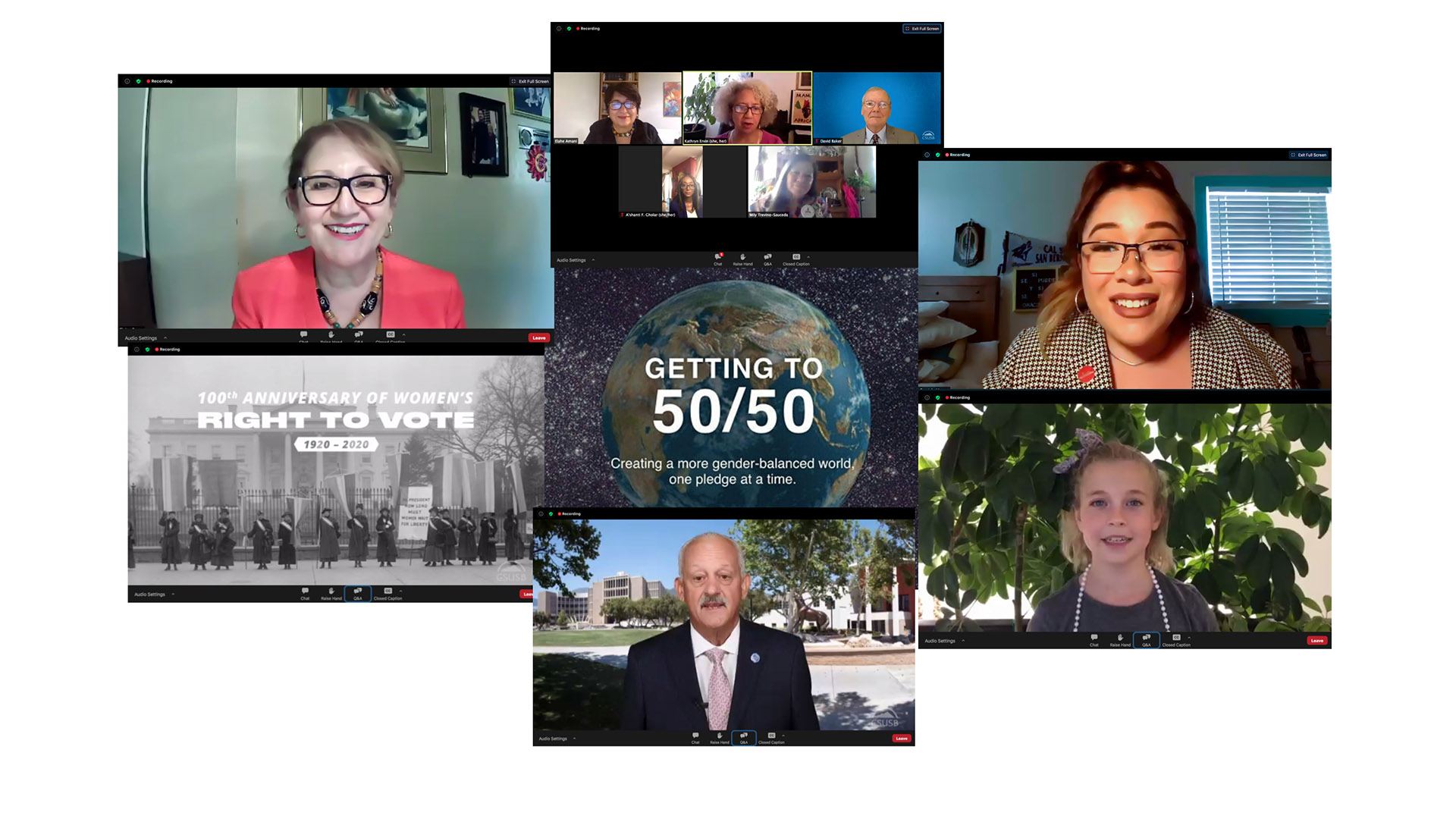 "With all challenges I face as a woman of color," she said, "I still am able to break through."
Although there is much more work to do as a society, Reyes pointed out that California is, in fact, taking action. In 2018 California became the first state to mandate gender diversity in board rooms with the passage of the bill SB-826.
"It was not an easy task to get that bill through," she acknowledged, citing a few other much-needed bills. "These bills have been a huge win for gender equity and gender balance within our institutions."
And in order for the progress to continue, Reyes called on the younger generations to get involved.
"In order to accomplish what the 50/50 Movement is calling for, it's going to take young people to get civically engaged," she said. "It's going to take your generation to fix the wrongs of the generations before you … Breaking down the structures of oppression that have stood for centuries is not an easy task. It takes courage, takes boldness and the willingness to enter into conflict."
She also encouraged everyone to use their voice.
"If you witness inequity, whether its racial inequity or gender inequity, speak up, speak out," she said. "These movements don't happen overnight. I want you to stay the course and know that I will be right there with you."
Following the keynote address, a panel discussion took place with the theme "Women Power: Pull the Next One Up!" moderated by Kathryn Ervin, CSUSB professor of theatre arts.
The panelists and their topics included:
Elahe Amani, educator and administrator at Cal State Fullerton – Lifting up the Next Generation of Women;

A'shanti Gholar, president of Emerge – The Difference "Difference" Makes – Double Minority Leadership;

Mily Treviño-Sauceda, executive director and co-founder of Alianza Nacional de Campesinas – Defining your Impact as a Leader; and

David Baker, CSUSB professor emeritus of public administration – Bridging Perspectives: Engaging Male Allies for Gender Equality.
The event closed with remarks from Janet Bernabe from Mi Familia Vota, a national 501(c)(4) civic engagement organization that advocates on social and economic issues that impact the Latino community, from immigration to workers' rights. Since their founding, Mi Familia Vota has integrated local organizing, leadership development, advocacy and building broad community partnerships with voter engagement work, focusing on local, state and federal elections.
The 50/50 Movement is a global initiative for people to engage in conversation about working toward a more gender-balanced world in all sectors of society: business, politics, culture, home and more. To read more about the 50/50 Movement, visit the Let it Ripple website.