CSUSB to celebrate third annual 50/50 Movement
In celebration of the 100th year since women have had the right to vote, Cal State San Bernardino is hosting its third annual 50/50 Movement event on Thursday, Sept. 17, 9:30 a.m. to noon, via Zoom.
With the theme "Commemorating 100 Years of Women's Right to Vote," the event, hosted by CSUSB's Office of Diversity and Inclusion, will feature state  Assemblymember Eloise Gómez Reyes (D-San Bernardino) as the keynote speaker.
Reyes was elected to the California State Assembly in November 2016 to represent California's 47th Assembly District, which includes the cities of Colton, Fontana, Grand Terrace, Rialto, San Bernardino, and the unincorporated communities of Bloomington and Muscoy.   
Following the keynote address, a panel discussion moderated by Kathryn Ervin, CSUSB professor of theatre arts, will take place.
The panelists and their topics are:
Elahe Amani, educator and administrator at Cal State Fullerton – Lifting up the Next Generation of Women;

A'shanti Gholar, president of Emerge –

The Difference "Difference" Makes – Double Minority Leadership;

Mily Treviño-Sauceda, executive director and co-founder of Alianza Nacional de Campesinas – Defining your Impact as a Leader; and

David Baker, CSUSB professor emeritus of public administration – Bridging Perspectives: Engaging Male Allies for Gender Equality.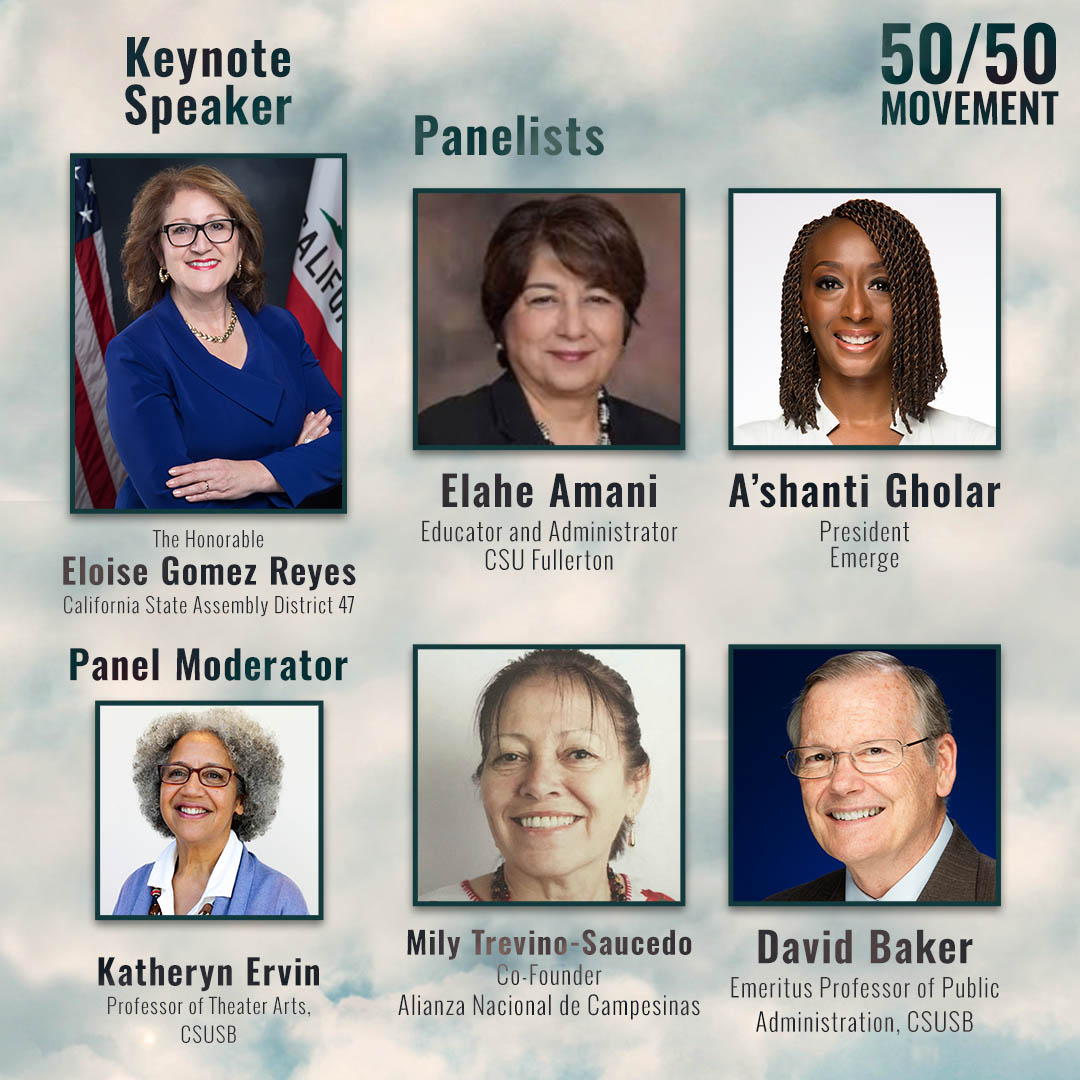 The 50/50 Movement is a global initiative for people to engage in conversation about working toward a more gender-balanced world in all sectors of society: business, politics, culture, home and more.
Visit the 50/50 Movement event webpage to register for the event.
For more information, contact Denise Banuelos, diversity and inclusion manager, at denise.banuelos@csusb.edu.