NSF grant enables CSUSB students to do research in New Zealand
Cal State San Bernardino undergraduate students pursuing STEM degrees will travel to New Zealand beginning in summer 2021 to research new materials that could be applied, for example, to advance aerospace technology.
Student travel and stipends will be paid  through a $300,000 grant over three years from the National Science Foundation's (NSF) International Research Experiences for Students (IRES) program awarded to the College of Natural Sciences and its Center for Advanced Functional Materials (CAFM). The IRES team is led by Tim Usher, professor in the Department of Physics.
The goal is to inspire and prepare participants to become pioneers in STEM research and education, and serve as mentors for future students. Undergraduates selected for the federally funded program will specifically include women and other students from underrepresented populations.
"Today's science students are tomorrow's science leaders," said Sastry G. Pantula, dean of the college. "Science is global and science is experiential. Therefore, to prepare our diverse students for exciting and fulfilling futures in STEM fields, it is important we provide them with opportunities that allow them to engage in hands-on research and collaborate with experts around the world."
CSUSB is ranked as one of the nation's leading universities in awarding degrees to minority students, specifically Hispanics, by several publications, including Hispanic Outlook in Higher Education and Diverse: Issues in Higher Education magazines.
The NSF grant supports a partnership with Victoria University of Wellington, a 123-year-old institution located in the capital city of New Zealand. In 2018, it was that country's top-ranked university for research intensity, according to Victoria University's website.
A total of 15 students – five for three consecutive years – will participate in original research in the area of advanced functional materials for 10 weeks at Victoria University's Robinson Research Institute. The institute's industry-driven research includes magnetic sensors, robotics, and superconducting power systems.
Advanced functional materials are materials that respond in predictable ways to the outside influence of electric and/or magnetic fields. These materials could propel the next wave of electronic technologies with the promise of less expensive, more flexible, and non-toxic methods to store digital information, create medical sensors and displays, and develop new semiconductors, among a myriad of other applications.
Materials science researchers also study liquid crystals, semiconductors, superconductors, optics, lasers, sensors, porous materials, light-emitting materials, magnetic materials, thin films, and colloids.
At the institute, CSUSB undergraduates will investigate specific aerospace applications of high-temperature superconductors.
Usher will serve as the grant's principal investigator. Kim Cousins, chair and professor in the Department of Chemistry and Biochemistry and CAFM director; and Sara Callori, an associate professor in the Department of Physics, will serve as co-principal investigators.
"This program underscores the fact that CSUSB students are world-class," Usher said. "CSUSB undergraduate students have published in professional scientific journals. Others have been selected for very competitive internships, scholarships, and awards."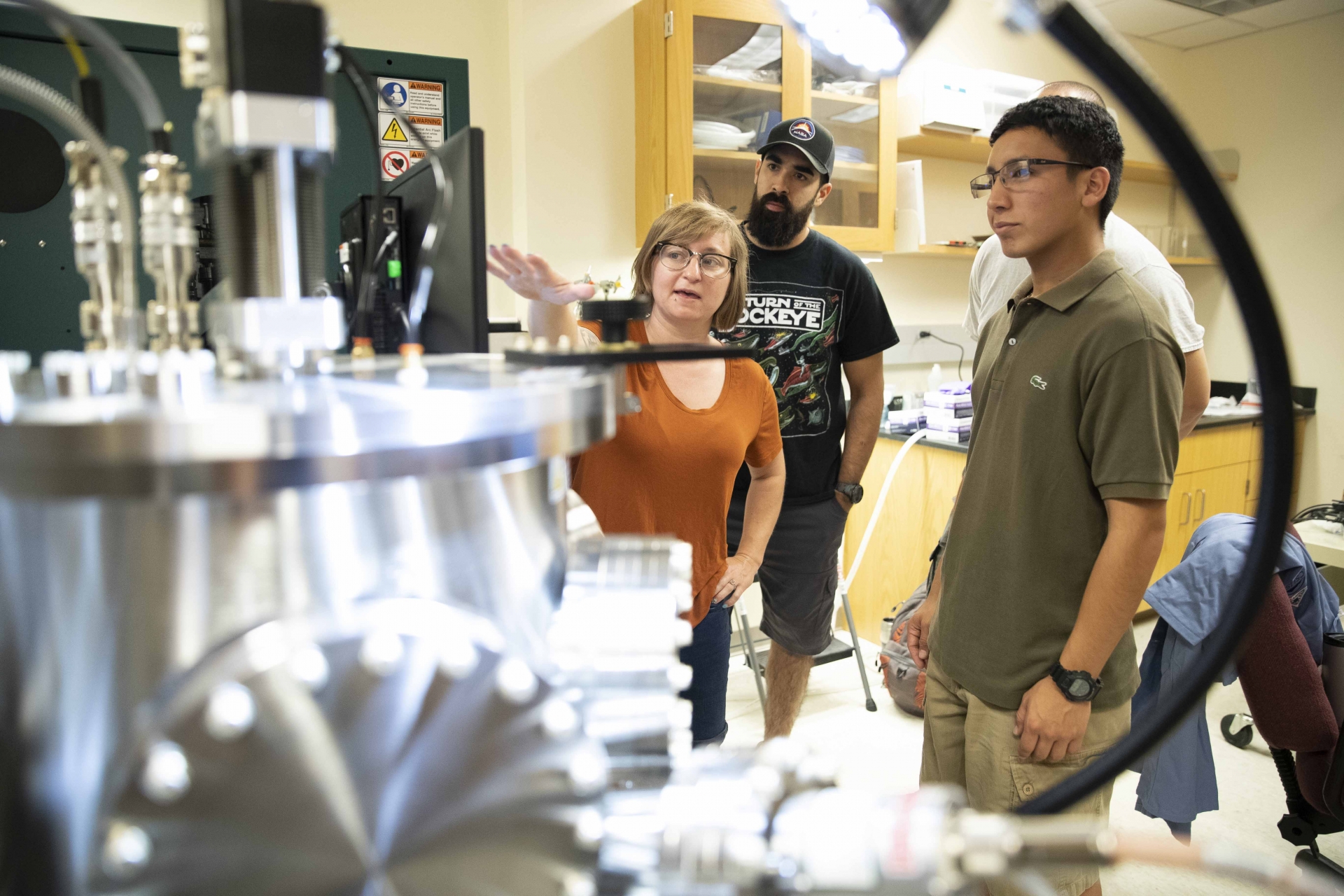 CAFM has an established track record of engaging STEM students from diverse backgrounds in original research.
Over the past seven years, CAFM, which is funded by two NSF grants totaling $10 million, has served a total of 110 CSUSB students, 138 community college students, and 25 high school students, with undergraduates identified as Hispanic (57 percent), first-generation (53 percent), and female (35 percent). Out of 53 CAFM graduates, 29 are enrolled in a STEM program at graduate schools across the country. CAFM students also graduate at higher rates than the College of Natural Sciences and the university overall.
Research in New Zealand will build on these successes.
"These opportunities are invaluable in training the next generation of research leaders," Usher said. "This will enhance U.S. leadership in research and strengthen our country's economic competitiveness."