Chemistry instructor named CSUSB's 2019-2020 Outstanding Professor
Kim Cousins, a professor and chair of the Cal State San Bernardino Department of Chemistry and Biochemistry, has been named the recipient of the 2019-20 Outstanding Professor award, the university's top faculty honor.
In winning the award, Cousins, who joined CSUSB in 1991, also became the John M. Pfau Endowed Professor, named for the university's founding president.
Every year, the announcement is made during a surprise visit to the winner's classroom or lab by CSUSB President Tomás D. Morales, who is accompanied by university administrators, previous award winners along with faculty and staff to honor the professor. The announcement is made during class so that students will see their professor being honored.
This year the announcement was still a surprise, but it was done virtually because of the COVID-19 pandemic, which forced the university to temporarily suspend face-to-face classes and instead offer virtual instruction. Morales made the surprise announcement during a pre-arranged virtual meeting of the College of Natural Sciences department chairs and leadership team, which an unsuspecting Cousins was attending.
Led by Morales and Provost Shari McMahan, about 75 of the university community, including members of the cabinet, previous award winners, faculty and staff waited for Cousins to be allowed into the virtual meeting, then cheered their congratulations to a surprised Cousins.
"Provost McMahan and I join the university awards committee in saying that Kimberly is a prime example, a stellar educator, researcher and leader in the CSUSB community who embodies the qualities that help all of us to excel and be better at our calling as scholars, educators and leaders," Morales said. "Her generosity, dedication, versatility epitomize the excellence and range toward which our entire faculty strive."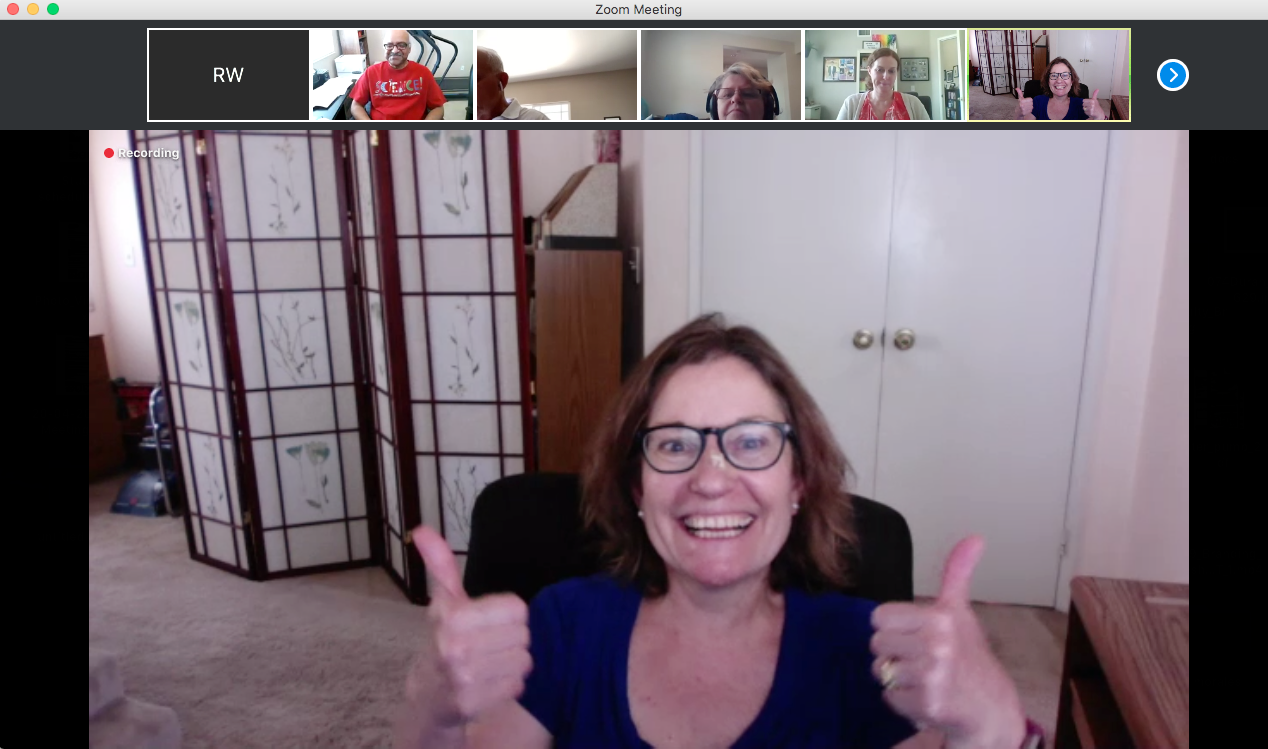 "You have excelled in every area of this award – teaching, research, scholarly activities and service and a particular note is the amount of the grants you have secured, which is rarely done at a comprehensive university," McMahan said. "But what I find most impressive is what you have done with them to transform the lives of our students and to advance our community in your discipline, all while serving as the chair of the department of chemistry and biochemistry."
College of Natural Sciences Dean Sastry Pantula praised Cousins for her work as a leader and researcher, and talked about her teaching especially in a virtual setting.
"It's a pleasure to watch her in action in the classroom and how she actually managed active learning practices, using breakrooms and getting the students to talk," Pantula said. "I could see them participating both in the chatroom as well as speaking up in the classroom. I learned a lot of things watching her and all she does. No wonder she's getting this outstanding teaching award."
 A beaming Cousins gave her thanks for the award and the opportunity to work with students and faculty.
"I really love teaching at Cal State San Bernardino. It's those students that really make a difference, make it worthwhile, and the great fellow faculty really make a huge difference," Cousins said. "I know there's a lot of talented faculty on campus and to get this award I am truly humbled."
Cousins' extensive and exceptional work in teaching, in professional development and in service helps to promote and elevate the mission of CSUSB and the greater Inland Empire community, according to a nominating letter to Morales from Kevin Grisham, co-chair of the 2019-20 University Awards Committee, and chair and associate professor of CSUSB's Department of Geography and Environmental Studies.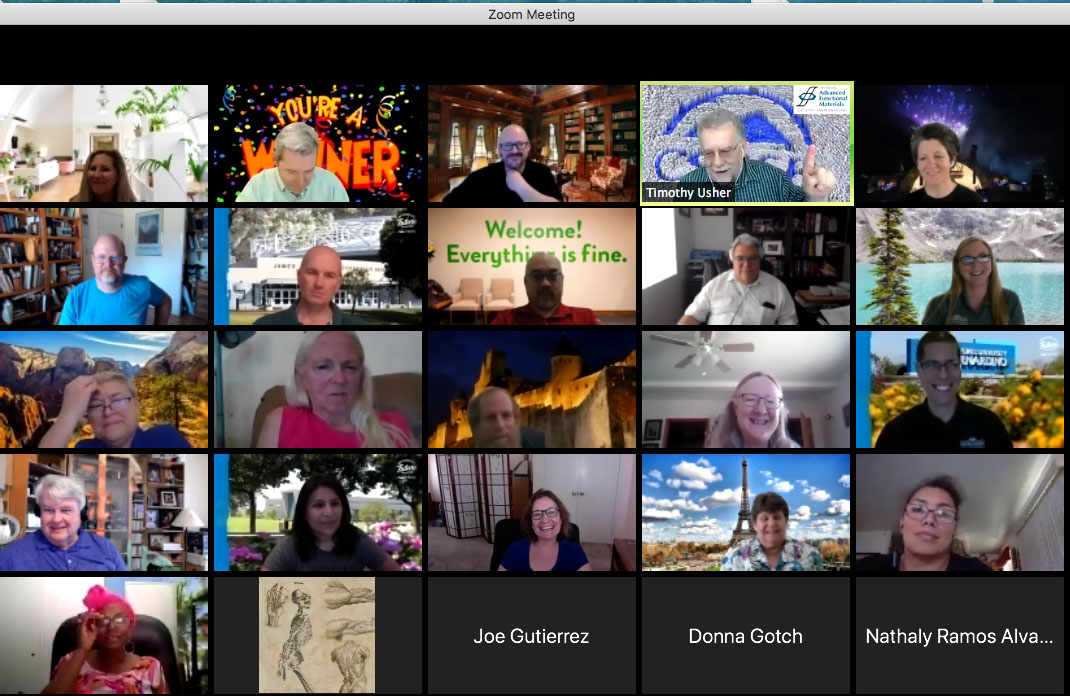 The other committee members are: Eugene Wong, professor of psychology; J. Chad Sweeney, associate professor of English; Kathie Pelletier, professor of management; and Jay Fiene, professor of Education Leadership & Technology and former dean of the College of Education.
"Cousins has tirelessly supported the work of her department, the College of Natural Sciences, the university community, the Inland Empire community and her own field of Chemistry and Biochemistry since coming to CSUSB in 1991," Grisham wrote. "Dr. Cousins is a living example of the vision statement of CSUSB – of being 'a model for transforming lives.'"
From securing multiple external grants of nearly $20 million from public and private agencies, to furthering the mission of the university by creating a teaching environment that engages both undergraduates and graduates alike to providing leadership for her department, Cousins is a model of excellence for all faculty to aspire to at CSUSB, Grisham wrote.
In the area of teaching, Cousins excels in the classrooms by creating – according to students – an environment that is "welcoming," "enjoyable" and "engaging." Students routinely remarked in their evaluations that her classes are organized, and the material is presented in a clear and accessible manner. Her passion for her discipline in the classroom environment is a common refrain among students throughout her years at CSUSB, Grisham wrote.
In one case, a student who had concerns about taking her class very early in the morning mentioned how Cousins' passion permeates the classes she teaches.
"Even if it's a 7:40 a.m. class, I never fall asleep," the student wrote. 
"Cousins' passion and the teaching environment she creates help students to excel and think of the world in ways they may never have thought. Her mentorship of students outside of the classroom and in her lab has helped numerous first-generation college students find their calling in the natural sciences and has helped them to dream bigger than they ever thought possible," Grisham wrote.
Further evidence of her consistent record in teaching excellence is she was awarded the Golden Apple Award for Excellence in Teaching in 2008.
In addition to mentoring students, Cousins has served in the university as a leader in teaching fellow faculty about how to create engaging active learning environments – particularly those in the STEM fields.   
In the area of professional development, Cousins authored or co-authored proposals that have been awarded nearly $20 million from public and private agencies. Recently, a grant in which she is the principal investigator brought $5 million to CSUSB – a National Science Foundation's (NSF) Centers of Research Excellence in Science and Technology II (CREST II) CREST research grant. 
"This type of work by Dr. Cousins and her colleagues in helping CSUSB to be ranked at the top of colleges/universities nationally in awarding degrees in the physical sciences to Hispanics," Grisham wrote. "Also, she regularly publishes in her discipline in nationally ranked referred journals and regularly presents her research at conferences throughout the United States.
"Much of Cousins' research includes her students at CSUSB as co-authors. She also uses her background as an exceptional researcher to serve on the Office of Student Research Advisory Board and mentor the next generation of researchers."
Cousins currently serves as the chair of the Department of Chemistry and Biochemistry. In addition to her department leadership since 2017, Cousins has served as a leader through involvement in the Faculty Senate, the CSUSB Teaching Academy, and serves on numerous departmental retention, promotion and tenure committees in and outside of her department, serving as director of the MASS (S-STEM) Scholars program and a multitude of other committees and task force across her time at CSUSB, according to the committee. 
In addition, Cousins has served in a variety of leadership roles in her discipline, including serving as an NSF Proposal Review Panelist HRD-CREST, a professional reviewer for approximately 40 manuscripts and scientific proposals, and campus liaison for the Council on Undergraduate Research. 
Cousins was awarded a bachelor's degree in chemistry from Duke University and a doctorate in organic chemistry from the University of Texas at Austin.
Cousins joined the CSUSB Department of Chemistry and Biology in 1991 as an assistant professor. In 1997 she was named an associate professor in the department and was named a full professor in 2004. She was named the department chair in 2017. Prior to joining CSUSB, she was an instructor at Austin Community College in Austin, Texas, and prior to that she was an instructor at Southwestern University in Georgetown, Texas.
As the Outstanding Professor, Cousins will receive a $1,000 check, a $3,000 Faculty Development Grant and will be recognized at the College of Natural Sciences' commencement ceremony, which has been postponed to sometime in the fall, and will be honored at the Faculty Recognition Luncheon, which has also been postponed.