Psychology professor surprised with CSUSB top faculty award
Mark Agars looked stunned.
The Cal State San Bernardino psychology professor was beginning to teach class on May 9 when university President Tomás D. Morales barged in.
A beaming Morales, who was accompanied by nearly two dozen faculty, staff and administrators, said, "This is a special occasion as we are here to present the 2021-22 Outstanding Professor Award to Mark Agars for his enduring excellence in teaching, scholarly activities and service to our students, the university and the community."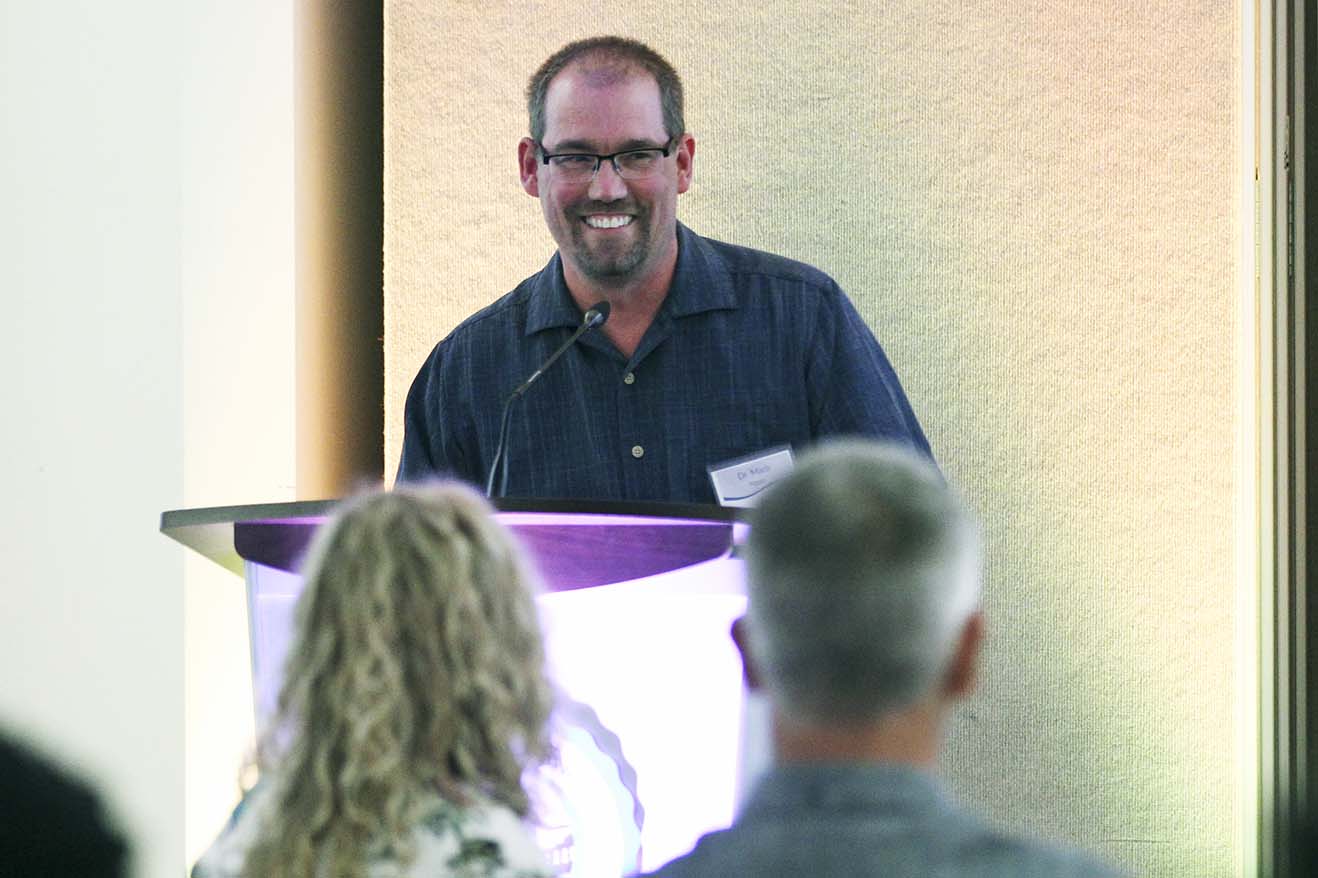 Agars had just become part of a long-standing university tradition. The CSUSB president had come to the classroom in a surprise visit to announce the award in front of the professor's students and colleagues. Those accompanying the president included past award winners.
"Professor Agars is a prime example of stellar educator, researcher and leader in the CSUSB community who embodies the qualities that help all of us to excel and be better at our calling as scholars and creatives, educators and leaders," said Morales, who listed Agars' many accomplishments.
Provost Shari McMahan praised Agars for his research and the difference he makes within the community.
"As President Morales mentioned, this is the Outstanding Professor Award, which is the very highest honor for all our faculty because we not only look at research, which you are amazing at with all your grant writing, publications and your work with students, but his teachings and service obligations … And his work in the community – what a difference it makes with foster kids, with children in general. This is our future, everything about our future, and when we look at sense of purpose – this is your purpose. Congratulations," she said.
College of Social and Behavioral Sciences Dean A. Rafik Mohamed said he is fond of Agars and told him that he recognizes his deep dedication to students, research and community.
"I can't think of any faculty member who readily embodies the outstanding professor criteria than you," Mohamed told Agars.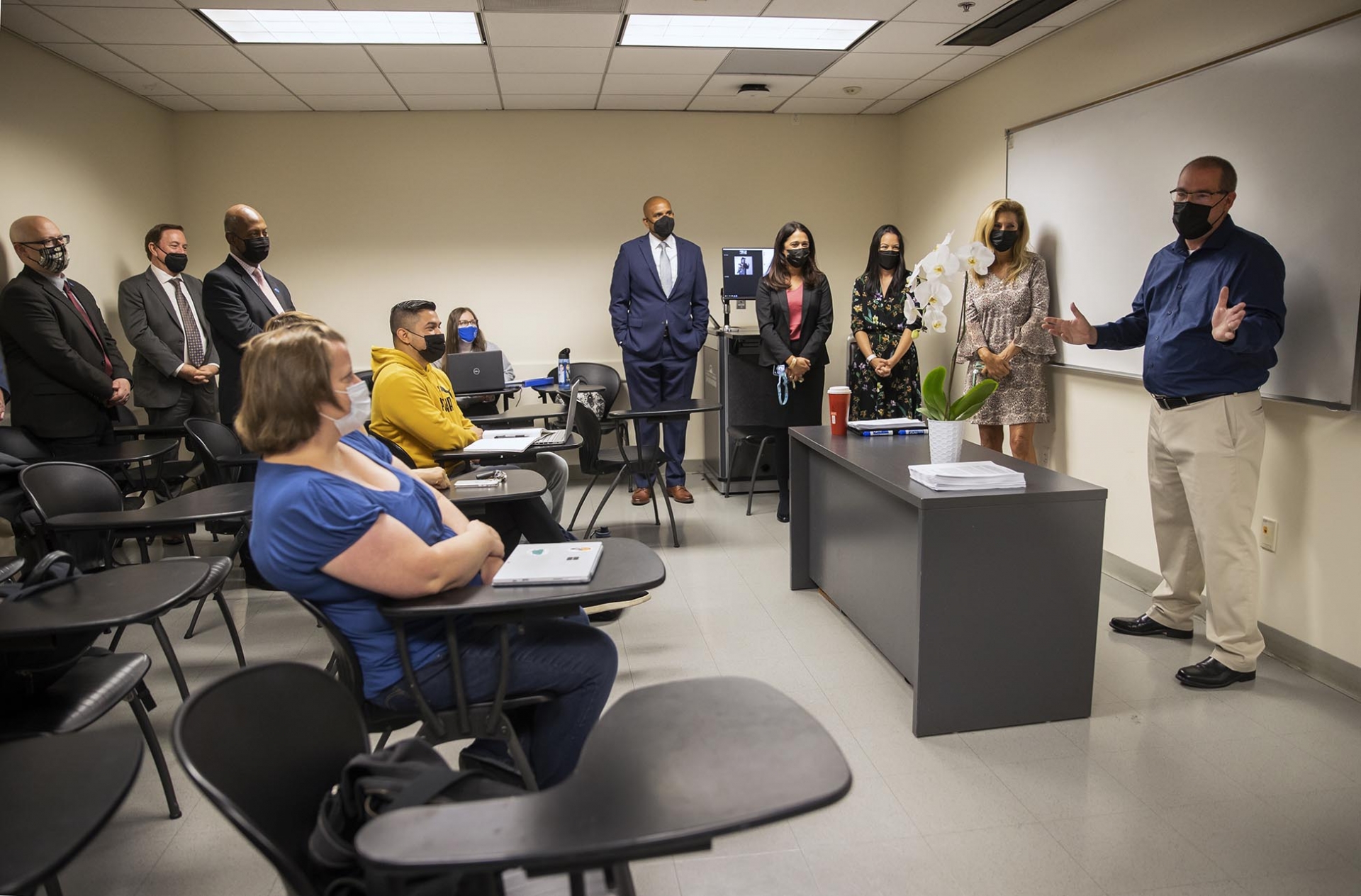 "This is overwhelming," Agars said happily. "This is a great place with amazing colleagues and amazing students. When I came from the East Coast 23 years ago, I never expected I would stay. I always expected to go home. But Cal State kept me here and I never wanted to be anywhere else."
In being named the CSUSB Outstanding Professor, Agars becomes the John M. Pfau Endowed Professor, named for the university's first president. He also will receive a $1,000 check and a $3,000 Faculty Development Grant, and will be honored at the College Social and Behavioral Sciences commencement and a faculty recognition luncheon.
In a letter to Morales, the co-chairs of the 2021-22 University Awards Committee, Kelly Campbell, a professor of psychology and 2020-21 Golden Apple award winner, and Katherine Gray, chair of the Department of Art & Design and 2020-21 Outstanding Professor award winner, nominated Agars for the award, writing that since joining the psychology department in 1999, "he has proven himself to be a superior teacher, and has been widely recognized for his scholarly contributions which have contributed to the stature of this institution."
In addition, Agars has served as the associate director of the Learning Research Institute, the assistant dean of the College of Social and Behavioral Sciences, the interim chair of the sociology department, and currently serves as the director of the Institute for Child Development and Family Relations.
Along with Campbell and Gray, the committee members were Todd A. Johnson, professor of music, College of Arts and Letters; Christopher Gentry, associate professor of kinesiology, College of Natural Sciences; and Richard Samuelson, associate professor of history, College of Social and Behavioral Sciences.
The co-chairs wrote that as a professor, Agars consistently earns high praise from his students, whether in large or small classes, whether in-person or online.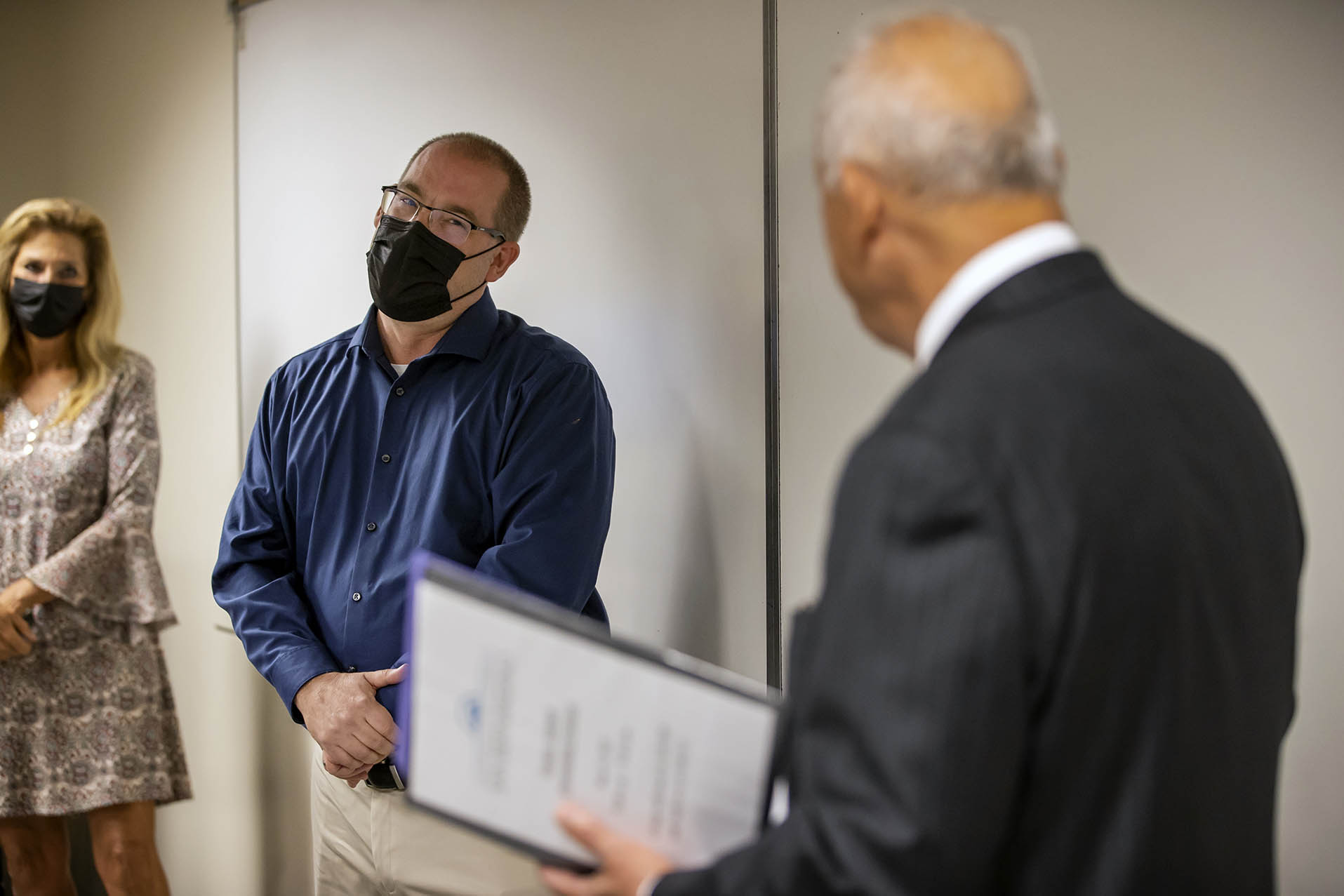 His Student Evaluations of Teaching Effectiveness (SOTE) "scores for questions 4 & 5 are typically in the 5.5- 5.9 range. Comments such as 'Outstanding professor who truly knows his field and enjoys teaching it,' and 'Professor Agars is brilliant in his teaching methods,' and 'He effortlessly engages students in debates and educational discussions' are commonplace in his evaluations."
In addition, Agars has served as committee chair for 65 master's theses, and has served on 100+ master's students' committees, and has chaired 20 honors projects. He has served or continues to serve on dissertation committees for eight students.
Within his discipline, industrial/organizational psychology, Agars' research has appeared in industry handbooks, including the "Oxford Handbook of Work and Family and the Handbook of Gendered Careers in Management." In his publications and presentations, which cover such topics as work-family culture in low-income environments, the effects of discrimination in the workplace, underrepresented populations in work and family, and creating and sustaining positive careers for women, he is committed to collaborating and co-authoring with his students, providing them with invaluable professional experience, mentorship and exposure.
Agars cites 130 student authors across 100+ manuscripts, published works, and presentations at top professional meetings and conferences in psychology around the country. His writing has appeared in prestigious professional journals such as the "Journal of Career Development, Leadership and Organizational Development," "the American Psychologist," "Learning and Individual Differences," "Psychology of Women Quarterly," and "Personnel Psychology," the committee wrote.
Since 2014, in his role as director of the Institute for Child Development and Family Relations, Agars has garnered over $4.5 million in external funds for projects in which he has served as the principal investigator. "These 9 contracts have provided countless high impact experiences and paying opportunities for our students, allowed for reassigned time for faculty to further their research, served our underserved communities and strengthened our bonds to the region," the co-chairs wrote.
Agars' accomplishments and dedication to student success have not gone unnoticed as evidenced by the myriad recognitions he has already received, such as:
Outstanding Faculty Research Mentor, College of Social & Behavioral Sciences (2018)

Outstanding Faculty Mentor, Educational Opportunity Program (2018)

Outstanding Scholarship, Research, Creative Activities, College of Social & Behavioral Sciences (2017)

Outstanding Faculty Mentor, CSUSB (2013)

Outstanding Faculty Service Award, psychology department (2013)

President's Team Achievement Award (2009)

Outstanding Faculty Teaching Award, College of Social & Behavioral Sciences (2008)

Outstanding Faculty Researcher, department of psychology (2006)

Outstanding Faculty Teacher, department of psychology (2003)
The committee co-chairs concluded, "To this list, we would like to recommend the addition of the 2021/2022 John M. Pfau Endowed Professor. Professor Mark Agars has shown himself to be outstanding as a teacher, widely recognized and lauded for his scholarly research and one whose passion, outreach, and dedication to his students and to his field has elevated the stature of this institution."
Before joining CSUSB, Agars was a visiting assistant professor of psychology at the University of Tennessee, Chattanooga and prior to that was a graduate teaching assistant at Penn State University.
Agars earned a bachelor's degree in psychology from Siena College, and a master's degree and doctoral degree both in industrial/organizational psychology from Penn State.