Office of Strategic Communication news@csusb.edu | (909) 537-5007
Girl Scouts to learn about cyber security at CSUSB GenCyber summer camps
About 200 middle school girls and about 50 high school girls from Girl Scout troops in San Bernardino and Riverside counties will learn about cyber security at two summer camps at Cal State San Bernardino.
The free GenCyber summer camps, held in partnership with the Girl Scouts of San Gorgonio, will run from today through Friday, June 19-23, for the middle school girls, and June 26-30 for the high school students.
The camps have generated a lot of interest, said Tony Coulson, a professor in the university's information and decision sciences department and director of the CSUSB Cyber Security Center.
Registration for the GenCyber camp opened on April 20 and the camp enrollment was filled within 24 hours, Coulson said. There is a waiting list for both weeks.
The scouts will learn how to hack drones, secure passwords, explore cyber forensics, practice internet safety, play cyber capture the flag, learn team building skills on a high ropes course and much more.
The program continues to gather strong support as a number of businesses and government agencies plan on sending guest instructors to CSUSB to provide various cyber security-related instruction. They include: Facebook, Google, IBM, Cisco, Bank of America, Northrup Grumman, the DHS and Sigmanet. The university's Information Technology Services office will also be hosting a session on network security.
Some of the sessions include:
Teaching about drones, hacking and securing them; 
A leadership session on the ropes course at the state-of-the-art CSUSB Leadership Challenge Center;
A "bank robbery" scenario where teams work together to penetrate multiple layers of defenses by solving puzzles, riddles, cyphers, mazes and other challenges
Learning to use individual Raspberry Pis (credit card size computers)
Lessons on maintaining good cyber hygiene habits
The program is sponsored by Cal State San Bernardino and the Girl Scouts of San Gorgonio council. Girl Scouts of San Gorgonio Council serves more than 12,000 girls in Riverside and San Bernardino counties with the dedicated support of 5,000 adult volunteers.
The day camp is supported by generous grants from the National Science Foundation and the National Security Agency. Nationally, there are 138 GenCyber camps taking place this summer at different universities around the country.
Visit the CSUSB Cyber Security Center website for more information about GenCyber camp.
For more information on Cal State San Bernardino, contact the university's Office of Strategic Communication at (909) 537-5007 and visit  news.csusb.edu.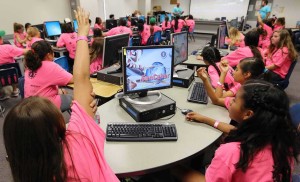 Professor Tony Coulson hosts Girl Scouts in a computer lab during the 2015 GenCyber Summer Camp at CSUSB. File photo: Robert A. Whitehead/CSUSB