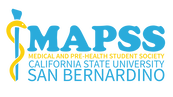 Medical and Pre-Health Student Society (MAPSS) charge of the annual Pre-Health Conference in the Inland Empire. This conference is student-led and organized. This conference provides students, parents, community members and counselors with information about the medical and health professional school admission process. It is a unique opportunity for direct contact with medical school deans, admission officers, faculty and staff.
MAPSS Objectives:
To promote the health sciences and the various career opportunities in healthcare
To increase student knowledge in applying to medical, graduate, and health science schools
To encourage and increase retention and graduation rates of pre-medical and pre-health students
To provide networking opportunities with employers, universities, student organizations, hospitals, internships and organizations
To increase the ethnic diversity of students pursuing a career in healthcare
To create an opportunity for students to reach out into the community through student clubs and local organizations committed
To encourage awareness of the problems affecting healthcare policy and healthcare reform
To advocate for the expansion of the health sciences on the California State University, San Bernardino campus.
This conference is a once-a-year unique opportunity to directly interact with decision-makers of top medical and pre-health professions schools from across the country.
Our past conferences have featured over 100 dynamic pre-med and pre-health professional workshops — led by deans and admission directors. Our speakers and events will provide you with in-depth information on issues ranging from the medical school curriculum, admission requirements, financial aid and test preparation, as well as public policy, and clinical and research opportunities.
Over 80 medical schools, public health schools, pharmacy schools, dental schools, nursing schools, PA schools, veterinary schools, optometry schools, and physical and occupational therapy programs have participated each year.
Moreover, physicians and representatives from many programs national wide will be present to directly answer questions during workshops and the Pre-Health Professions Fair.
Health Professions at This Year's Conference For 2022 will highlight these key professions: 
Allopathic Physician (MD)
Osteopathic Physician (DO)
Physician Assistant (PA)
Nurse Practitioner (NP)
Registered Nurse (RN)
Physical Therapy (PT)
Occupational Therapy (OT)
Optometry (OD)
Pharmacy (PharmD)
Dentistry (DDS/DMD)
Veterinary Medicine (DVT)
Public Health (PH)
​Chiropractic Physician (DC)
Health Education
Clinical and Biomedical Research 
Mental and Behavior Health
Business in Medicine
Mental Health
When is the 2023 Annual Pre-Health Conference?
More information will be released soon!
Are you a professional or graduate school that wishes to sponsor or attend the 2023 conference?
Dear Sponsors,
Without donations and support from sponsors, we could not be where we are today. Since the inception of the conference our organization has helped close to 2,500 students get the information they need to succeed. Many of the students who attend our conference would not have had the opportunity to receive this information or the access to professionals that this conference provides.

Sincerely,
CSUSB MAPSS
Meet our Executive Board