RAFFMA Reopening + New Exhibitions
February 7, 2022 - April 9, 2022
10:00am - 3:00pm
RAFFMA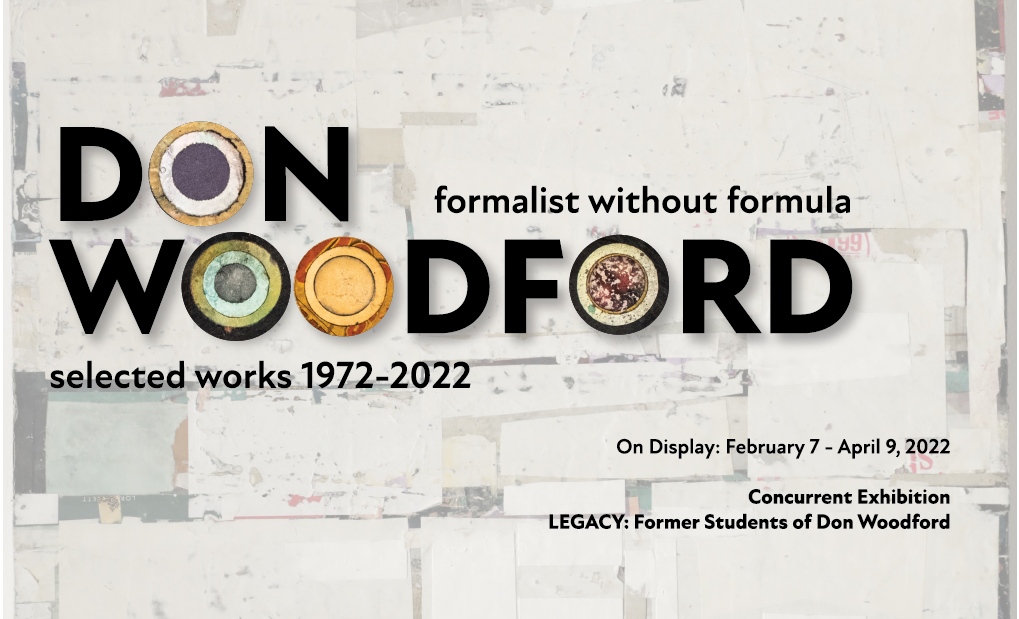 The museum is excited to announce our reopening is still on schedule for Monday, February 7th, 2022! We have waited almost two years to welcome visitors back to experience our exhibitions. COVID protocols will still be enforced at all times while on campus and inside the museum.

Museum Hours:
Starting February 7th - April 9, 2022
Monday - Tuesday: 10 a.m. - 5 p.m.
Wednesday - Thursday: 10 a.m. - 6 p.m.
Saturday: 11 a.m. - 3 p.m.
Closed Friday and Sunday

Museum entry is Free. Suggested Donation $3.

Robert and Frances Fullerton Museum of Art
5500 University Parkway, San Bernardino, CA 92407
ON DISPLAY:
FORMALIST WITHOUT FORMULA: DON WOODFORD Selected Works, 1972-2022
LEGACY: Former Students of Don Woodford
Professor Emeritus of Painting in the Department of Art and Design, Don Woodford began his academic career at California State University, San Bernardino in 1972. After he retired in 2001, he continued to teach studio painting courses for two academic years.
During his long tenure at CSUSB, Woodford trained, inspired, and mentored many students who later became accomplished artists and educators. Today, eight of Woodford's former students present their own work along the work of their highly respected and beloved Professor, in a separate exhibition entitled LEGACY: Former Students of Don Woodford. The exhibition features Eric Green, Sonja Oh Kim, Kerry Kugelman, Stevie Love, Randy McCoy, Sharon Suhovy, Donna Morin, and Oliver Sutter.
---
Don Woodford holds a BA Degree from Cornell College in Mt. Vernon, Iowa; MA Degree from Illinois State University; and MFA Degree from the University of Wisconsin. Before joining the CSUSB faculty, he taught painting at his alma mater, Cornell College, and Reed College in Portland, Oregon. At CSUSB, Professor Woodford served also as director of the University Art Gallery for fourteen years and as the department chair for three years.
An artist, educator, curator, and collector, Don Woodford has an extensive and rich knowledge of art, both historical and contemporary, supported by an outstanding visual sensitivity and highly admirable esthetic proficiency. In his long career, Woodford has mastered collage and painting techniques, experimenting in both two- and three-dimensional abstract forms. According to Tom McGovern's recent essay to be published in conjunction with the exhibition, "Don's oeuvre is remarkably consistent, with form and color being its primary concerns, and without repetition. If I had to categorize him, it would certainly be as a formalist, and knowing that his methodology is highly intuitive, it is obvious that there is no formula from which he works. Don is an artist's artist, someone with a clear vision, amazing work ethic and deep knowledge of history, all of which inform his art."
Our exhibition presents a selection of Don Woodford's diverse body work encompassing a period of five decades. During that time, the language and form of Woodford's uniquely personal art have evolved multiple times, often inspired by places and place-related experiences, each influencing a new body of work, introducing fresh formal solutions and subtle stylistic nuances.
"I enjoyed my years at the university a great deal…," Woodford fondly recalls. "When I was searching for a teaching position," he adds, "I only considered working at schools in Southern California because I felt then and still feel that there is a wonderful creative energy within the art community here. If I could magically have the opportunity it to do over again, I would jump at the chance".