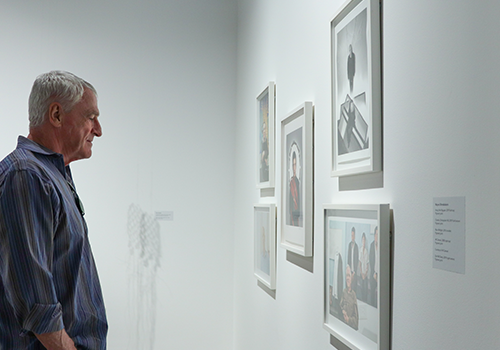 Welcome
Located on the campus of Cal State San Bernardino, RAFFMA's signature permanent exhibit showcases our world-class collection of ancient Egyptian art, while our temporary exhibitions make up a stimulating range of contemporary art, featuring emerging and established artists alike.
Admission
General Admission: Free. Suggested donation: $3
Cash and checks accepted.
Accessibility
RAFFMA is wheelchair accessible.
Hours
Museum Open Hours
Monday & Tuesday:
10:00 a.m. - 5:00 p.m.
Wednesday & Thursday:
10:00 a.m. - 6:00 p.m.
Saturday:
11:00 a.m. - 3:00 p.m.
Location
RAFFMA is located at the Visual Arts Center at Cal State San Bernardino
5500 University Parkway
San Bernardino, CA 92407-2397
Facility Rental
Host your special event at RAFFMA. Our galleries are available for rent by CSUSB and community organizations or individuals. For more information, contact raffma@csusb.edu
Events
RAFFMA offers various programs and events throughout the academic year.
Directions
Directions to the CSUSB Campus
From the 215 N:
Take the University Parkway exit.
Make a right onto University Parkway.
Make a left onto Northpark Blvd
Make a right onto Ash St.
Make a left onto West Campus Circle. (first stop sign)
Make a right onto Fairview Dr. (first stop sign)
Make a right onto Museum Dr. (first stop sign)
Make a left into Lot M.
Helpful hints:
Follow the "RAFFMA" signs, which will lead you directly to the museum.
When using your phone's mapping/gps app, use the museum's full name: "Robert and Frances Fullerton Museum of Art".
CSUSB Campus Map. RAFFMA is listed in the"VA" on the CSUSB campus map
Museum Policies
Cameras:
Still photography is permitted at RAFFMA for private, noncommercial use. Photographs may not be published, sold, reproduced, transferred, distributed, or used commercially in any manner.
The use of flash photography and/or tripods is prohibited at all times.
For inquiries related to press or commercial filming/photography opportunities at RAFFMA, please contact us at (909) 537-7373.
Food, Drinks, Bags:
Food, drinks, backpacks, large purses, and briefcases are not permitted in the galleries.
All food, drinks, and large bags must stay in the front lobby.
Museum Behavior:
Visitors are not permitted to touch artifacts, artwork, frames, pedestals, or cases. Many artifacts and artworks are very fragile, and even gentle touches can damage an object overtime. Help us preserve these important art objects.
Please use low, indoor, voices when inside the museum.
In many cases there will be other people visiting the museum at the same time and we ask that all our visitors be respectful to one another so that all visitors enjoy their experience at RAFFMA.
Restrooms:
Restrooms and water fountains are located in the Visual Arts Center. Please ask for directions at the museum front desk.