Accessible Syllabus Template
CSUSB Accessible Syllabus Template (docx)
The syllabus presents a standard layout in an accessible format. In addition, we have included requisite language usually included on syllabi as a matter of university policy.  We encourage instructors to adjust layout as necessary. When doing so, be sure to follow the accessibility best practices below.
Universal Design for Learning (UDL)
Universal Design for Learning (UDL) encourages instructors to consider the variety of learners in a course at any given time. All students have different abilities, experiences, and interests. The UDL framework encourages faculty to consider the potential needs of all learners by allowing for multiple means of engagement, representation, and action and expression.  By applying UDL principles across course content, you proactively ensure that your materials are accessible to a diverse group of learners. CAST offers a comprehensive overview of the principles of UDL.  
Accessible Documents and Presentations
Electronic documents should be created in an accessible way, so those who use assistive technology can access their content. Documents can be easily made accessible by following a few general guidelines. The following are the main areas of focus for document accessibility: 
Headings
Lists
Tables
Images
Good link text
If a document has been created in an accessible way, it can be exported as a PDF and retain its accessibility features. 
Download our Authoring Accessible MS Office Word PC (PDF), the Authoring Accessible Word Documents (PDF) for an overview of these principles in regard to documents, or the Creating Accessible PowerPoint Presentations (DOC). If you require assistance with the creation or remediation of Word or PDF documents or PowerPoint Presentations, the Digital Content Accessibility Specialist can assist you. We also offer monthly and one-on-one training sessions.  

If you work in the Google Docs ecosystem, we encourage you to use Grackle Docs which allows you to check the accessibility of documents and export accessible PDFs. You will find Grackle Docs under the 'Add-In' tab in your Google Doc. For more information on enabling Grackle Docs on your CSUSB Google Docs, Grackle Docs Accessibility Checker Google Docs CSUSB (PDF).
Audio & Video Content
Captions
Captions are utilized by a wide range of students and are recommended for all instructional videos. Captions not only serve as a means of equal access to auditory content for students who are deaf or hard of hearing, but are also used by students who are English language learners, students in a loud environment, and those in a quiet environment. Ti have CSUSB-affiliated materials captioned by our team, fill out the information on the following form: 
Selecting Captioned Media 
When choosing videos for your course, the easiest method is to select a video that is already properly captioned. "Properly" captioned means that the captions are not automatically (machine) generated. To check the type of captions that a YouTube video has, click the "CC" button in the lower right-hand corner of the video.  If there is no CC button, there aren't any captions. If the captions are auto-generated, when you click on the CC button,  the top left of the video will show "caption language and (auto generated), click for settings". If the video has been properly captioned, there will be no mention of "auto generated", only the language and the "click for settings" prompt.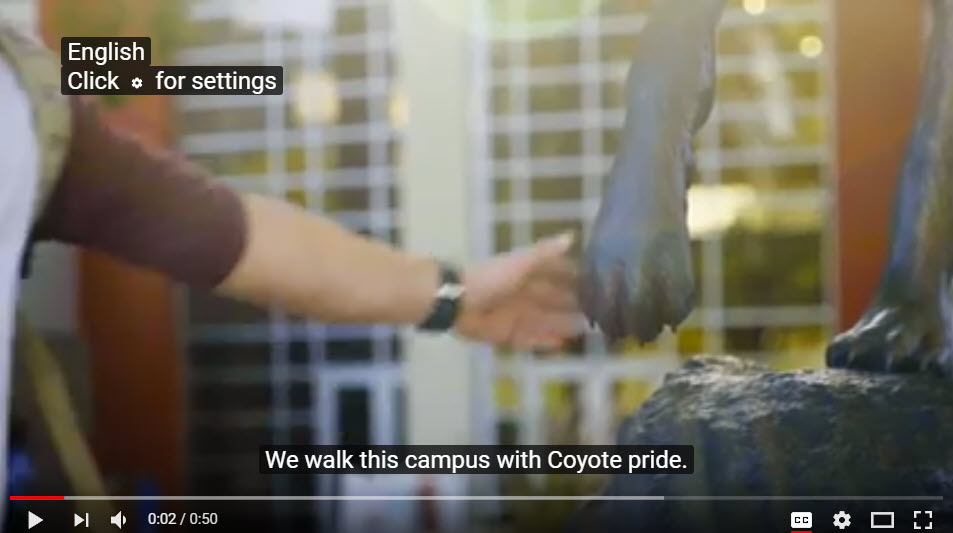 Creating Captions
Accessible Technology will generate captions for your instructional videos upon request. For more information on this service, please contact us.  
YouTube
YouTube is generally regarded as the quickest and easiest way to add captions to videos that you own. Please view our training document on the various methods that you can utilize within the YouTube caption editor. YouTube Captions Trainings.pdf. More information can also be found under the Training tab of this site. 
Camtasia
Faculty and staff on campus have free access to Camtasia via the Technology Support Center  Camtasia can be used to manually add captions or import caption files to videos that you are creating. For more information, please contact accessibility via email. 
Transcripts
Transcripts are utilized for audio-only content, such as podcasts. Transcripts not only provide a written account of auditory content that those who may not otherwise be able to access it but are also used by those who would like to search the contents of the audio and pull out key concepts and terms. 
Transcript production is one of the services that can be provided through Accessible Technology. Alternatively, you can generate your own transcripts by using speech-to-text software such as Dragon Naturally Speaking or another transcription program.  Please contact accessibility via email for more information. 
Audio Descriptions
Audio descriptions are utilized to create an accessible alternative to visual images that are displayed on a screen that lack a clear audio context. A thorough explanation of the purpose and nature of audio descriptions can be found at the Audio Description Project website. 
Accessible Technology will gladly review any materials that may potentially need audio description and will work with an outside vendor in creating an audio-described version, as applicable.