Congratulations on your admission to CSUSB!
The Faculty, Staff and Administration at California State University San Bernardino are thrilled to welcome you to the Coyote family and congratulate you on your outstanding educational accomplishments.
Your offer of admission is the first step in your Coyote journey. You must complete all of the next steps, including:
Submitting final documents
Committing to CSUSB by accepting your offer of admission
Signing up and attending your orientation session.
Fall deadline to accept your offer: May 1st
Spring deadline to accept your offer: November 30th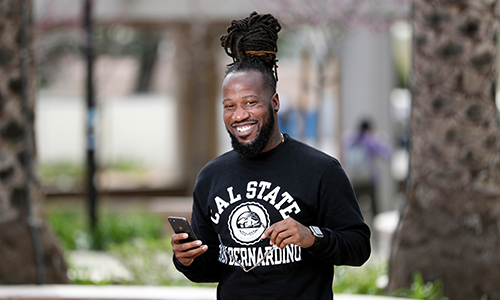 Accepting your Offer of Admission
All incoming students are required to Accept their Offer of Admission to CSUSB in order to secure their spot for enrollment. Accepting your offer is free. 
Students can Accept or Decline their Offer inside their myCoyote account. 
Log into your myCoyote account
Click on the My Tasks tile.
Click on the Accept/Decline Admissions tile. Here you will be able to officially Accept or Decline your Offer of Admission to CSUSB. 
Need Additional Help?
Review the Next Steps to find out what else you will need to do to join the Coyote Pack.
If you have any questions regarding admissions, or would like to speak to an admissions representative, please call (909) 537-5188 Monday through Friday from 8 a.m. - 5 p.m. Stay on track, stay connected, complete your next steps for enrollment. Once again, congratulations and welcome to the CSUSB family!