Tuition Costs
One of the first questions asked about our campus is the cost of attendance for California State University, San Bernardino. As a CSU, our tuition, fees, and other costs are determined by the Board of Trustees, and the total amount you will pay for a year of study at CSUSB is determined by your academic profile. 
Tuition and Fee information can be found in our Virtual Viewbook.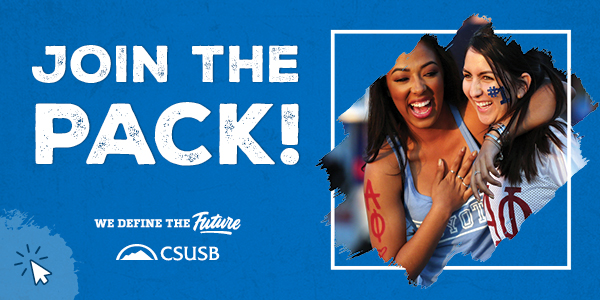 California Residents
California residents can expect to pay around $6,900 in Tuition costs per academic year, while non-resident and international students will pay close to $18,000. You will also have associated costs for school, including fees, books, parking, housing, and other related costs. 
The CSUSB Office of Student Financial Services provides a listing of all student registration/tuition fees* and payment deadlines and Parking Services provides current parking permit rates, along with purchase instructions.
Establishing Residency
Generally, establishing residence in California for tuition purposes requires a combination of both physical presence and intent to remain indefinitely.
An adult student must have established and maintained permanent residence in California at least one year prior to the residence determination date to show the intent of becoming a California resident. 
For more information on establishing residency in California, visit our Establishing Residency page.
Non-Resident and International Students
Non-Resident Tuition Fees are $264 per unit and $132 per 1/2 unit. Non-Resident Tuition is charged in addition to the charges listed above for residents and applies to all non-residents of California including international (visa) students.
WICHE WUE (Western University Exchange Program) student participants pay 150% of the Tuition Fee and do not pay Non-Resident Tuition Fees.
WICHE/WUE
Non-resident students from Alaska, Arizona, Colorado, Hawaii, Idaho, Montana, Nevada, New Mexico, North Dakota, Oregon, South Dakota, Utah, Washington, and Wyoming can participate in the Western Undergraduate Exchange (WUE) Program tuition rate, if eligible.  WUE allows students who are residents of the states listed to pay 150 percent of in-state (California) fees while retaining their home state residency status.
If you would like to apply to the WICHE/WUE program, download the application on our forms page.
Financial Aid & Scholarships
Most students attending California State University, San Bernardino receive assistance in paying for their studies through Financial Aid and Scholarships. The CSUSB Office of Financial Aid and Scholarships administers a variety of programs to assist qualified students including Federal Pell Grants, Perkins Loans and Work-Study and scholarships awarded to new and continuing CSUSB students.
All students who plan to attend CSUSB should submit the Free Application for Federal Student Aid (FAFSA) for access to federal assistance programs including Pell Grants and Work-Study. Scholarships administered by the CSUSB Office of Financial Aid and Scholarships Office can be applied for online via MyCoyote. 
*The CSU makes every effort to keep student costs to a minimum. Fees listed in published schedules or student accounts may need to be increased when public funding is inadequate. Therefore, CSU must reserve the right, even after fees are initially charged or initial fee payments are made, to increase or modify any listed fees. All listed fees, other than mandatory systemwide fees, are subject to change without notice, until the date when instruction for a particular semester or quarter has begun. All CSU listed fees should be regarded as estimates that are subject to change upon approval by the Board of Trustees, the Chancellor, or the Presidents, as appropriate. Changes in mandatory systemwide fees will be made in accordance with the requirements of the Working Families Student Fee Transparency and Accountability Act (Sections 66028 - 66028.6 of the Education Code).