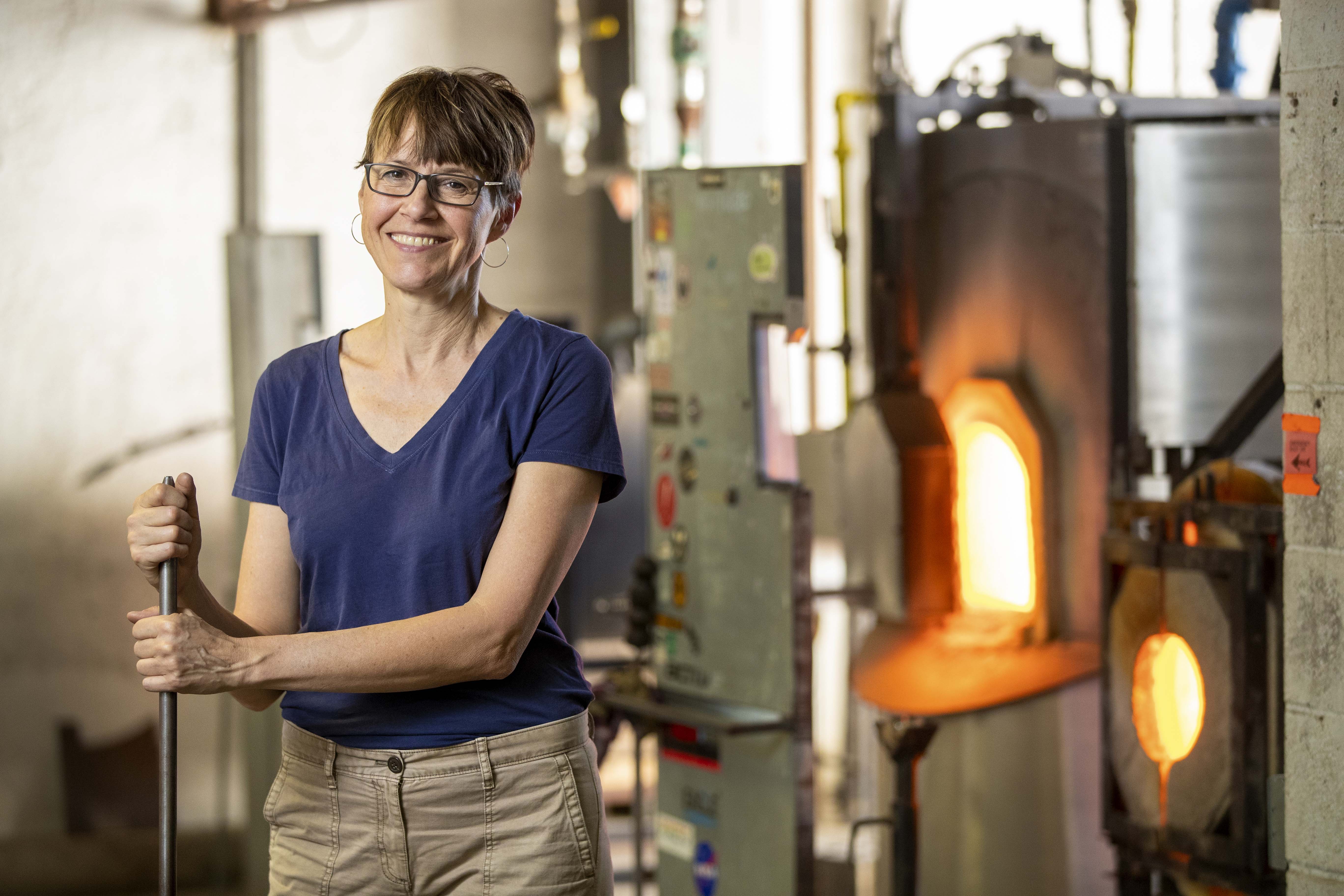 Katherine Gray, MFA
A distinguished glass artist, art professor Katherine Gray was selected as a Fellow of the American Craft Council in 2020 and is the resident evaluator on the Netflix show "Blown Away."
The hit show features 10 master artisans from around the world who are given an art or design challenge each episode, with one contestant eliminated each time. "Blown Away" also had a Christmas special in late 2021.
Gray, a professor and chair of the Department of Art and Design, was honored as a Fellow of the American Craft Council (ACC), a national nonprofit dedicated to advancing American craft. To be named a fellow, an artist must demonstrate leadership in the field, outstanding ability as an artist and/or teacher, and 25 years or more of professional achievement as an American craftsperson.
Gray's work ranges from blown glass to elaborate installations of found glass. Her immersive work draws on rich traditions of glass blowing, fearless experimentation, and a fascination with glass as both a visual and experiential encounter.
In 2017, she received the Libenský | Brychtová Award from the Pilchuck Glass School for her artistic and educational contributions to the field. Gray studied at the Ontario College of Art and received her MFA from the Rhode Island School of Design. She has had recent solo shows at Craft Contemporary and the Toledo Museum of Art. Her work can be found in the collections of the Corning Museum of Glass, the Toledo Museum of Art, and the Tacoma Museum of Glass, among others. Her work has been reviewed in New York Observer, Artforum, LA Times, and the New York Times design magazine.
Gray was also named Cal State San Bernardino's 2020-21 Outstanding Professor. In being chosen for the honor, Gray also became the John M. Pfau Endowed Professor, named for the university's first president.