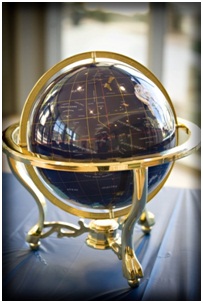 Academic WorldQuest is a team game testing competitors' knowledge of world affairs, geography, history, culture, countries, current events, and more. A team consists of 4 high school students. They may be freshmen, sophomores, juniors, or seniors. Also, each team must have a coach. The program is sponsored by the World Affairs Council of the Desert.
The next competition is DATE: February 3, 2022 from 5:30 to 8:00 p.m.
LOCATION: Indian Wells Theater at the Palm Desert Campus of California State University San Bernardino located at 37-500 Cook Street in Palm Desert.
Scholarships are awarded to each student on the top three teams: 1st Place $300; 2nd Place $200; 3rd place $100. Each coach receives a $325 stipend and a one-year free membership to the World Affairs Council of the Desert. A Spirit Award is given to the school with the most supporters in attendance at the competition.
The winning team and coach receive an expense-free trip to Washington D.C. to compete in the National Academic WorldQuest competition to be held in April 2022. For this trip, the coach of the winning team receives an additional $500 stipend.