The Student Success Studio (S3) at PDC is committed to assisting students in reaching their academic goals. Primarily a place for instructional support, such as tutoring, workshops and study sessions, the Student Success Studio is also a great place for students to work with their peers in other social capacities, like taking advantage of our "virtual" workstations, small group meeting spaces, and educational technology. S3 is an active and lively space filled with students helping students. 
Fall 2020 Studio Hours
WE ARE OPEN! (Remotely)
Due to the COVID-19 campus closures, the Student Success Studio will be providing all of our services remotely for the Fall 2020 semester.
TUTORING begins on April 13. Please visit the S3 online appointment system to make an appointment.
Writing*                                            PSYC 311
M/W/F: 10am--9pm                         T/TH: 10am--3:30pm
T/TH: 10am--5pm                            W: 10am--3pm
                                                          F: 10am--3pm
BIO 224                                           COMM
T/TH: Noon--3:30pm                      T/W/TH: 10am--4pm                    
F: 10am--3pm                                   
MATH 110                                        PSYC 210
M/W: Noon--4pm                            M/W: 1pm--6pm 
T/TH: Noon--5pm                            T/TH: 1pm--6pm
                                                          F: 10am--3pm
MATH 301C
M/W: 9am--4pm                             HISTORY
T: 10am--4pm                                  T/R: 1pm--6pm
We also have a Tech/New Media tutor who can help you navigate many digital environments: M/W: 10am--3pm
*For students in 300-level or above courses, we offer eTutoring (asynchronous meetings via email) for your completed (or nearly completed) papers. Please see the schedule for more information.
Questions? Email us or drop-in to our Help Desk to speak to S3 staff, M-F 10am-3pm.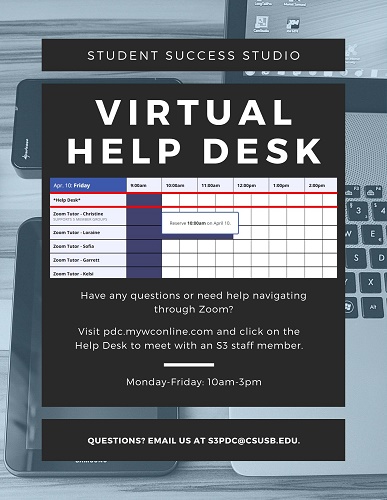 WORKSHOPS AND ACTIVITIES
WHAT: APA 7 Workshop
Join our PSYC 311 and writing tutors for a Zoom workshop on APA 7 basics.
WHEN: TBD
WHAT: A Zoom Pet Party
Current conditions allow us to bring our pets to school—virtually, of course. Drop-in to our first ever S3 Zoom Pet Party and introduce your beloved furry (or feathered or scaled) family member to your yotie classmates. Take a much-needed break for some critter-filled fun with us.
WHEN: TBD
WHAT: Virtual Trivia Games
Taking breaks from school work is an important student practice. Come hang out with S3 tutors for a friendly trivia game. Participate or just watch. Winners will have their photo featured on our virtual Wall of Champions.
WHEN: TBD