INTO LIGHT California exhibit ends run on June 10
After a nine-month run at the Cal State San Bernardino Anthropology Museum calling attention to substance use disorder (SUD) by destigmatizing the topic and increasing awareness and discussion, the INTO LIGHT California exhibit will close on Saturday, June 10. The museum will have special weekend viewing hours, 8-11:30 a.m. Admission is free.
INTO LIGHT is a national project to document the tragic loss of human life to the disease of drug addiction. One exhibit is being mounted in every state, each uniquely presenting 41 lives locally lost to addiction, overdose and drug poisoning. California was the seventh exhibit and was held in partnership with the San Bernardino County Department of Behavioral Health, the Anthropology Museum and the INTO LIGHT Project. The Delaware show opened on June 1.
INTO LIGHT was started by Theresa Clower, who lost her son Devin Bearden to fentanyl poisoning in 2018. Clower took up portrait work as a way of working through her grief. After completing Devin's portrait, she was inspired to find others who lived and died like her son and to show the extent of the drug epidemic through exhibits involving each state. She aspired to draw their portraits, tell their stories, and start a dialogue around the disease.
Broadening the discussion of SUD, addiction and overdose – and removing its stigma – helps provide some relief for families who have lost loved ones to the overdose epidemic, as well as encouraging those battling SUD to seek help.
At the California exhibit's closing reception at the museum on June 7, Georgina Yoshioka, director, San Bernardino County Department of Behavioral Health said that substance use disorder is a complex disease that not only affects individuals, but also families and communities.
"Unfortunately, the stigma surrounding this topic often prevents individuals from seeking the help they need, perpetuating the cycle of addiction," Yoshioka said. "It is crucial that we all work together to reduce stigma associated with substance use disorder. This means changing the way we think and talk about addiction, and treating individuals with compassion and understanding, rather than judging and shaming. It takes recognizing that addiction is a disease, and not a moral failing or a choice."
The exhibition did that and more, giving families a place to honor and remember their loved ones whose lives were taken by substance use disorder, putting a human face on the disease to change the conversation, evoking empathy for those suffering from SUD, she said.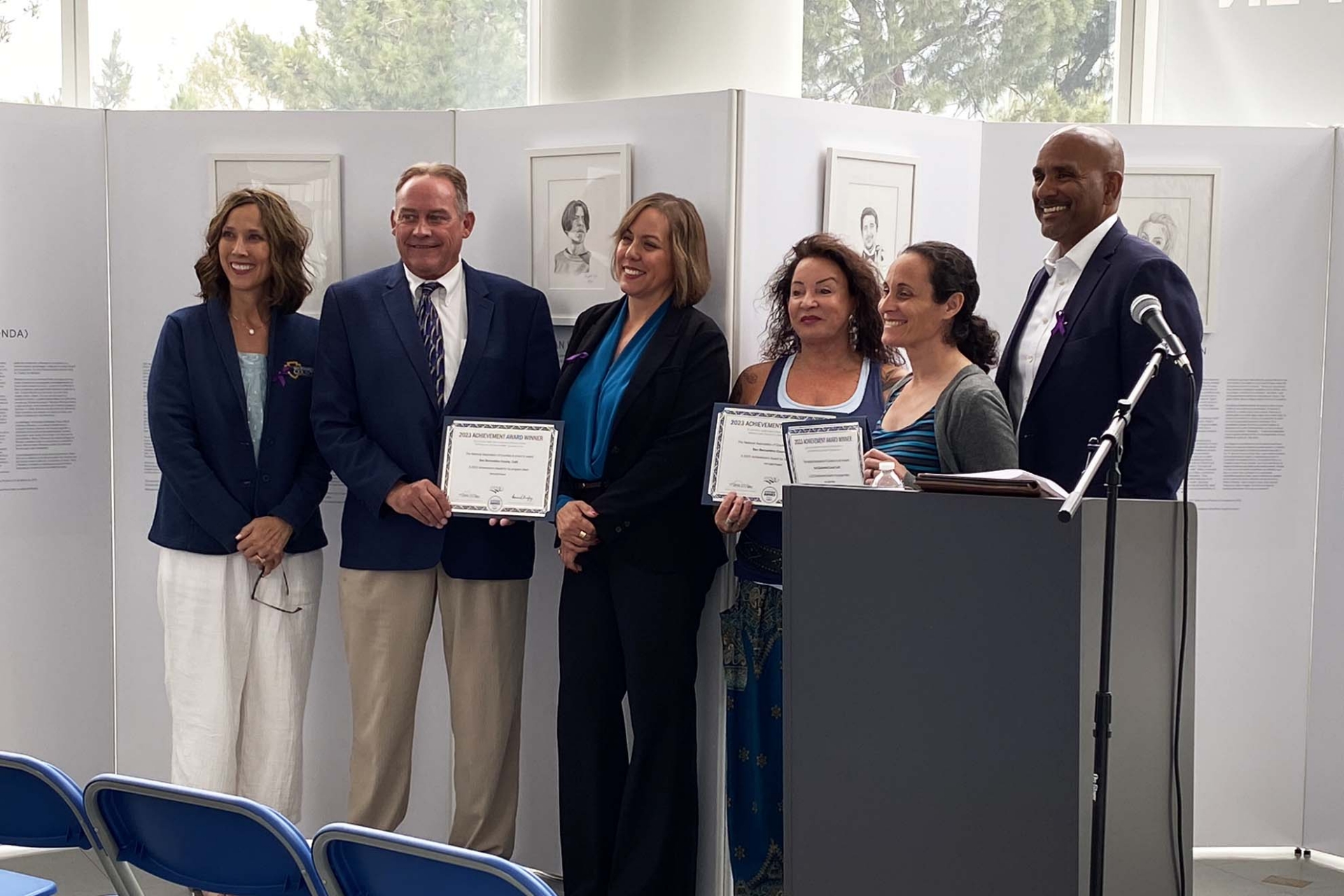 INTO LIGHT was personal for Diane Rundles, director of human resources for San Bernardino County. Her nephew,  Daniel Puerta-Johnson, is one of the 41 individuals whose life was remembered in the exhibit.
"This exhibit is meaningful in the sense that it's an educational opportunity for us to think about and really bring to life real human beings and real family members that have experienced this type of pain," she said. "But also to bring such dignity and light to our loved ones, to really feature them and showcase them, and talk about who they were to all of us – and how important they were."
Rundles said SUD is important topic that need to be discussed for solutions to be found. Fentanyl and other opioids, on which much news coverage has focused, has claimed so many lives and robbed people of bright futures, she said.
According to the Centers for Disease Control, 136 people die each day from an opioid overdose in the United States. Locally, the number of overdose deaths in the Inland Empire has risen dramatically. Between 2019 and 2020, drug-related overdose deaths jumped a staggering 89 percent in San Bernardino County and 50 percent in Riverside County – largely driven by accidental overdose and drug poisoning through fentanyl. In 2018 there were 30 fentanyl deaths in San Bernardino County. In 2019 that number rose to 74, and in 2020 to 227. In 2021 there were 309 fentanyl overdose deaths in San Bernardino County.
"This exhibit makes clear that drug addiction is not a problem associated with other families, or other people, but it's us," Rundle said. "And the only way we can combat it is to listen, educate, raise awareness, share resources, and support one another."
The partnership that brought the INTO LIGHT to California was recently recognized by the National Association of Counties (NACo), which selected the exhibition for an Achievement Award in the Arts, Culture and Historic Preservation Category for 2023.
The Anthropology Museum and county Department of Behavioral Health hosted a series of Recovery Resource Fairs on campus to raise awareness of the dangers of substance use disorder. Community organizations that provide mental health and substance use recovery services shared their resources, and attendees were trained how to administer Narcan, which is given to people who overdose on opioids.
In the fall, during CSUSB's Homecoming weekend, the museum hosted a town hall event with state Assemblymember James Ramos, D-Highland, a CSUSB alumnus whose district includes the university. Ramos has introduced legislation in the battle against the opioid crisis, AB 1627, on opioid overdose prevention, AB 1628, social media, electronic content management regarding controlled substances, and, earlier this year, AB 461 to require community colleges and California State University campuses to stock fentanyl test strips, and AB 462 to help fund overdose response teams.
Earlier this spring, the museum and county of Department of Behavioral Health hosted a Black Balloon Day event that remembered those who died from substance use disorder and shined a light on the epidemic. Black Balloon Day tables were set up along Coyote Walk (behind the John M. Pfau Library) and in the Anthropology Museum. During the event, the university community and area residents wrote messages to loved ones lost to an overdose.
The California exhibit also debuted INTO LIGHT's "Ask Me About" campaign, through which museum visitors are invited to take a pin that features one of the 41 individuals represented in the exhibition. The goal of the Ask Me About campaign is to extend the stories of the exhibition outside of museum walls, as visitors wear their pin and share what they learned through INTO LIGHT.
For information about alcohol and/or drug abuse treatment options, call the San Bernardino County Department of Behavioral Health at (800) 968-2636 for a free and confidential assessment and help finding the appropriate treatment.
For more information on available services, visit the county Department of Behavioral Health website.