CSUSB alumni community service officers join UPD after graduating from SBCO Sheriff's Academy
Two Cal State San Bernardino alumni became the first to directly join the university police force after graduating from the San Bernardino County Sheriff's Academy, following their recruitment as CSUSB undergraduates to join the department.
Raudel Garcia-Reynoso, 28, and Victor Rodriguez, 26, joined other sheriff's deputy and police cadets at the graduation ceremony for the 230th Session of the SBCO Sheriff's Basic Academy, held March 9, at the Sunrise Church in Rialto, said John Guttierrez, acting chief of the Cal State San Bernardino Police Department.
Both Garcia-Reynoso, who was born and raised in San Bernardino, and Rodriguez, who was born and raised in Whittier, will now join the campus police department. The two CSUSB graduates served as community service officers while students, and each has a bachelor's degree in criminal justice, Guttierrez said. And like 80 percent of the CSUSB student body, both are first-generation college students.
"Both of these outstanding individuals served the campus community with a service-oriented mindset," Guttierrez said.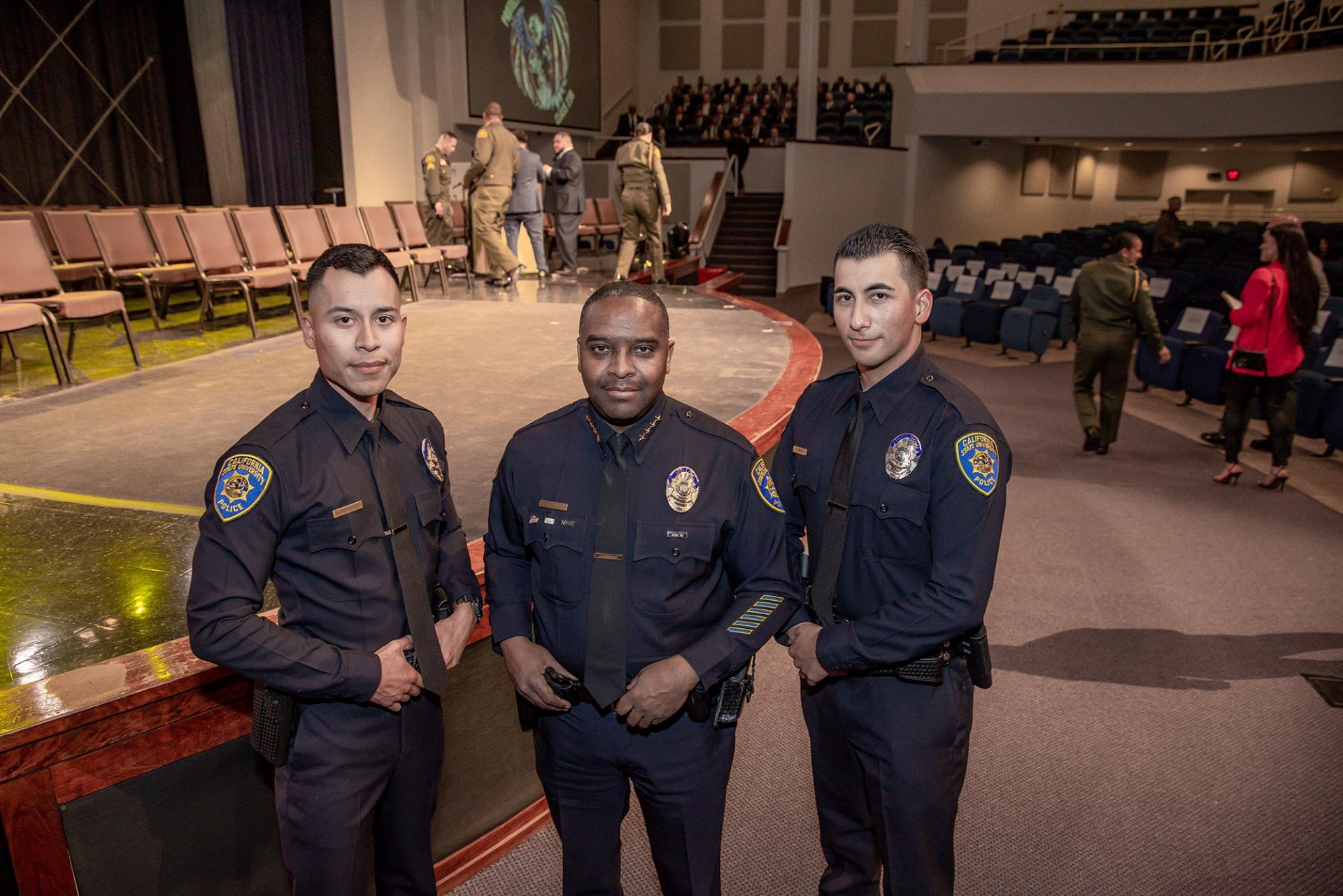 Garcia-Reynoso and Rodriguez are the first to join university police as a result of a partnership with the department and the university's School of Criminology and Criminal Justice, said Guttierrez, who added that the partnership will help the department grow and maintain its ranks.
The need for the partnership came as a result of staff shortages.
Like other police agencies, the CSUSB Police Department has experienced some of the same historical challenges in recruiting officers that includes the high attrition rate in law enforcement, the decreasing pool of police candidates, relatively low compensation and the continuing fallout from the COVID-19 pandemic, Guttierrez said.
To help bridge the gap, the department looked within the university, which ultimately led to the partnership with its School of Criminology and Criminal Justice to recruit CSUSB students and connect their major to their career field, Guttierrez said.
"This new career pathway helps the department recruit and build a diverse workforce that is reflective of the campus community, develops the culture of the organization, and allows us to hire the best and the brightest to serve in our community," Guttierrez said.
For more information, visit the CSUSB University Police Department website.