Law enforcement in the Inland Empire focus of next Conversations on Race and Policing
The Conversations on Race and Policing series continues on Tuesday, March 14, when it will host Humberto Flores, a doctoral candidate in sociology from UC Santa Barbara whose research examines the brunt of policing in the Inland Empire.
 "IE to Ph.D. & Policing The Inland" begins at 1 p.m. The livestream, free and open to the public, can be accessed from a PC, Mac, Linux, iOS or Android at https://csusb.zoom.us/j/97960458784.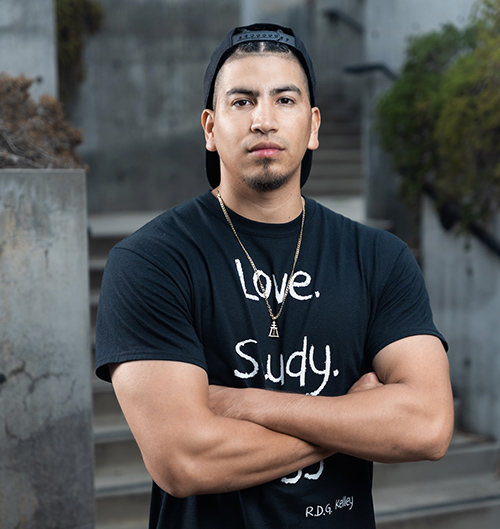 Flores' research examines the brunt of policing in the Inland Empire. Using an intersectional analysis, his study draws on interviews with Latinx and Black residents in Riverside and San Bernardino to explore police illegitimacy. Flores' study finds that experiences with the police vary by race and gender, and contribute to differences in the ways respondents express legal cynicism.
Conversations on Race and Policing, also known as CoRP, began in the aftermath of the May 25, 2020, death of George Floyd while in the custody of four Minneapolis, Minn., police officers. A video of the incident posted on social media led to widespread protests, the firing of four police officers, the arrest and conviction of one officer on a second-degree murder and related charges, the other three on charges of aiding and abetting second-degree murder – and a spotlight worldwide on race and policing.
The series has featured scholars, journalists, law enforcement officers, lawyers, activists, artists, educators, administrators and others from throughout the nation who shared their experience and expertise on issues related to race and policing.
More than 50 forums have taken place, and video recordings of the sessions are posted online on the Conversations on Race and Policing Lecture Series Archive. 
The series is organized by CSUSB students, staff and faculty, including recent history master of arts graduate, Cecelia Smith; history master of arts student Matt Patino; Mary Texeira, professor emerita, sociology; Jeremy Murray, professor of history; Robie Madrigal, public affairs/communication specialist for the CSUSB John M. Pfau Library; and community member Stan Futch, president of the Westside Action Group.
For more information, contact Robie Madrigal at rmadriga@csusb.edu or Jeremy Murray at jmurray@csusb.edu.