Joe Gutierrez | Office of Strategic Communication | (909) 537-3007 | joeg@csusb.edu
Pioneer Breakfast honors community members and student scholarship recipients

The Pioneer Breakfast returned to Cal State San Bernardino with about 400 people "Celebrating Black Excellence: Leading and Shaping Our Future," the theme of the 10th annual event, which honors local community members for their service and student scholarship recipients.
Hosted by the university's Black Faculty, Staff and Student Association at the university's Santos Manuel Student Union North, the Pioneer Breakfast coincides with the celebration of Black History Month.
CSUSB President Tomás D. Morales welcomed the attendees talking about the goal of the event and how it helps students.
"The Pioneer Breakfast honors the accomplishments of Black Americans who have made an impact at Cal State San Bernardino by demonstrating a passion for students, exemplifying a commitment to CSUSB, exhibiting professionalism, and showing  a positive attitude towards college and the campus community," Morales said.
"As CSUSB's president, I'm proud to say that we are structurally committed to providing a diverse, equitable and inclusive learning environment," Morales said. "We anticipate our students evolving into exceptional professionals, active leaders, and change makers for their community, our community. Today, we applaud all that they are and will become within the university."
During the breakfast, scholarships were announced for the following students:
·      Dr. Mildred Henry Scholarship – Mustafaa Bell
·      John Overton Scholarship – Kya Ny'Ashia Necole Olive
·      Ms. Belva Holder Memorial Scholarship – Lynn Brown-Summers
·      Terrilyn Monette Memorial Scholarship – Kudakwashe Jonah Magwenz
·      Dr. Milton Clark Scholarship – Shareen McDade
·      Dr. Jean Peacock and Walter Hawkins Scholarship – Vivian Osunde
·      Felix Family Scholarship – Tyler Harris
Friends of John Futch Book Scholarship – Shaynekqua Colen, Kelly Armstrong, Tayonna Hargrove, Aldon Styles, Oluwaseyi Adeoye and Jamar Burns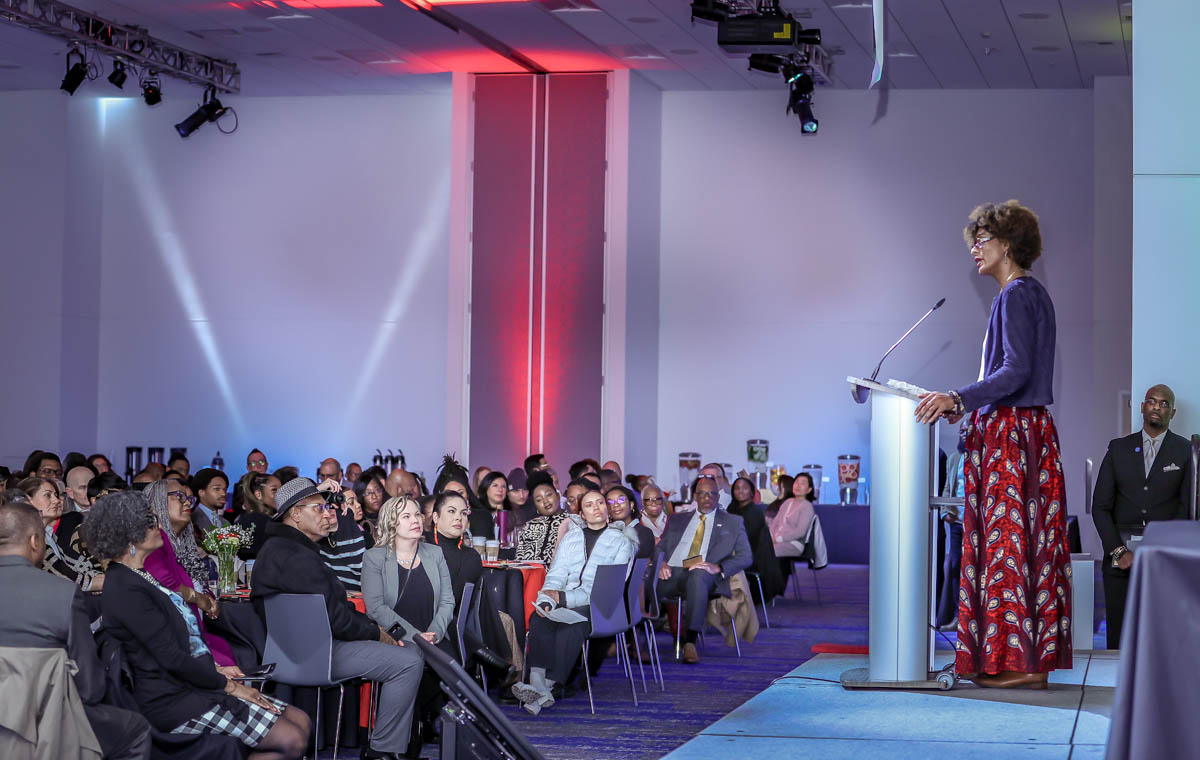 The Pioneer Breakfast also awarded the inaugural Village Awards to recognize amazing individuals from the community. The recipients were:
·      Terrance Stone
·      Kim Carter
·      Kiana Webb
·      Social Lites
·      Westside Action Group
·      Damon Alexander
·      Kimberly Calvin
·      Dr. Gwendolyn Dowdy-Rodgers
And these individuals were recognized with the Pioneer honor:
·      Aaron Burgess: Pioneer Honoree
·      Twillea-Evans Carthen: Pioneer Honoree
·      Kathryn Ervin: Pioneer Honoree
·      Cindy Blackturner Wyatt: Pioneer Honoree
·      Robie Madrigal: Lorraine Frost Ally Awardee
·      Prince Ogdepkie: Emerging Leader Awardee
The proceeds from the Pioneer Breakfast will go toward future scholarships for current CSUSB students. Over the past 10 years, the Pioneer Breakfast has awarded more than 300 scholarships and continues to be an inspiration to current students and future generations, said Anthony Roberson, president of the BFSSA executive board and associate director of Santos Manuel Student Union Operations.