Department of Biology expands its stem cell research opportunities to students
For more than a decade, the Cal State San Bernardino Department of Biology has succeeded in preparing students to explore and advance in scientific careers in regenerative medicine, a field focused on developing stem cell treatments to heal or replace tissues and organs damaged by aging, disease and defects.
Prior support from the California Institute of Regenerative Medicine (CIRM) Bridges program has helped create numerous CSUSB student success stories: jobs after graduation, enrollments in graduate programs, and admissions to medical and professional schools.
CSUSB will now offer a second stem cell-focused student training program thanks to $2.9 million in grant funding from the CIRM Creating Opportunities through Mentorship and Partnership Across Stem Cell Science (COMPASS) program.
The new COMPASS program will recruit students early in their college careers, typically as sophomores, and support them through two years of training and mentored research projects related to regenerative medicine, genomics and biotechnology.
"The COMPASS program will offer support, mentorship and project experiences early in students' academic paths, when such support and training can be most transformative," said Daniel Nickerson, a biology professor and principal investigator for the COMPASS grant who will direct the new program.
Stem cells are a special type of human cells with the ability to develop into many different cell types and repair damaged tissues. Stem cell researchers work on developing therapies to treat serious ailment such as cancer, diabetes, Alzheimer's and Parkinson's disease, and muscular dystrophy.
The new COMPASS training program is titled "Pluripotent Students," a reference to pluripotent stem cells that can develop into many kinds of specialized cells and tissues. Early undergraduate students have similar pluripotent potential in their scientific career paths, Nickerson said.
"The support, training and hands-on experiences our COMPASS students receive will help launch their careers in medicine, research, biotechnology, industry, science and health care," he said.
Over the course of five years of COMPASS funding, 32 students (four cohorts of eight students each) will participate in internships spanning two years.
In addition to customized training workshops and a rich course curriculum to prepare students for stem cell and biotech research, COMPASS students will be mentored in research projects in the laboratories of CSUSB faculty members in biology or biochemistry.
---
"COMPASS wants to identify and recruit talented students who show their excitement and readiness for research opportunities, including students who tend to get excluded by other training opportunities that fixate too much on grades."

Daniel Nickerson
CSUSB biology professor and principal investigator for the COMPASS grant
---
At the conclusion of the two-year CSUSB research internships, students will conduct summer internships in stem cell research labs at partner institutions, including Loma Linda University, the City of Hope Beckman Research Institute, Children's Hospital Los Angeles, and Cedars-Sinai Medical Center.
In addition to the project research training, COMPASS students will receive tuition support, a monthly stipend, summer research support, and extensive career mentorship and networking.
A unique feature of the COMPASS program is that candidate students will be evaluated based on their laboratory experience and performance in the general biology sequence for majors (BIOL 2010-2020). There is also no minimum GPA requirement for consideration.
"COMPASS wants to identify and recruit talented students who show their excitement and readiness for research opportunities, including students who tend to get excluded by other training opportunities that fixate too much on grades," Nickerson said. "Prior struggles should not be disqualifying. A lot of promising students get left out that way, even though they've really just started their science careers. We care more about what students show they can do now in a practical lab setting using scientific curiosity and imagination."
The general biology laboratory curriculum is presently being redesigned to include more in-class research experiences, often called CUREs (Course-based Undergraduate Research Experiences), so early-stage science majors can learn sooner what project research can be like. The first cohort of COMPASS students will be recruited from the Spring 2023 BIOL 2020 laboratory students.
Nickerson has been recognized repeatedly as an educator and faculty advisor to students. He was named the recipient of the university's 2018-2019 Outstanding Faculty Advisor award and described by one student who nominated him as a "a phenomenal mentor." In 2020, Nickerson received the Excellence in Advising Faculty Advisor Award from NACADA: The Global Community for Academic Advising's Pacific Region, and was described as "a tireless advocate and mentor for students."
Besides Nickerson, the COMPASS program leadership team includes biology department chair and professor Mike Chao, who will serve as diversity and outreach coordinator; biology professor Nicole Bournias-Vardiabasis who will serve as mentorship facilitator; and biology assistant professor Anna Zelaya who will serve as assessment and CUREs coordinator.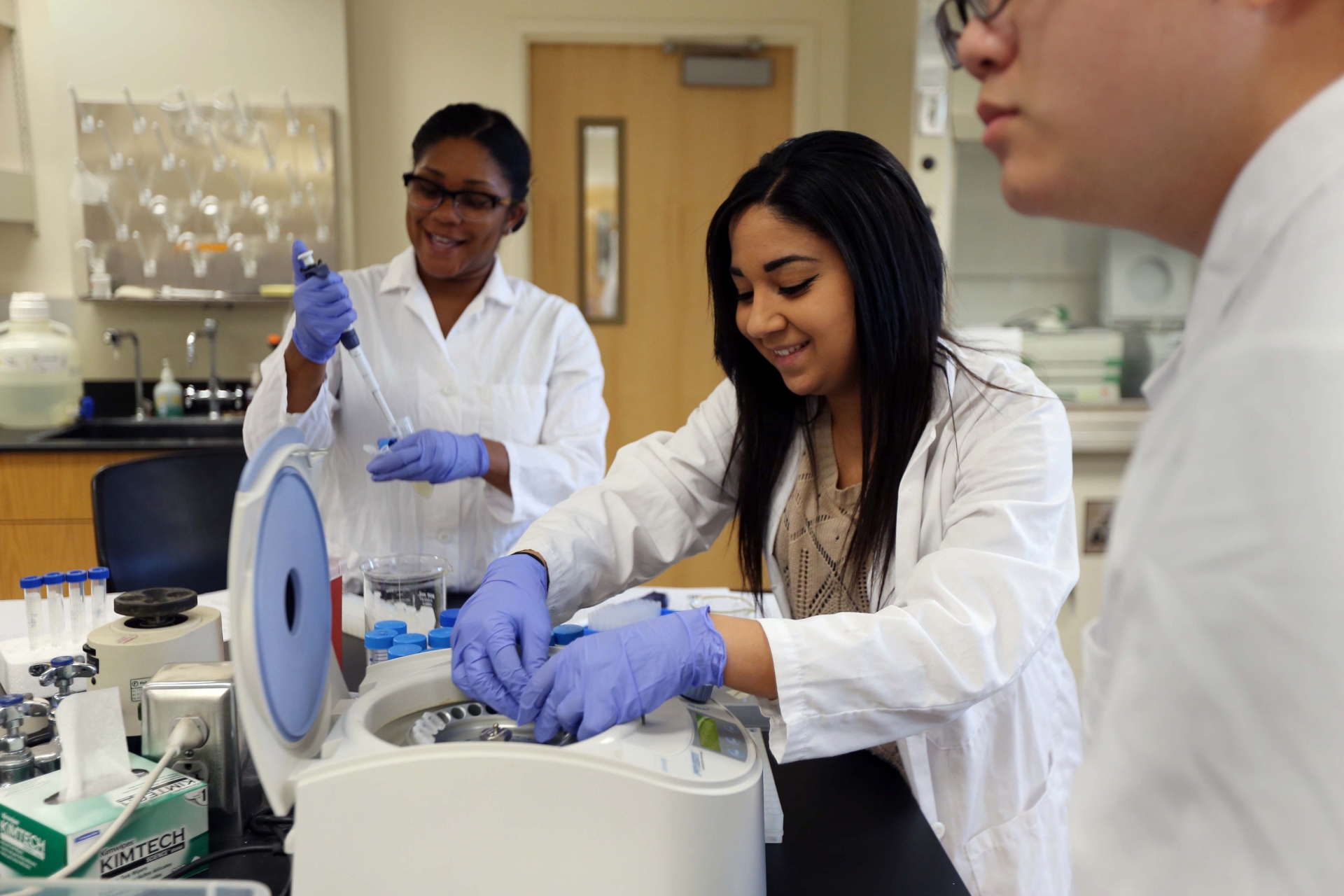 "I am so proud of our Department of Biology for their hard work and commitment to student success that made this grant award possible," said Sastry Pantula, dean of the College of Natural Sciences. "The intense, hands-on research our students will be able to participate in and the robust support they will get will certainly prepare them for future successes along their academic and professional journeys ahead. I especially would like to thank Daniel Nickerson for his leadership role in the new COMPASS program and also Mike Chao, Nicole Bournias-Vardiabasis, and Anna Zelaya for the critical roles they will play in making this new student training a rousing success."
The new COMPASS program extends the department's success in stem cell training. Earlier this year, CSUSB received a separate four-year, $3 million grant from the CIRM Bridges to Stem Cell Research program, directed by Bournias-Vardiabasis. This funding supports the department's existing Stem Cell Scholars internship program, which had been supported by $9 million in CIRM grant funding from 2010 to 2022. The Bridges-supported program also places students in laboratories at partner institutions, but, in contrast to the new COMPASS program, it typically recruits undergraduate students later in their academic careers, such as those close to completing their biology degrees, or graduate students. More than 120 students participated in the Bridges internship between 2010 and 2022. Of those, more than 75 students were able to secure employment, such as research technicians; went on to Ph.D. programs; or were accepted into medical, dental and pharmacy schools.
To cite just a few Bridges alumni, Rosyli Reveron-Thornton (BS, biology, '12; MS, biology, '14) went on to Stanford University's medical school, Laughing Bear Torrez (MS, biology, '12) went on to earn a Ph.D. in stem cell biology and regenerative medicine at Stanford University and is currently a scientist at Bolt Biotherapeutics, and Nicole Sparks (MS, biology, '12) went on to receive a Ph.D. in environmental toxicology at UC Riverside and is currently an assistant professor at UC Irvine's Department of Environmental and Occupational Health.
In late October, the department recently hosted the Stem Cell Scholars Symposium, which brought together researchers undertaking stem cell research throughout the Inland Empire, including Sparks, who served as a keynote speaker, and biology majors in an effort to raise community awareness of stem cell research taking place in the region.
Students interested in learning more about the CIRM Bridges internship can visit the Stem Cell Scholars Internship program webpage. Students interested in learning more about the CIRM COMPASS internship can visit the Department of Biology homepage or contact Daniel Nickerson at daniel.nickerson@csusb.edu.