CSUSB college formally named the James R. Watson and Judy Rodriguez Watson College of Education
On the day the university expressed its gratitude for the generosity and support of James R. Watson and Judy Rodriguez Watson, it was James Watson who repeatedly said how grateful he and his wife were to be part of the Cal State San Bernardino community.
The university formally unveiled the renamed College of Education as the James R. Watson and Judy Rodriguez Watson College of Education on Nov. 1, in recognition of the longtime support of the Watsons and their transformative gift of $8.4 million to the college.
During the ceremony in the college's atrium packed with university faculty, staff, administrators, local elected officials, friends and family, James Watson said, "We have enjoyed our experience here for over 20 years.
"We have been blessed more than the university has been blessed by what we have been able to provide financially and in our involvement," he said. "It's truly been a wonderful experience for Judy and I. We understand the value of education, and the vital role Cal State San Bernardino has in the Inland Empire in providing an affordable and world-class education."
In naming the college after the Watsons, it becomes the second named college at CSUSB. The College of Business was renamed in 2016 to the Jack H. Brown College of Business and Public Administration to honor businessman and philanthropist Jack H. Brown.
CSUSB President Tomás D. Morales said the education college is just the fourth in the California State University named for a person, and Judy Rodriguez Watson said it was the first in the entire CSU to bear the name of a Hispanic person, which brought a standing ovation.
"Jim and Judy are no strangers to philanthropy," Morales said. "They constantly give their time and their resources to better their communities. And their continuous support of Cal State San Bernardino has been nothing short of extraordinary."
The Watson's gift will support student scholarships and establish a new Center for STEM Education. The STEM Center will be the hub for outreach to K-12 students in the region and will include a Model STEM Exploratorium and a teacher residency program, Morales said. The gift will also support Project Impact, a new program in the college to recruit and prepare teachers to serve underrepresented students in public schools.
Funds will also be used to enhance the Watson & Associates Literacy Center's efforts in the Inland Empire. The center assists students in K-12 improve their reading, listening and writing skills, and is housed in the college.
And, Morales said, it will establish the Dean's Endowment Fund to support special projects by faculty and staff. "This Dean's Endowed Fund is the first for our campus," he said.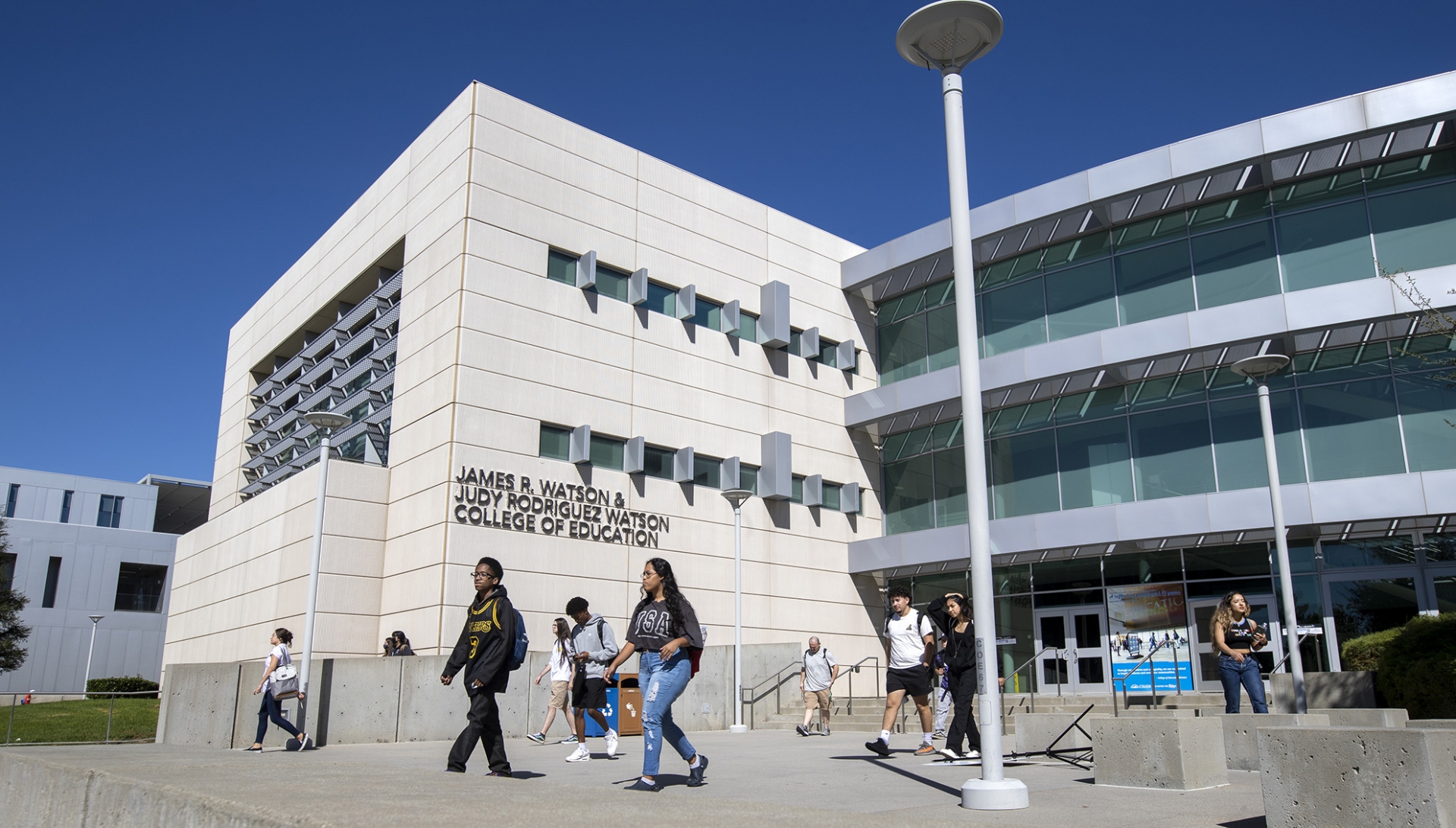 "This fall marked the public launch of Cal State San Bernardino's $200 million, Our Defining Moment: the Campaign for CSUSB," Morales said. "And Jim and Judy's generous donation has made outsized impact in our progress to reaching this goal."
Since 2003, the Watsons have been contributors to and advocates for CSUSB, in particular for the College of Education and its literacy center. Their leadership and fundraising skills sparked CSUSB to ask them to serve as co-chairs of the College of Education's capital campaign. The Watsons enabled CSUSB to enhance the then new education building and its programs, as the campaign raised more than $3 million. The Watsons also contributed the lead gift to the campaign. In recognition, the building's student services center was named for them. 
James "Jim" Watson worked as a real estate appraiser before launching his own company in 1972. As president and chief executive officer of J.R. Watson & Associates, a private commercial real estate firm based in Seal Beach, he has developed shopping centers, residential and master-planned mixed-use projects. Jim is a former chair of the board of the CSUSB Philanthropic Foundation (2012-2013), where he has also been a member of the executive committee and board of directors. Cal State San Bernardino awarded him an honorary doctorate of humane letters in 2010.
Judy Rodriguez Watson, who serves as senior vice president alongside Jim at J.R. Watson & Associates Development Corporation, is an ardent supporter of education and the arts. Judy was born and raised in Los Angeles, but her connection to Latino culture was nurtured early in her childhood. Her father, who was born in Veracruz, Mexico, would take her mother, three sisters and her on a two-week visit each summer to cities in Mexico. Passionate about education, in 2011, Judy served as honorary chair for the Latino Education and Advocacy Days (LEAD) summit at CSUSB and was affectionately termed, "La Madrina de Honor," or honorary godmother. She was awarded an honorary doctorate of humane letters in 2015. 
The Watsons are also dynamic proponents of public art in San Bernardino and have been instrumental in partnering with the city to display CSUSB student art citywide. They have provided funding to the university's Coyote Conservatory, a performance arts outreach project led by CSUSB's theatre arts department.