CSUSB's Chamber Winds Ensemble releases debut album
The students of the Cal State San Bernardino Chamber Winds Ensemble share their talents and tunes with their debut album, "Some Notes Between Friends."
The album, which can be streamed on Spotify, YouTube Music and Amazon Music, was made possible by a mini-grant from the dean of the College of Arts and Letters Rueyling Chuang.
"We are extremely grateful to participate in this endeavor," says Nicholas Bratcher, associate professor and director of bands at CSUSB, who oversees the Chamber Winds Ensemble. "It feels awesome to be able to expose our students to a real-life experience, being able to record this album in-house and share our music to the entire world! It's a surreal feeling to be able to find and hear your ensemble on major streaming platforms."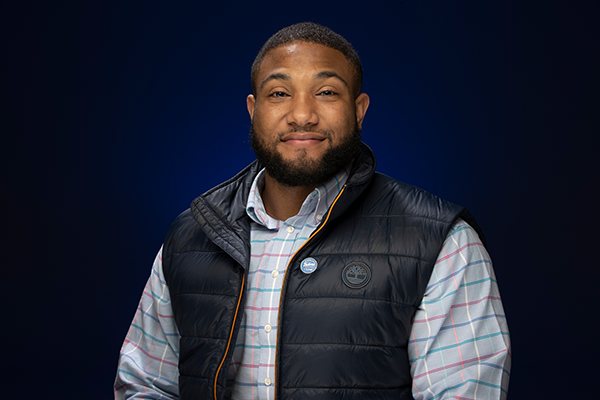 There's much to be proud of when it comes to releasing their debut album, especially since it's not only the first for the Chamber Winds Ensemble, but the first of any of the music department's ensembles.
Music education major Maya Orendain, who plays the flute and piccolo, kicked off her senior year with the album release.
"Being a part of this album has been a great experience," she says. "I learned so much in rehearsals with the Chamber Winds Ensemble and got a taste of what the album recording process is like for professional musicians. Overall, I am very grateful to have gained this experience and to have been guided by Dr. Bratcher in this process."
This may not be Aaron Wharton's first time recording, but the music education major still found immense joy and growth in creating the album.
"I'm what you might call a little more 'seasoned' student as I'm returning to school after some time off," says Wharton, who plays the trombone. "I've actually had the opportunity to participate in projects like this before, but any chance to play new and original work is always exciting! I'm pleased with how this album turned out, and I'm honored to be a part of this wonderful project!"
"Some Notes Between Friends" features works by living composers, including a commissioned work by CSUSB assistant professor of music, Kevin Zhang. Other composers on the album include Shuhei Tamura, Katahj Copley and Armando Bayolo. The album also features the vocal talents of internationally acclaimed baritone, Cedric Berry. 
"I'm grateful to the faculty and staff of our music department, and a huge shoutout to Dr. Kevin Zhang, assistant professor of music, for his work on engineering the album," says Bratcher, who also recognizes Zhang for composing the piece, "Fall a Peal to Sky," specifically for the project.
Each composition had different personnel. For example, one piece involved nine musicians, while another involved 15 and a solo vocalist.
"We had to balance time schedules for different groups of musicians, and that was challenging. After all, they are still students at the end of the day!" says Bratcher, who wanted to begin this project at the end of the 2020 spring semester, but had to put it on hold due to the COVD-19 pandemic.
"It takes a lot of effort to put together so many moving pieces and then having to listen to multiple recordings of each track just to find the right mix, the right blend," he says. "There were times I would even have to pull little things I liked from different sessions, just because it was different almost each take. Overall, the experience was worth it!"
To learn more about the CSUSB Chamber Winds Ensemble, visit the music department's website.