Joe Gutierrez | Office of Strategic Communication | (909) 537-3007 | joeg@csusb.edu  
LEAD Summit XI builds on the foundation of the past to build for the future
---

---
The 11th edition of the Latino Education and Advocacy Days Summit, better known as LEAD Summit XI, looked to the past to help chart a course for the future, and celebrated current accomplishments when it convened at Cal State San Bernardino's Santos Manuel Student Union North.
The summit programs revisited and commemorated social movements from the last 50 years, including the birth of Chicano-ethnic studies, the school walkouts/blowouts, bilingual education and the Chicano Moratorium. Approximately 950 people attended throughout the daylong conference on Sept. 30, and hundreds of thousands more tuned in to livestreams shown at more than 1,600 Town Hall Remote Viewing Sites, LEAD's social media channels, and broadcast by LEAD's media partners.
The event even included an announcement from the White House: President Joe Biden appointed Enrique Murillo Jr., founder and executive director of LEAD, to the President's Advisory Commission on Advancing Educational Equity, Excellence, and Economic Opportunity for Hispanics.
The highlight of the conference, "Movimiento y Compromiso: 50 Years of Challenges, Possibilities, and the Quest for Educational Equity," was the morning keynote given by Richard Marin, better known as Cheech Marin, who was this year's honorary chair/padrino de honor.
Marin, best known as half of the comedic "irreverent, satirical, counter-culture no-holds-barred duo of Cheech and Chong," is also an actor, director, writer, musician, art collector and humanitarian. His critically acclaimed and extensive collection of Chicano art is now on display at the Cheech Marin Center for Chicano Art, Culture and Industry (aka "The Cheech"), a partnership with the Riverside Art Museum and city of Riverside.
Marin talked about how his interest in collecting Chicano art came about, what it means to him personally, why he decided to share his collection and what led to the opening of The Cheech. Though on the surface Chicano art may appear to be a narrow niche, "by definition, Chicano art is American art," he said in a short film clip before his speech.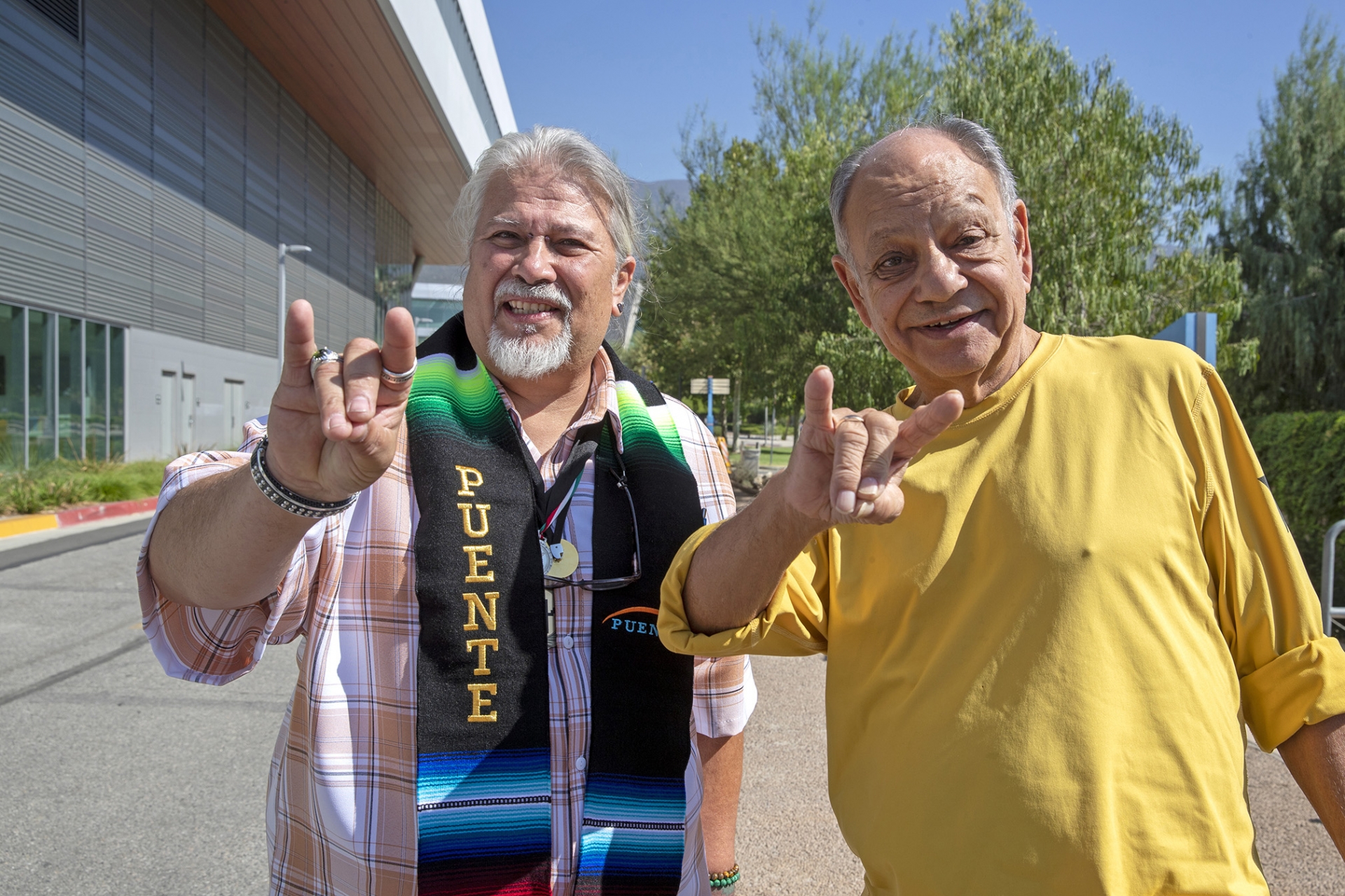 Since it opened in June, almost 50,000 paid admissions have entered The Cheech, he said. Next up is the establishment of a film department there, run by filmmaker Robert Rodriguez, whose breakout film, "El Mariachi," was made for $7,000. Marin said he will share that program, and there will be an annual contest tied to it.
Eventually, Marin envisions a full-service museum serving all the arts.
"I'm really proud of the museum, and I hope you are," he said. "It's a binding of the community in a way that has never happened to Riverside and the Inland Empire," where 52 percent of its residents are Latino and identify as Chicano.
"We want everybody and everybody's family and everybody's friends of the family to come and see the museum because it will be there for a long time," Marin said. 
To recognize his achievements and lifetime contributions to the community, Murillo presented Marin with LEAD's Medallion of Honor.
In an off-stage interview with Aaron Michael Sanchez for LEAD's livestream, Marin said that education was vital in moving the community forward. "What you are doing here, right now, in this university, is exactly what you are supposed to be doing, and need to do, to be educated. You need to get that degree, however hard it is or however inconsequential you think it is," he said. "Once you've got that education, times are perfect now to get inserted into the workforce or into many other levels that are finally opening up.
"And let's to it all over the nation, and in that process, help those who are closest to you whose needs you know right now. And that's important," Marin said. "You know people in need, you know a community that's in need, and that's where your efforts should go. You will build a better house for everybody that way."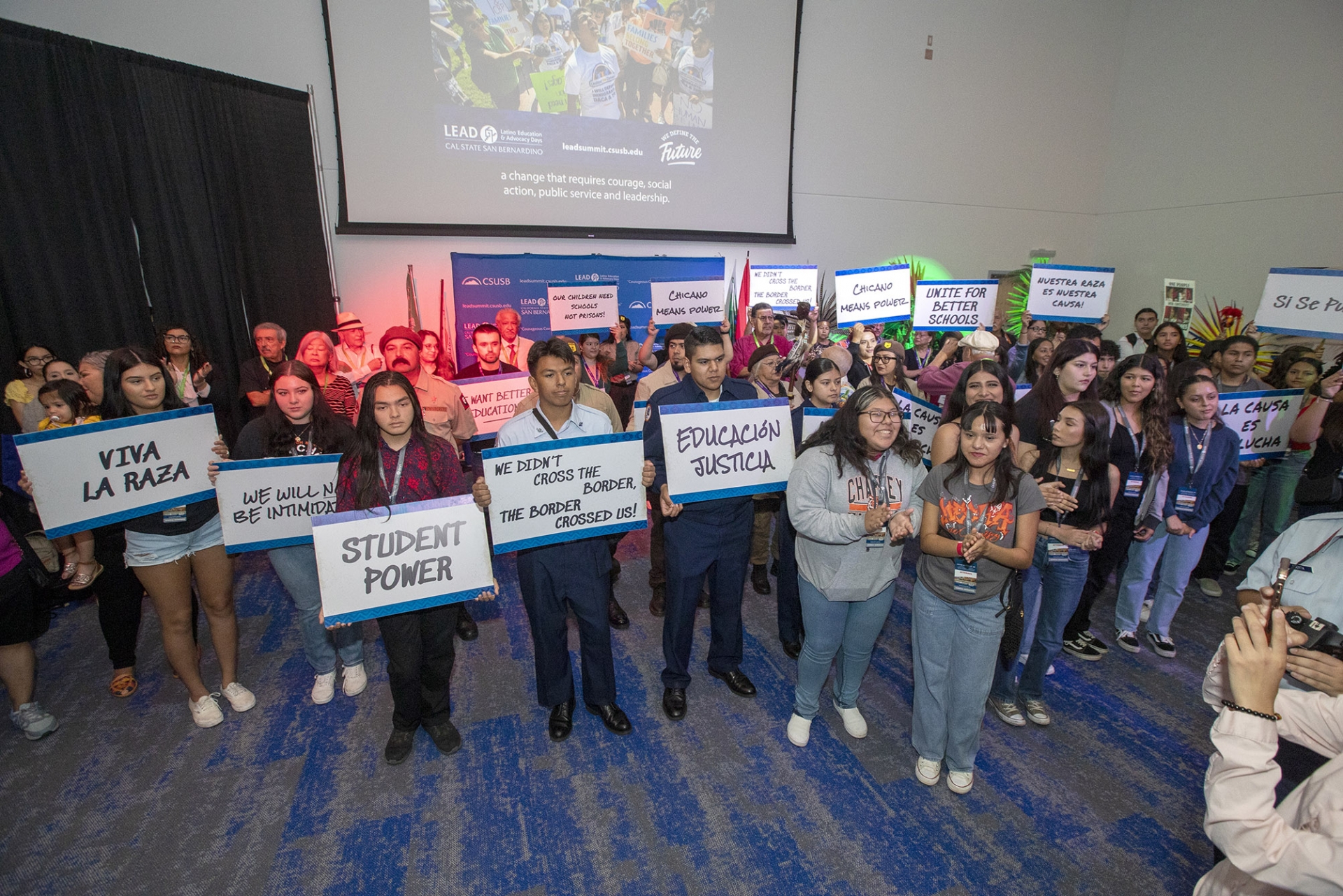 Before Marin's presentation, those who helped establish a foundation for that better house were recognized with the "Procession – Honoring of the Movement Elders/Procesión – "Honrando a los Mayores del Movimiento," which honored the men and women who fought for the civil and educational rights of the Latino community, launching what has become known as the Chicano Movement of the late 1960s.
The Brown Berets, a group that emerged from the movement, were led by Cynthia Barajas, a LEAD grand marshal and Brown Beret commanding officer, along with some of the movement's elders, holding up signs calling for social, civil, political and educational equality and justice.
Those signs were then handed to a younger generation in the procession, the symbolic passing of the baton, the figurative next phase of building a better house for all.
"There's always unity anytime our rasa (family) gets together," said Barajas.
"You can feel the power in the room when the signs were being handed over," said Brown Beret Victoria Mindiola.
Panel discussions during the day explored "Movimiento y Compromiso: History, Goals and the 50 Years of Challenges and Accomplishments," "Taking Back the Schools: The Educational Legacy of the East Los Angeles Walkouts," "In the Name of Cultural and Linguistic Pride: the Impact and Promises of Bilingualism, Bilingual Education & Title VII-BEA," and "Moving Past the Nostalgia: From the Origins of El Plan de Santa Bárbara for Higher Education and Chicano Studies, Toward the Continuing Quest for Educational Equity."
The afternoon keynote address was presented by Rosalio Muñoz, longtime Chicano activist, anti-war and anti-police brutality organizer, and the principal organizer of the 1970 Chicano Moratorium March against the Vietnam War.
He recounted what led to the march, and what implications it has in the present day. His full presentation can be seen online at "Social Justice at Home: the Chicano Moratorium and the Power of Protest."
Muñoz was also presented a LEAD Medallion of Honor for his lifetime of service and accomplishments to the community.
Learn more about the ongoing work of LEAD at its website.