CSUSB alumni and students honored at Assemblymember Reyes' 30 Under 30 event
Thirteen Cal State San Bernardino alumni and students were among those honored for their work in helping others in the community by Assemblymember Eloise Gomez Reyes (D-San Bernardino) at the fifth annual 30 Under 30 Awards Ceremony.
The event was held on Dec. 11 at San Bernardino Valley College and recognized the honorees for their achievements in community activism, business, health, education, art and social entrepreneurship.
"Today's goal is to honor the accomplishments of young people," Reyes said. "I am confident that by celebrating the achievement of our future professional leaders we will encourage others to reach for the stars."
The CSUSB honorees are: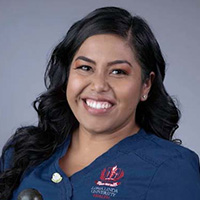 Sandy Castellanos, '15 BS health science
Sandy Castellanos is a first-generation college graduate, born to Salvadoran immigrant parents. After completing her bachelor's degree in health science at CSUSB, she worked at the university's student health center for two years before attending Azusa Pacific University, where she received a bachelor's degree in nursing. Castellanos then began working at Loma Linda University Medical Center in adult acute care, where within one year she was awarded her the "DAISY" Award, which recognizes "the superhuman work nurses do for patients and families every day." She transferred to the neonatal intensive care unit where she currently works with some of the most delicate neonates, including those exposed to COVID-19 and other illnesses and complications that keep them there until they are well enough to go home. Castellanos says she finds great satisfaction and purpose serving others. As she rocks to sleep infants in her care each night, she remains most hopeful that the world will be a better place for those precious lives.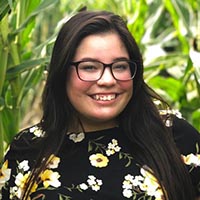 Alicia Echevarría, '21 BA communication studies
Alicia Echevarría is the founder of God In Me Designs, a business with the mission of bringing cultural awareness and representation in the LatinX community through art and philanthropy. In her venture, Echevarría has had the ability to fund scholarships for undocumented high school and college students. Most notably, she is the creator of the first and only Guatemalan Loteria in the world, a game with the purpose of highlighting a culture that other communities may not be aware of. During her CSUSB career, she was a member of the Lambda Theta Nu Sorority, Inc., served as an orientation leader for the Department of Orientation and First-Year Experience, and worked as a resident advisor for the Department of Housing and Residential Education. Echevarría continues to give back to her alma mater as a staff member of the special events and guests services team and hopes to become a student affairs professional, where she plans to drive her energy into areas of higher education and beyond.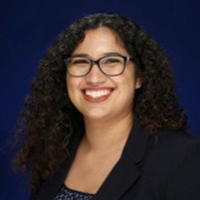 Stephanie Garibo, '19 BA sociology
Stephanie Garibo believes education must be accessible to all who try to challenge themselves and welcoming to students of all backgrounds. She is a firm believer in college accessibility, a sense of belonging, representation, and support to create college graduates. In previous roles, Garibo advocated for the CSUSB Adult Re-Entry Center by bringing awareness and helping create their first graduation ceremony, and for the Undocumented Student Success Center by raising awareness of issues the undocumented face. Garibo served as the undocumented professionals mentorship coordinator and was an Inland Empire Fellowship member. Overcoming challenges such as low income, first-generation, immigrant, Latinx, English language speaker, Garibo is pursuing her master's degree in student development and college counseling at Azusa Pacific University. She serves for the National Association of Student Personnel Administrators under the Latinx Division and is the Region IV representative for the Undocumented and Allies Division. Garibo credits her family for her work ethic and passion for helping others.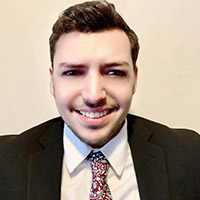 Adrian Hermosillo, '20 BA business administration
Adrian Hermosillo is an Inland Empire native and a mentor, leader and advocate. He began his higher education journey at Crafton Hills College. After completing his transfer course work, Adrian transferred to Cal State San Bernardino, earning his BA in business administration in marketing. His commitment to education and student success led him to serve as a student success coach for the CSUSB Cal Soap Program. In this role, he works with students across the inland region providing academic guidance; career and personal planning; and financial aid literacy as they prepare to pursue their higher education goals. Hermosillo is currently pursuing a master's degree in higher education administration and policy at UC Riverside. His goal is to pursue a career in higher education, contributing toward reducing the educational gap for historically marginalized students and students with disabilities. His journey and determination continue to unfold his potential. While leaving an everlasting footprint, he inspires others in the unwavering pursuit of their goals.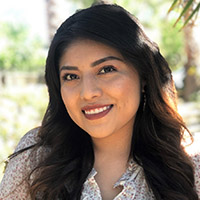 Leticia Herrera Mendez, '19 sociology
Leticia Herrera graduated from Cal State San Bernardino earning a bachelor's degree in sociology and two certificates: one in Spanish public services and another in social services. She is committed to helping and spreading awareness about the Latinx community. Herrera believes education is the key to success and understands the struggle of going into higher education while being a first-generation student. Her passion for education, political change, and advocacy has been recognized by the 40th, 36th, and 31st California Congressional Districts. Herrera is an academic advisor for the San Bernardino City Unified School District. She is committed to continuing to help her community and providing resources to help others achieve higher education.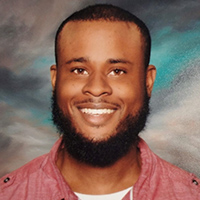 Tyler Lange, '15 sociology
Tyler Lange is a special education teacher in the Rialto Unified School District. He earned a bachelor's degree from Cal State San Bernardino and a master's degree in education from the University of Redlands. He is currently in his fifth year teaching at Henry Elementary School in Rialto. Lange is a talented, innovative and passionate teacher. He was recently recognized by RUSD during distance learning. When he began teaching, Lange saw the need for his students to learn to effectively use technology. Since he had already been using technology in his classroom, it made the transition to distance learning easier for his students. He has served in after-school programs as a tutor and basketball coach/referee. He also coordinates his school site's social media accounts. As a special education teacher, he desires to see his students reach their full potential. He is dedicated to not only the students in his class but to all students in the community. He loves being able to give back to his hometown.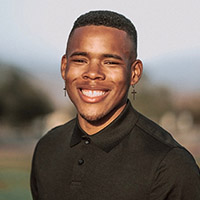 Kevon Lee, '21 kinesiology
Kevon Lee has lived a life that many could never comprehend. At the age of 5, he was placed in the foster care system due to being shot during a drug-related incident involving his parents. The trauma suffered from the incident and separation from his family led Lee down a path of depression. He developed an eating disorder and became extremely obese. He was able to find hope in mentors, faith, and his grandmother, whom he calls his angel on earth. Through hard work and perseverance, he was able to turn everything around. He made his struggles his mission. He is an activist for anti-bullying, education and at-risk youth. He shares his personal story to inspire and empower others to not give up and understand the power of their voice. He earned his bachelor's degree from Cal State San Bernardino, and is currently at California Baptist University, where he is working toward a master's degree in higher education leadership and student development. His sole mission is to leave an imprint on others to keep moving forward and equip them with the tools and mindset needed for them to reach their personal and educational dreams. His dream is to attain his doctorate in educational leadership and give back to the youth and continue impacting the lives of young adults.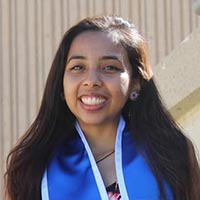 Kimberly Morales, '20 BA literature, magna cum laude
Kimberly Morales is a graduate student living in Fontana studying to become an information professional within the libraries of the Inland Empire. As a low-income, Latinx, first-generation college student, Morales has been met with many obstacles obstructing her goals. She is currently attending San Jose State University's online master's program for library and information science. She hopes to become an academic librarian and grow her career at the San Bernardino Valley College Library so that she can connect students with the proper tools, research, and information to best assist their academic journeys. Morales attended both SBVC and CSUSB where she worked at both academic libraries on campus as a library student assistant. During her time at the SBVC Library and CSUSB's John M. Pfau Library, Morales' passion for the library field grew more and more as she gained valuable skills and experience. Today, she is a library technician with the city of Colton's Community Services Department overseeing teen programming. In this role, she works to provide a welcoming library environment by being a familiar and friendly person of color because she understands that representation matters.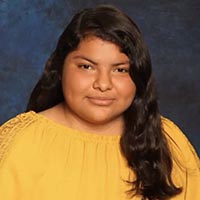 Gema Pena Zaragoza, political science  
Gema Pena Zaragoza is a 19-year-old Latinx, first-generation sophomore pursuing a bachelor's degree in political science and a minor degree in sociology at Cal State San Bernardino. She is passionate about higher education, mental health, immigration rights, community organizing and advocacy. She helped Abigail Medina, San Bernardino City Unified School District board member, in her run for state senate. She assisted the California League of Conservation Voters to bring awareness to the environmental issues in the Inland Empire. She was involved in the Healthy Future California campaign to ensure that San Bernardino residents get the help they deserve to get vaccinated against the COVID-19 virus. Most recently, she helped get out the vote for the "Vote No" in the recall election of Gov. Gavin Newsom. Currently, she is a part of the San Bernardino City Unified School District English Learners Program at Arroyo Valley High School, where she helps students succeed in their academics by translating for them, being a supporter and a mentor. She is also involved in the Inland Empire Fellowship Program to assist students in making sure they succeed in their high school education and go on to college.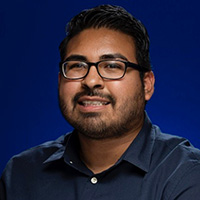 Luis Portobanco, '16 BA communication studies
Luis Portobanco is a true unsung hero. An alumnus of CSUSB and the University of Redlands, he was the first in his family to pursue higher education. He now serves as a budget manager for student outreach programs, supporting a staff of up to 60, and being a resource to the entire Inland Empire. While his hard work and dedication are often completed behind the scenes, it is no secret that his support is key to the program's success. Portobanco has been working full-time with the CSUSB Office of Pre-College Programs since 2015. His experience with the department, however, dates back to his time in high school when he was a participant in one of the program's TriO programs. During his time at OPP he has been part of the CSUSB Community Emergency Response Team, winning the presidential group award in 2019 for his commitment to learning safety protocols and certification for emergency action on campus. He has also served on the leadership committee to plan the OPP Student Leadership Conference in March 2020. During this last year he joined the DSA Professional Development team in which he assisted with the DSA Annual Professional Day. Also, this year Portobanco was honored with the DSA Outstanding Employee award for his support to the team during the COVID-19 pandemic.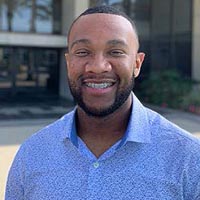 Derick Prince, '19 sociology
Growing up, Derick Prince always had a passion for helping others. Prince attended Cal State San Bernardino to pursue a bachelor's degree in sociology. While attending CSUSB, he served as the vice president for the Black Student Union, vice president for the Student African American Brotherhood, and chair of the Santos Manuel Student Union. While involved on campus at CSUSB, Prince still connected with his community. He was a peer mentor with Young Visionaries Youth Leadership Academy. In his role, he mentored at-risk youth at local middle schools to create a pipeline to college. After graduating from CSUSB, Prince attended Azusa Pacific University, where he earned a master's degree in college counseling and student development. He is currently a student success advisor at Barstow Community College, where he assists students with onboarding, conducts community outreach, and manages the Promise Program. Prince hopes to obtain his doctoral degree in higher education and return to CSUSB to develop a pipeline to college for youth in the community.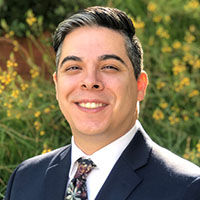 Thomas Robles, '18 BA communication studies and liberal studies
Thomas Robles is a fourth generation Inland Empire resident with a strong sense of pride for this region. Robles has spent the last 14 years working within the city of Colton's Community Services Department in various roles, from youth program specialist to aquatics manager to library specialist. In addition, Robles is a proud alumnus of San Bernardino Valley College, Cal State San Bernardino and UC Riverside. During his academic journey at SBVC, Robles was elected student government president and then student trustee for the San Bernardino Community College District board of trustees. As a result, he became inspired to seek a career in higher education to make college more accessible for families and students of color within the Inland Empire. Robles hopes to become the future college president of San Bernardino Valley College. His goal is to inspire prospective college students through mentorship, academic support, and equitable programming. He currently sits on the SBVC Foundation Board, where he seeks scholarship opportunities for the students. Robles would like to thank the community for this honorable nomination. He would also like to thank his mother, sister and friends for always supporting him.
Connie Sanchez
Connie Sanchez is currently a student at Cal State San Bernardino. She is passionate about her community and continues to dedicate her time to engage with different areas in the community. She is a youth leader who enjoys leading with love, action, respect and empathy. She enjoys facing challenges and difficulties head-on and it has helped shape her physically, mentally, emotionally and spiritually. She is determined to make an impact and to serve as inspiration for the next generation to create change and leave a lasting legacy.