Scholar in ethics in education co-leading CSUSB class
Doctoral candidates in the education leadership program at Cal State San Bernardino are hearing directly from a recognized expert in ethics and author of the textbook in their Ethical Leadership and Decision-Making in Education course (EDUC 7908) this summer.
Douglas Simpson, author of "Ethical Dilemmas in Schools: Collaborative Inquiry, Decision-Making, and Action," co-led/taught the July 9 virtual class with Jacqueline Romano, a CSUSB assistant professor of education. He is scheduled to visit for two more sessions, July 16 and 30, of the four-week course, which is meeting virtually on Zoom, Romano said.
"This is a great opportunity for my doctoral students to meet the scholars that they are reading or studying and get inspired by the researchers/scholars in our field," she said. "This is a unique opportunity for many doctoral students in the Ed.D. program."
Romano, a CSUSB alumna '00, '04 who began teaching at her alma mater in 2018, said Simpson's work on ethics "certainly was a major influence in my doctoral work, incorporating Deweyan thought and ethics, the ethical teacher, ethical knowledge and ethical decision-making in education."
Simpson also made an impression on student Hector Ramirez, telling him, "I really enjoyed you opening up and letting us know about your real-life struggles when you were young and how you overcome them. I appreciate it."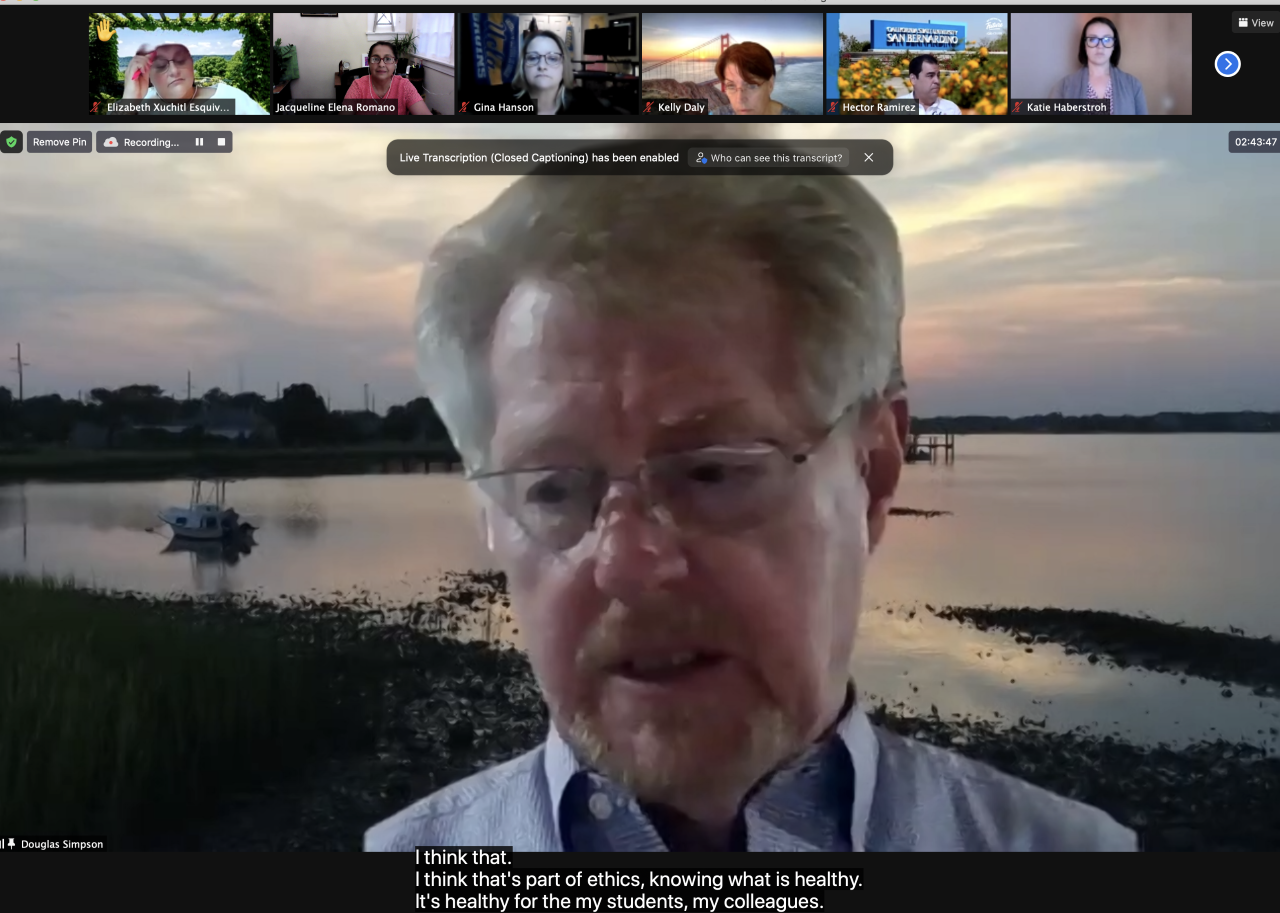 Simpson, who is currently serving as associated faculty at Texas Christian University, where he is doing research, occasional teaching and serving on dissertations, is the author or co-author of numerous articles, reviews, chapters and books. Among his works are including "John Dewey and the Art of Teaching," "The Pedagodfathers: The Lords of Education," "Recreating Schools: Places Where Everyone Learns and Likes It," and "The Teacher as Philosopher, and Educational Reform: A Deweyan Perspective, Ethical Decision-Making in School Administration."
Simpson has taught in the fields of ethics and teaching, curriculum and instruction, school psychology, and educational theory.​ He has held tenured positions at the University of Louisville, Memorial University of Newfoundland, and Tennessee State University, and was Professor and Helen DeVitt Jones Chair in Teacher Education at Texas Tech University where he retired in 2013.​