CSUSB & Rite Aid to provide COVID-19 vaccination site on campus on May 22
Cal State San Bernardino, in its continuing partnership with Rite Aid to provide COVID-19 vaccinations on campus, will hold the next clinic on Saturday, May 22, from 10 a.m.-6 p.m. This clinic will administer the Pfizer first dose vaccine and the second dose for those individuals who were vaccinated on May 1.
The vaccines will be provided to those who have scheduled appointments. Walk-ins will be served, but pre-registration is highly encouraged. Those who bring their completed consent form from the registration link will have significantly reduced wait times. Additional Saturday clinics will be held on campus through August and appointments will be available on the CSUSB COVID-19 website as the registration time-period opens.
Those age 12 and above can make an appointment at the link to the registration site. Minors will need to have a parent or legal guardian present. To schedule an appointment visit the CSUSB COVID-19 vaccination clinic registration site.
The vaccination clinic will be held at the CSUSB Student Recreation and Wellness Center on the east side of campus. A CSUSB campus map is available online for reference.
CSUSB's partnership with Rite-Aid was developed to provide convenient vaccination access on select Saturdays to northern San Bernardino city and surrounding areas. Future first dose clinics will be held on June 5, July 10, and Aug.7.
Students, faculty and staff can also help get the word out about the CSUSB vaccination clinics by downloading a Zoom background. Three are available: "I Got Vaccinated," "I Got Vaccinated at CSUSB," and "Protect the Pack."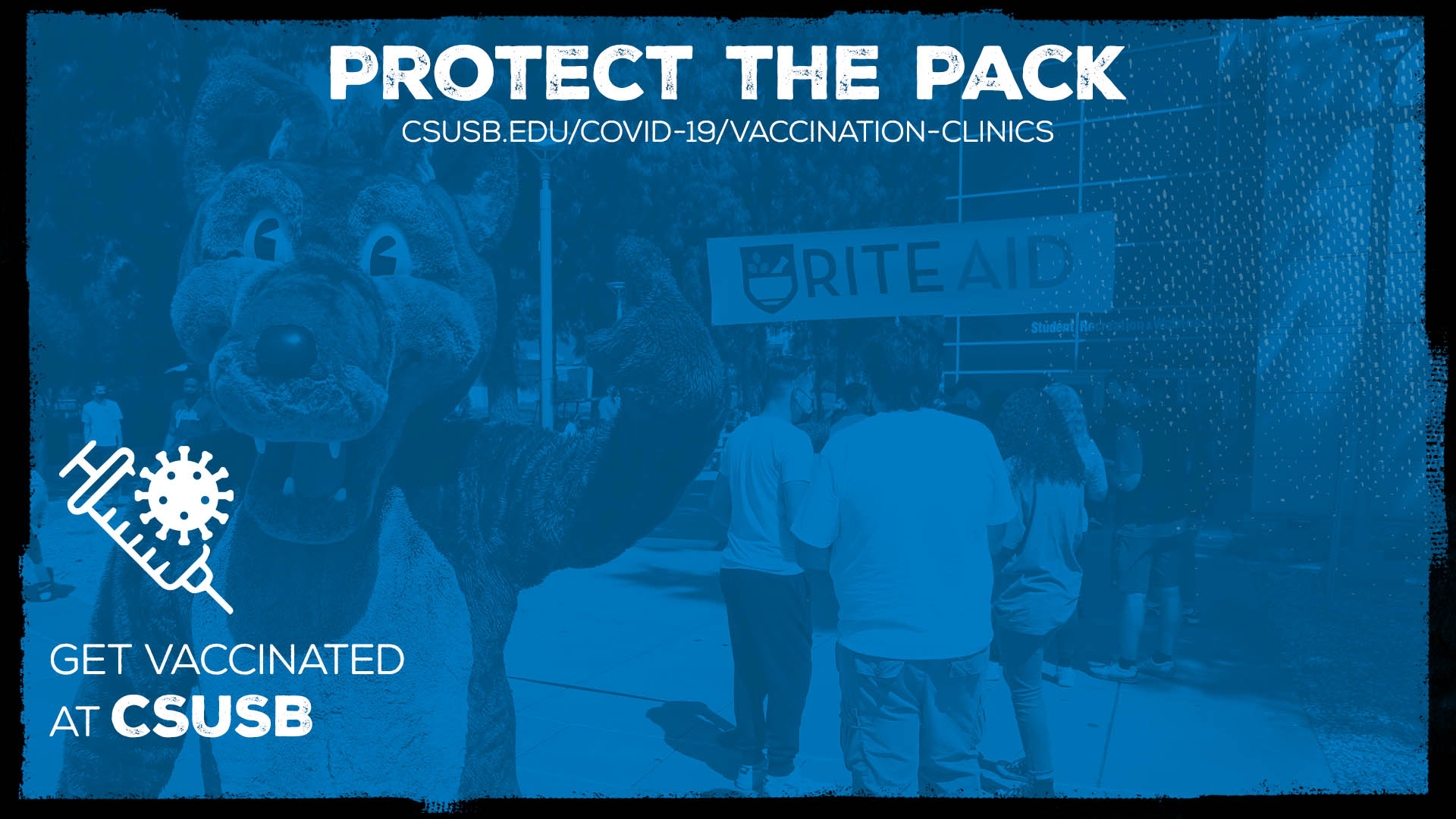 Learn more at the CSUSB vaccination clinic website.
For vaccine and safety information, see the COVID-19 Vaccine FAQs. For technical assistance please call the hotline at (909) 537-4752.