Meeting of the Minds virtual presentation to be held on April 15
The 10th annual Meeting of the Minds Student Research Symposium will be held virtually on Thursday, April 15, from 11:30 a.m.- 5:30 p.m. where more than 140 CSUSB students from the university's colleges will present their research.
"The Office of Student Research is thrilled to be hosting the 10th annual Meeting of the Minds," said Ryan Keating, interim director of the Office of Student Research and an associate professor of history. "For a decade now, this event has served as the place for our campus community to come together and celebrate the outstanding research, scholarly, and creative activities of our students. I would like to personally invite our students, faculty and staff to stop by our virtual sessions and check out our student posters and presentations."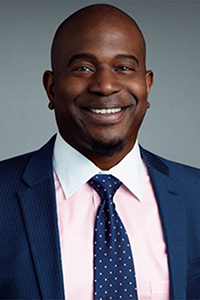 The symposium's opening ceremony will feature keynote speaker Azizi Seixas, an assistant professor at NYU Langone Health, in the Department of Population Health and Department of Psychiatry, on the topic "Re-imagining Healthcare for All – Technology, Inequity, and the Healthcare Gap."
Seixas' research broadly focuses on three areas: 1) multilevel determinants of sleep, brain and mental health, aging, and cardiovascular disease disparities, 2) long-term health consequences of cardiovascular disease (CVD) and mental health disparities, and 3) developing adaptive, group-tailored, and personalized behavior modification interventions, with the use of machine learning analytical tools and translational artificial intelligence, to improve health and well-being.
Seixas is recognized as one of the top 100 Inspiring Black Scientists in America by Cell Press. He has more than 100 high-impact, peer-reviewed publications, book chapters and conference presentations, and his work appears in a number of news media outlets such as CBS, CNN, NBC, the Associated Press, The Guardian, The Huffington Post, and he is the sleep expert for NBC Health News.
He is currently the chair for the American Academy of Sleep Medicine Young Investigator Research Forum, a member of the Artificial Intelligence and Machine Learning sub-committee for the American Academy of Sleep Medicine, serves on the NCAA and Department of Defense Task Force on mental health, and is the director of Early Career Faculty Development for the Department of Population Health at NYU Langone Health.
Meeting of the Minds is part of the university's annual Research Week, which celebrates the research and scholarly achievements of faculty, staff and students across campus. This marks the second year the series of events will be held virtually due to the COVID-19 pandemic.
Information about the event can be found at the Office of Student Research Meeting of the Minds site.