Joe Gutierrez | CSUSB Office of Strategic Communication | (951) 236-4522 | joeg@csusb.edu
Kristi Papailler: Committed to theatre for social change

---
When Kristi Papailler was a criminal justice undergraduate student at the University of Louisville, she accepted an assistant stage manager position for a friend's upcoming theatre show, unaware that this decision would ultimately change both her educational and career path.
"I started working backstage and I never left the theatre department again," said Papailler, who ended up earning her bachelor's degree in humanities with a concentration in theatre and literature, a Master of Fine Arts in theatre performance and a graduate certificate in African American Theatre.
"There was something about the idea of being in the moment and working together to create art," Papailler said when describing her love of theatre. "All the lovely different parts that went into a single moment on stage and the way that people were able to come together and work in unison toward a common goal that made people happy or made people cry – brought people to some kind of catharsis – that kind of unity became central to me."
Since then, Papailler, who has been a Cal State San Bernardino assistant professor of theatre arts since 2019, has immersed herself into the world of theatre as an actor, educator, director, producer and stage manager. In the classroom, she incorporates mindfulness through the practices of Tai Chi and Qi Gong and often directs shows that inspire positive social change.
"Professor Papailler is a very dedicated professor that ensures her students are well and understand the material of her courses," said CSUSB theatre arts major Rose Rodriguez. "Her courses that I have taken have been educated with not only theatre but very cultural."
Fellow theatre arts major Caitlin Lopez agrees.
"Professor Papailler gave me guidance on not only treating theatre as a craft that utilizes mindfulness, honesty, and joy, but also that it is a tool for social change, personal connection and sharing ideas," she said.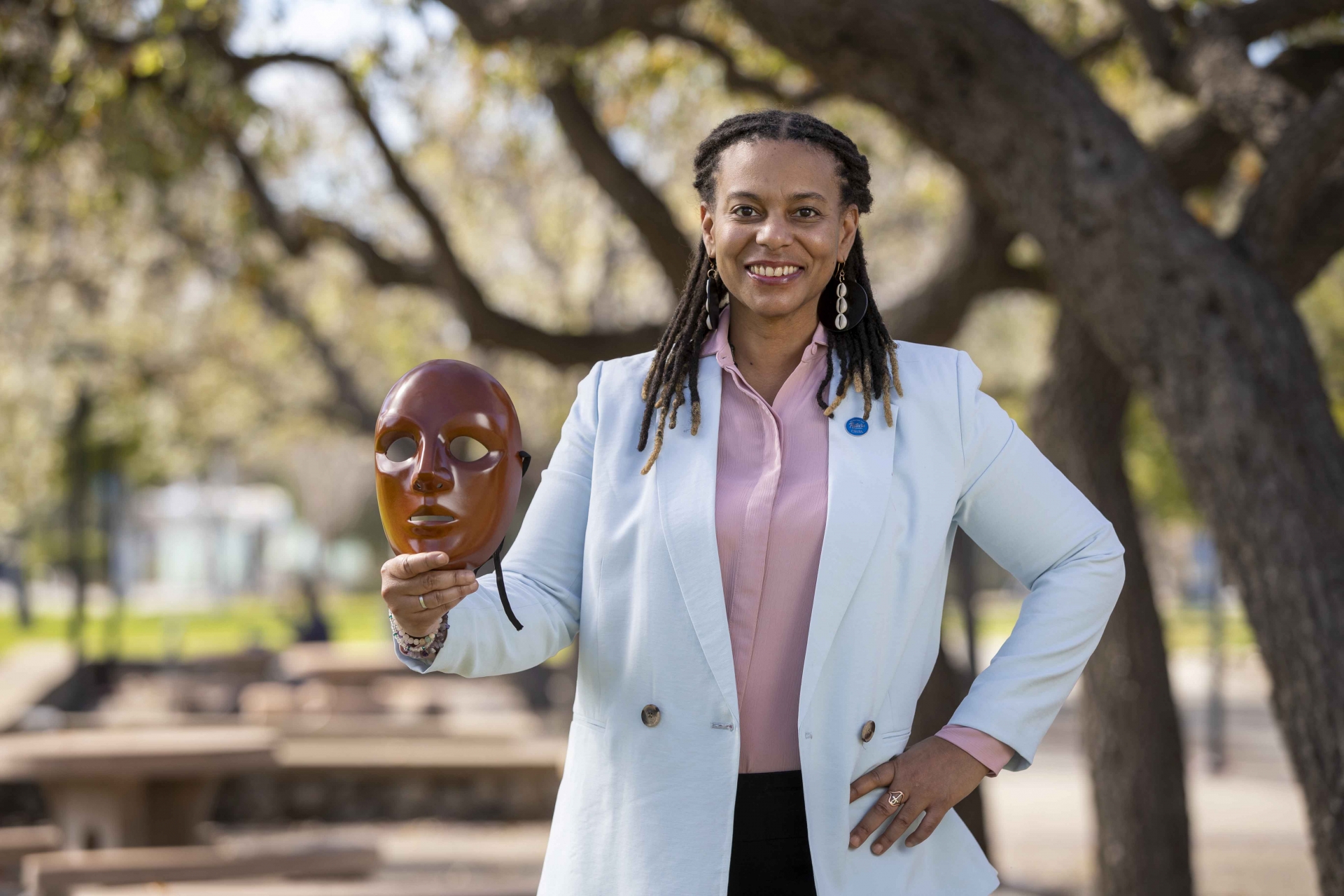 Papailler's first interest in theatre for positive social change grew from a strong desire to mitigate the negative images of Black, Indigenous and People of Color (BIPOC) and women in theatre, film and television that she encountered growing up.
"When I was growing up it was rare to see African American, much less Haitian American women on stage or screen whose roles did not ask them to embody a negative stereotype," said Papailler, who grew up in Kentucky. "These images were in direct contradiction to the beautiful, intelligent, powerful BIPOC people of good character I am descended from and was surrounded by throughout my youth."
That is when Papailler began to look for and participate in theatre that more honestly reflected BIPOC people and cultures, and celebrated rather than denigrated their identity. In her 20s, she discovered and joined a group in Augusto Boal's Theatre of the Oppressed, a form of community-based education that uses theatre for social change. 
"The time I spent with the group was invaluable and incredibly formative in both my artistic growth and aesthetic and teaching pedagogy," she said. "I found that Theatre of the Oppressed techniques paired with original pedagogy encouraged and empowered my students from every walk of life to connect their own stories with the world around them in positive ways and to see themselves as active collaborators with their peers in creating art and a better future."
Papailler's passion for social change has been realized through many theatre projects, including the Juneteenth Legacy Theatre, Kentucky's only professional African American Theatre she co-founded, which ran from 1999 to 2011. Through the theatre, she created the Emancipate and Empower program, which offered real-life solutions to oppression through dramatic expression. She also created the Sacred Heart School for the Arts and Nativity Academy Drama Change Exchange Camp, a two-week intensive course that used Theatre of the Oppressed viewpoints and improvisational techniques to address social justice issues with middle school students.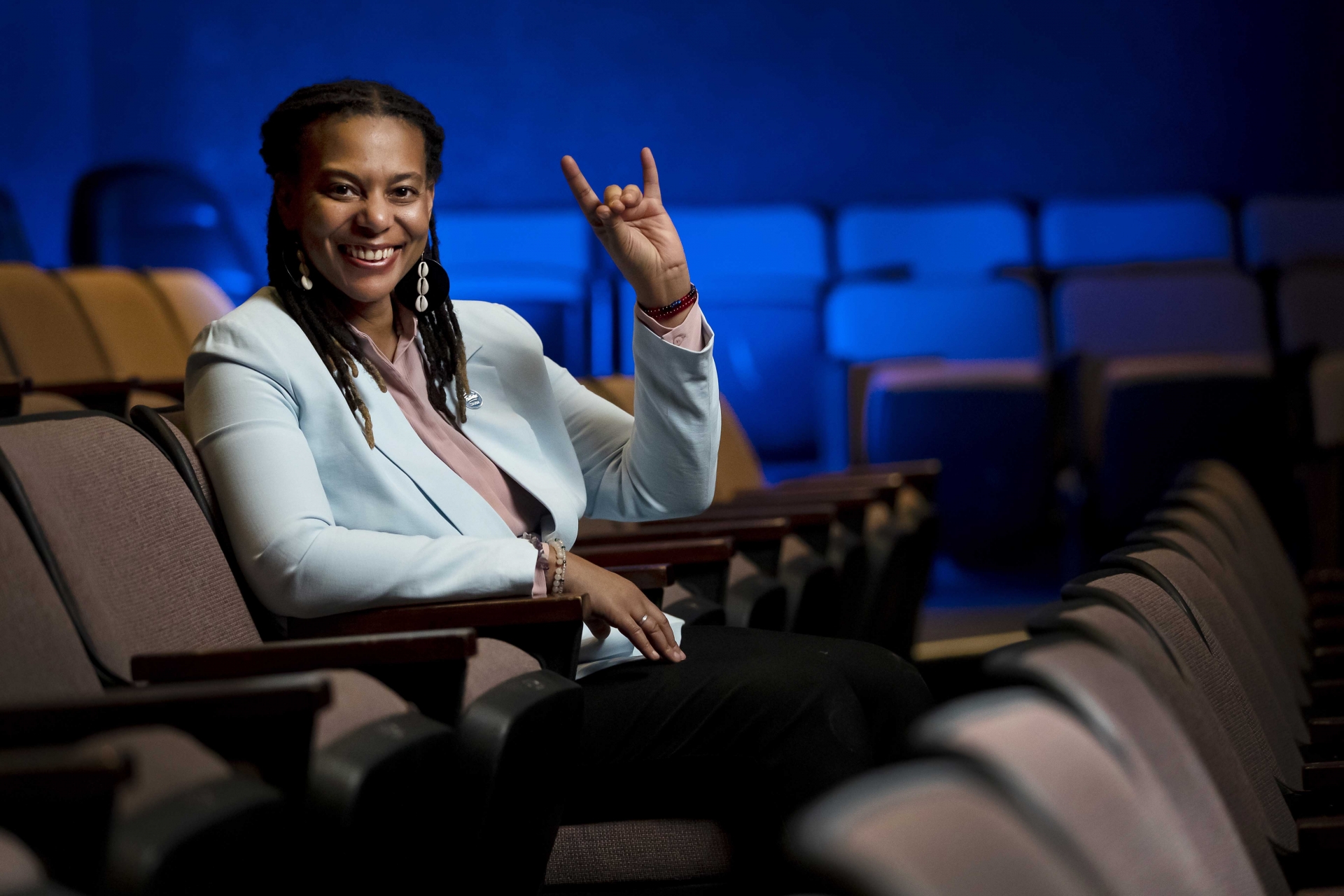 Today, Papailler is directing the upcoming CSUSB theatre production "Baltimore," a performance that she says calls for positive social change.
"Throughout the play, we see students really working together to discuss hard issues like race, racism, homophobia, etc. in order to come together as a community and move on right after a very disturbing, hurtful, interruptive experience," Papailler said. "Something I really like about this play is that it presents a real problem – something that a lot of us have experienced—and that it offers a real glimpse into ways in which you can run into solving problems, rather than running away from it."
"Baltimore," by Kirsten Greenidge, tells the story of a naive African American resident adviser for a group of freshmen at a four-year college. After a racist caricature is drawn on the dorm door of one of her black students, she is forced to take action and reexamine her belief that she lives in a post-racial society. 
Rodriguez, who plays Rachel Smith in the production, said she is not only excited to work on the show because of the social change and awareness that it creates, but also because she has the opportunity to work with Papailler.
"I'm happy to work with Professor Papailler once again for a show," she said. "She is wonderful to work with and I inspire to be like her."
Theatre arts major Tiara Richards, who plays Grace in the show, is also enthusiastic to work with Papailler.
"I am so incredibly excited to be a part of this production. This is Professor Papailler's first production at CSUSB, and she has exceeded my expectations thus far," Richards said. "Every rehearsal is something new and creative, and bringing this important story to life has been truly magical."
Because of the COVID-19 pandemic, Baltimore will be a virtual production, which will debut on the CSUSB Department of Theatre Arts' Vimeo channel on March 25, something that Papailler says is "a little bit daunting" yet "exciting."
"This is a new format for theatre artists," she said. "It has been important as educators to also continue working in innovative ways to train our young artists and our students to be able to perform online, but also still embedding those practices that will serve them well when they can be on a physical stage again."
This isn't Papailler's first go at a virtual production, however. Last fall, she directed "Glitter Bracelets" by Nay Harris, which was part of an event by the national Women's Theatre Festival, a group made up of theatre artists, both women and allies, who seek to address gender parity, diversity and inclusion in the theatre community.
"One of things that was really fabulous about that project was that we were working with actors in California, in Chicago, in St. Louis, all over," Papailler said. "It was a lovely experience, and really helped me get some perspective when approaching Baltimore."
Papailler has also earned the title of Sifu II (a skillful person or master) in Tai Chi and Qi Gong with emphasis on the use of the practices in actor training. She brings both practices into her classroom through a series of warmups that address the voice, body and imagination.
"One of the benefits in actor training is that Tai Chi helps us to develop focus, develop being in the moment, and develop imagining the other," she said. "It helps to open up the breath column so you can control the breath. It builds control, it builds pacing, it builds presence."
Qi Gong, which means "to work the energy" according to Papailler, consists of coordinated body posture and movement, breathing and meditation that comes out of the same approach as traditional Chinese medicine.
These practices have impacted many of her students, including Lopez and Richards.
"Her utilization of Qi Gong in warmups as a way of centering ourselves and also finding energy was something I found to be extremely enriching," said Lopez. "I'm still using many of those techniques even not being currently enrolled in her courses!"
"She incorporates Tai Chi and Qi Gong practices into her pedagogy, which help tremendously when your mind is all over the place and you need to calm it to focus on class," Richards said. "Her teaching style is unique because she makes sure to encourage and congratulate, while also pushing us to become better performers. She is your number one fan and your coach at the same time."
For Papailler, her students inspire her just as much.
"As much as I've tried to give classes and work from a place that is beneficial to my students, their work has also continued to be beneficial to me as an artist because I see so much hope and potential in the work they have done and the way they've approached ensemble in these times," Papailler said. "I've really admired the courage, the tenacity, and the dedication and the conscientiousness of the students at CSUSB who show up, who put in their best work and who are really just extraordinary. And they give me hope for the continuation of the art form and for a better world."