Joe Gutierrez | CSUSB Office of Strategic Communication | (951) 236-4522 | joeg@csusb.edu
CSUSB psychology professor winner of Wang Family Excellence Award
The California State University Board of Trustees has awarded its prestigious Wang Family Excellence Award to Cal State San Bernardino psychology professor Cynthia Crawford.
Crawford, who also serves as director of the CSUSB Office of Research Development, will be honored with the Outstanding Faculty Innovator in Student Success award during a virtual ceremony on Jan. 26 attended by the CSU Board of Trustees, CSU presidents and others.
The other Wang Family Award winners are: Hala Madanat, San Diego State University, Outstanding Faculty Scholarship; Judith E. Canner, Cal State Monterey Bay, Outstanding Faculty Teaching; Aydin Nazmi, Cal Poly San Luis Obispo, Outstanding Faculty Service; and Gerald L. Jones, Sr., Sonoma State University, Outstanding Staff Performance.
"Each day CSU faculty and staff are helping students achieve their academic goals and dreams through Graduation Initiative 2025. These five honorees have gone above and beyond all expectations to share their knowledge and expertise to guide our talented students on their journey to academic success," said CSU Chancellor Joseph I. Castro. "Stanley Wang and his family's generous financial gift allows us to provide financial support for these awardees' ongoing work and to publicly recognize their dedication, life-changing contributions and professional achievements."
As part of their recognition, each honoree will receive a $20,000 award that is provided through a gift from CSU Trustee Emeritus Stanley T. Wang and administered through the CSU Foundation.
CSUSB President Tomás D. Morales applauded Crawford for being named a Wang Family Excellence Award winner.
"I am both delighted and proud of Cynthia's accomplishments and her being honored by the CSU Board of Trustees," said Morales. "Her continuous contributions have enriched our learning community and provided impactful opportunities for countless students during their academic and professional careers."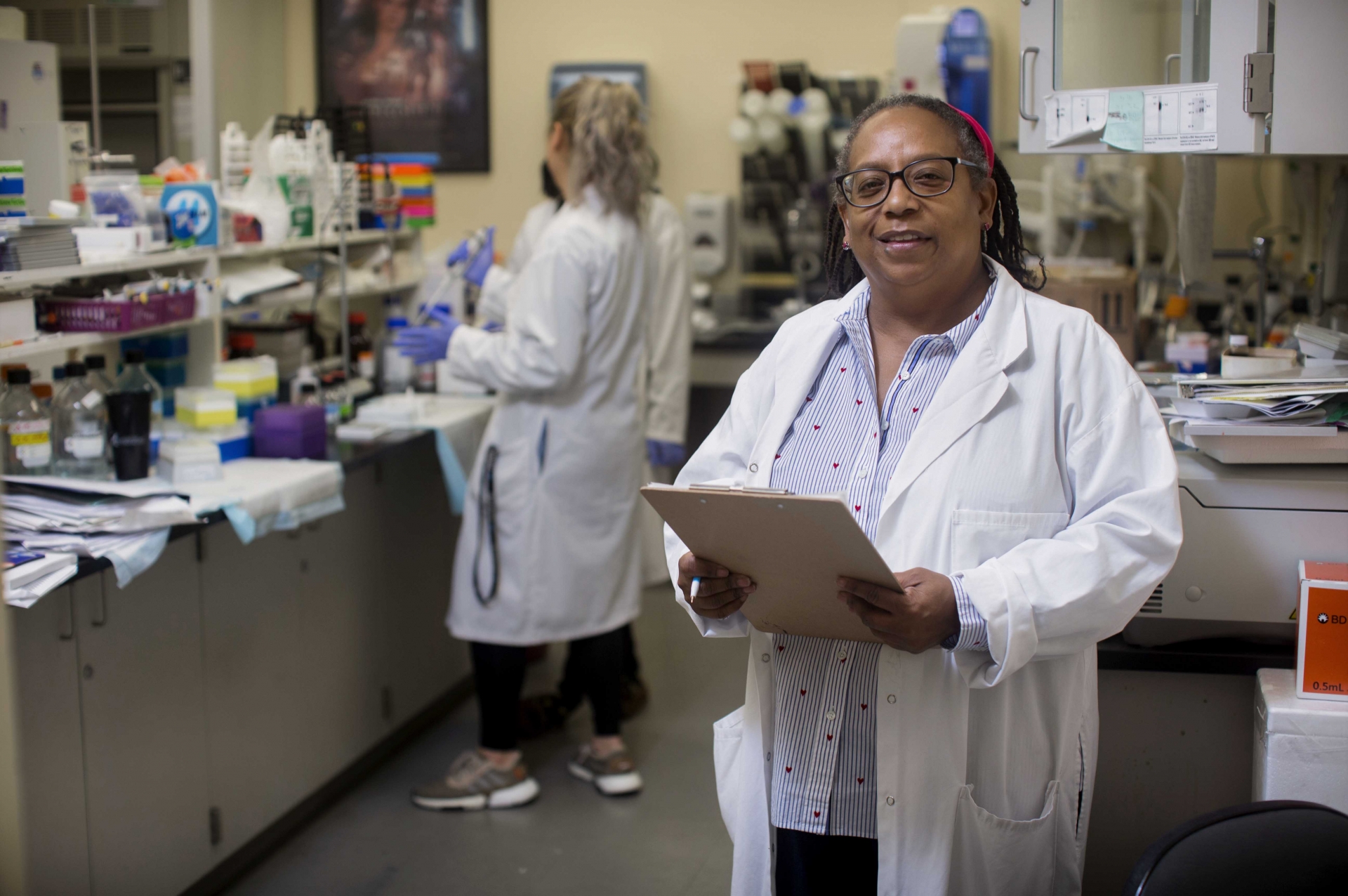 "It has been an honor to work with the students at CSUSB. It is a rare opportunity to earn a living doing something you love," Crawford said. "My students are part of my family and helping them reach their potential is a privilege that I will always be grateful to have received."
Crawford is the sixth CSUSB faculty member to receive the Wang Family Excellence Award, joining Brian Levin (criminal justice, 2020), Stuart Sumida (biology, 2008), Alan L. Smith (geology, 2006), Robert Blackey (history, 2003), and Diane Halpern (psychology, 1999).
"Cynthia's superior accomplishments and contributions have significantly advanced CSUSB's learning community," said Provost Shari McMahan. "Her creative and exemplary teaching practices and relationship with her students inspire both excellence and student success."
CSU Trustee Stanley T. Wang and his family established the award in November 1998 to celebrate four faculty members and one CSU administrator who, through extraordinary commitment and dedication, have distinguished themselves in their academic disciplines or university assignments.
In a nominating letter to CSU Executive Vice Chancellor Loren J. Blanchard, CSUSB President Tomás D. Morales, praised Crawford's dedication.
"When she joined our campus in 1996, few opportunities existed for our students to engage in research. Her trailblazing efforts have since led to a robust research environment for students and faculty alike," Morales wrote. "Today, she is regarded as an icon on our campus, known for her strong mentorship, compassionate care and keen abilities to advance the personal development and educational growth of students."
That dedication includes project funding as Crawford has secured a number of federal grants totaling more than $13 million with virtually all of the grants supporting student success. Most recently, working with colleague psychology professor Sanders McDougall, they were awarded a grant from the National Institutes of Health concentrating on increasing the diversity of students earning their bachelor's degrees and moving on to complete research-focused, biomedical advanced degrees. The multi-million dollar grant was funded for a full five years at $497,000 per year and includes summer placement in a research laboratory at a major university.
An authority in the biomedical neuroscience and psychopharmacology fields, and widely known for her scholarly works in addiction, she has published more than 75 papers in prestigious journals, such as Neuroscience, Behavioral Brain Research, Hippocampus, Synapse, Psychopharmacology, Brain Research, Developmental Neuroscience and Behavioral Neuroscience. Student authors appear on her publications more than 100 times. They have also presented with her at conferences nationwide.
These opportunities and experiences have played a vital role in the educational and career advancement of her students. GPAs of students who participated in the MARC program, for example, increased from 2.5 to 3.4. And several of her student mentees who have since earned a doctoral degree are now educating other college students at universities nationwide.
Crawford's ongoing commitment to students and their success extends beyond her own classroom, lab and discipline. During the early years of her career, she served as project director for CSUSB's SCORE program. Funded by the National Institutes of Health, this developmental program helped to increase the research competitiveness of her faculty colleagues as well as the research base of our institution as a whole.
Her extraordinary talents are further shared through CSUSB's Office of Research Development. Crawford, who has served as director since the office's establishment in spring 2018, leads a gamut of programs and services to assist faculty in strengthening their research agenda. Support efforts include the identification of funding opportunities and internal or external collaborators, grant-writing academies, one-on-one mentoring and more. Her continuous efforts have been instrumental in the advancement of CSUSB's research capacity and grant activity, with grants awarded through the Office of Research and Sponsored Programs growing from $5.5 million in AY 1996-97 to $42.4 million in AY 2019-20.
However, it is Crawford's compassion and influential mentoring capabilities that her current and former students value and cite most. She is, indeed, the epitome of the California State University system's "Culture of Caring," as demonstrated in her nomination package.
CSUSB alumnus Zachery Harmony, currently a second-year Ph.D. student at the Louisiana State University psychology program, praised Crawford.
"During my time at CSUSB, Dr. Crawford mentored me on an undergraduate honors thesis, as well as my master's thesis. I have been fortunate enough to be included on 12 research projects under Dr. Crawford's supervision over the course of 3 years that resulted in 18 poster presentations and 15 paper presentations at local, regional, and national conferences, as well as co-authoring 2 peer-reviewed publications," Harmony wrote. "However, it's not really about the accomplishments, but how Dr. Crawford guided me along the way. When I needed direction, she was there to offer her advice. When I was discouraged, she was there to offer her support. She is genuine in her mentorship, she cares deeply for her students' success, and she will do everything she can to turn her students' dreams into reality."
Crawford's efforts have earned her many accolades at the CSUSB campus and beyond. She was the first faculty representative ever chosen from a public comprehensive university in the United States to be selected as part of a review panel that approves research grants for the National Institutes of Health.
In 2013-14, she received CSUSB's most coveted honor, the Outstanding Professor Award, for her consummate classroom preparation, exceptional level of expertise, and consistent dedication to student learning. And she was named the recipient of the 2015 California State University Program for Education and Research in Biotechnology (CSUPERB) for her research, publication and support for student researchers.
Crawford received a bachelor's degree in psychology from Washington University, St. Louis, Missouri; and a master's degree and doctorate both in psychology from the University of Kentucky.